Horn wiring diagram
11-20-2009, 10:45 AM
Join Date: Nov 2009
Posts: 20
Horn wiring diagram
---
Everybody knows where to get a wiring diagram for the Horn?
I have a four door 1998 blazer. The Horn does not respond when pressing the steering wheel center. But when pressing the panic on the key entry, the horn works. I am a bit concerned about the airbag when trying to locate the problem. Anybody who knows where to find a wiring diagram, or has experienced the same problem?
11-29-2009, 07:05 PM
---
This should help:
You can locate this wire in the main wiring harness connector under the steering column. If you are able to ground out this wire and activate the horn, then the switch is bad.
Here is the first table for the pinout of the connector under the column: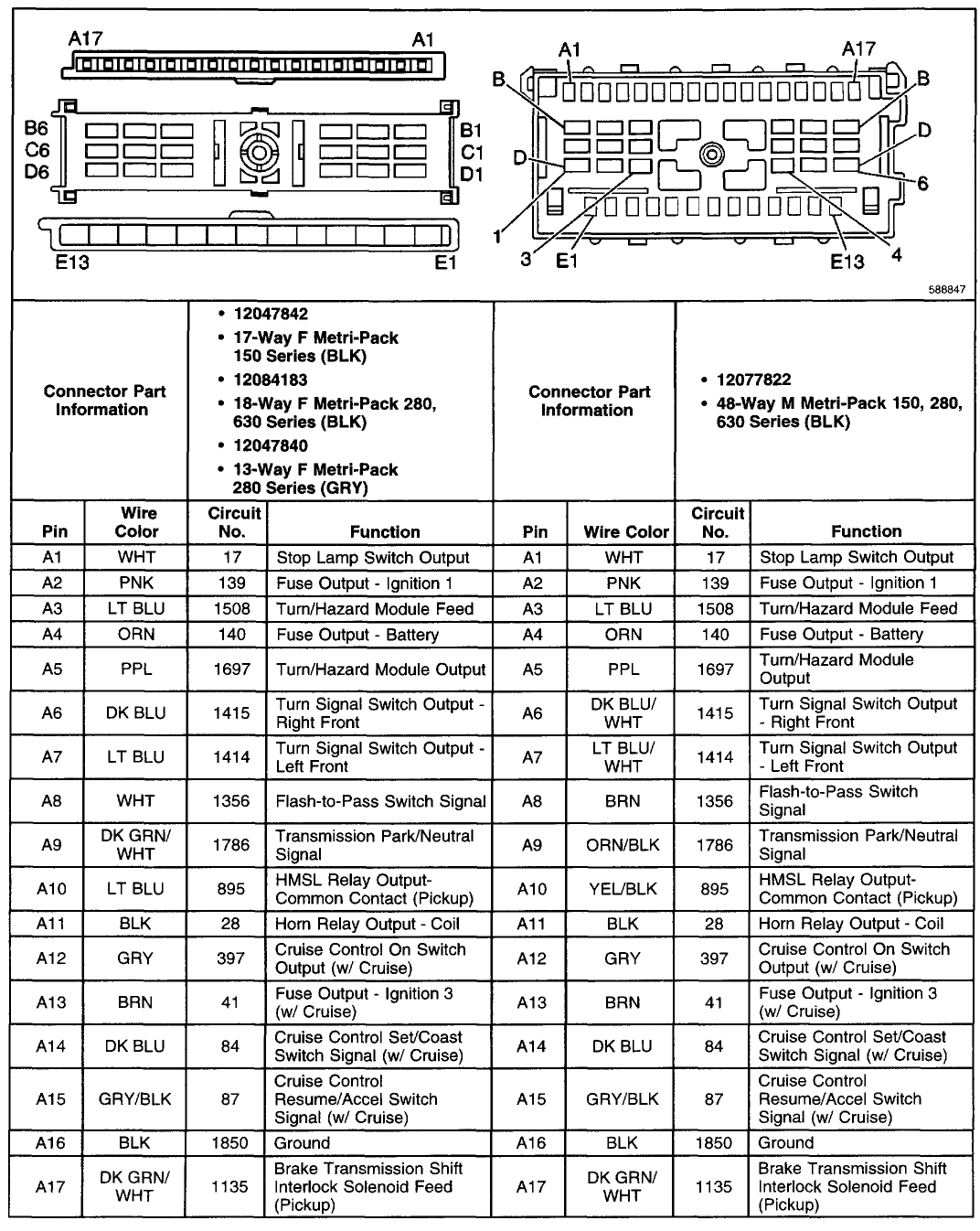 12-01-2009, 08:22 AM
Join Date: Nov 2007
Location: Ontario,Canada
Posts: 18
Re:Horn problems
---
Hey Guy's, I got the same problem.
I grounded out the small gauge black wire and the horn sounded.
You mentioned that this would mean the switch is bad.
Dumb question...are you refering to the Multifuntion Switch (directional signals,wipers etc.)
or is there a relay somewhere that I can't find ?

Thanks
CJH
12-01-2009, 08:36 AM
---
If you grounded out the wire I indicated above at the large connector under the steering column, then the most likely culprit is a bad horn switch in the steering wheel. The relay is triggered by either the BCM (for panic alarm and horn chirps when you lock your doors if so configured) or by the horn switch. Both trigger the horn by grounding terminal 2 of the horn relay.

One other possibility is that the ground to the steering wheel has somehow become faulty or that the clock spring is faulty. The clock spring is the contacts inside the steering column that allow the electronics (Airbag, horn switch - I think..., and possibly steering wheel controls if so equipped) to stay connected as you turn the wheel. If you hold the horn switch down and turn the wheels through their full travel, does the horn ever sound?
12-01-2009, 09:09 AM
Join Date: Nov 2007
Location: Ontario,Canada
Posts: 18
Re:Horn problems
---
I guess I should mention this is a 96 Jimmy...
Currently, I have the horn/airbag assy removed, as well as the Multifuntion switch.
The MFS is still wired up.

I wanted to see if a ground wire or something was loose behind the airbag assy.

The horn used to work 1 outta 20 tries.
What I found was a tube that is spring loaded on both ends,that fits into a hole inside the
steering wheel itself.(This would be spring loaded to the back of the air bag assy) at the bottom of the hole you can see a copper tab(Is this the contact point,when the horn is pushed ?)


I disconnected the black wire at the MFS and grounded it out to the emergency
brake peddle,that's when the horn sounded.

Regard's
CJH
12-01-2009, 09:24 AM
Join Date: Nov 2007
Location: Ontario,Canada
Posts: 18
Re:Horn problems
---
Pardon my ignorance...which switch ?
If it's the multifuntion,I would like to take it apart...agian (no high beams)(Fixed)
This poor vehical had a aftermarket remote start/security system installed by a previous owner,the main wiring harness was butchered.I removed a wack of wiring that was spliced into the main harness. This thing caused a lot of electrical problems,such as the rear glass popping open when you put it in drive.I think it works now...along with the push button that opens the glass from the outside of the tailgate (never worked before)

Thanks again
CJH