◄[Project((s)s) double, sometimes triple vision]►
01-11-2011, 11:28 PM
◄[Project((s)s) double, sometimes triple vision]►
---
WTH start a build thread, maybe it will motivate me. Now I has 3 blazers off the road, and the snow is falling :S
So at this time I am taking the 4.3 out of my Jimmy (blue/silver) and swapping it into the red Blazer. The 4.3 in it lost oil pressure and started knocking. Plus coolant started to go missing. Got the Jimmy in the garage and am starting to remove parts to get the 4.3 out. Hopefully I can have it out by the weekend in the evenings after work. Maybe get it mostly into the red one over the weekend. Then I will have a set of wheels again to get me around. Then I can start focusing on the v8 swap into my Jimmy. Going with a little better 4.3 engine mount setup using 2.8 frame mounts. Plus now it has a sexay shaft! Hacked up the core support and mounted the rad forward. Intrepid fans will now handle the cooling. These things are not required, but would be a few less things I would have to do if I ever need to v8 swap this one too. Of course the support got powder coated all fresh.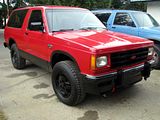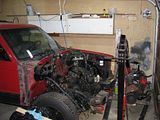 ---
Last edited by Blazin_Jason; 01-19-2012 at

12:24 AM

.
01-11-2011, 11:56 PM
---
Because it's been so long that I've done anything with it you forgot about it. It will be white when done.
01-12-2011, 12:27 AM
---
Cause I want a 350 in it instead, I didn't want to spend any money of repairing the knocking 4.3, and I'm too cheap to find a used 4.3 to swap into the red truck. So it's more work and time for me, but in the end I will have 2 running trucks and mine will be v8'd. I guess I should have mentioned that the red blazer is what the g/f will be driving once it's back on the road.
03-27-2011, 04:35 PM
---
Well wasn't working on the projects much, as I was focusing on other things. Then when I was ready to get back to it, I got hit (t-boned) by a car on my bicycle. I'll live, but was pretty sore for a while. Got the 4.3 swapped from my truck and into the red one. Still have to clean up some wiring for the electric fans. Finally got to put the hood struts on as the parts have been sitting here for a while now (thanks G).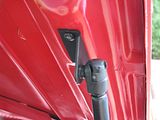 And some parts I coated.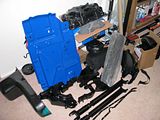 07-17-2011, 11:35 PM
---
Had to attempt and fix the digital dash speedo. So I cracked it open to do the solder work. Hopefully it stays working, or I might have to replace some components. While I had it apart I decided to try and change the color to blue. Doesn't look too bad now, might keep it. Changing the gear indicator over would require more work, I'll leave it for now. Also finally "installed" the receiver. Going from my other truck with a system to nothing for the past 3 months has been a shock to my system. It's not wired in yet, but at least it's mounted. Had to cut out the ducting behind to get it to fit. Really hate when the deck sits out about 3/4". Did this up to keep it flush. Now it needs a cleaning, I see lots of dust