2001 2dr SLS 4wd
10-27-2010, 11:05 PM
2001 2dr SLS 4wd
---
So I figured I would start a thread...
to start I paid 500 for my truck originally with a grenaded g80 and shot balljoints, here is a picture before I put it on the road 170k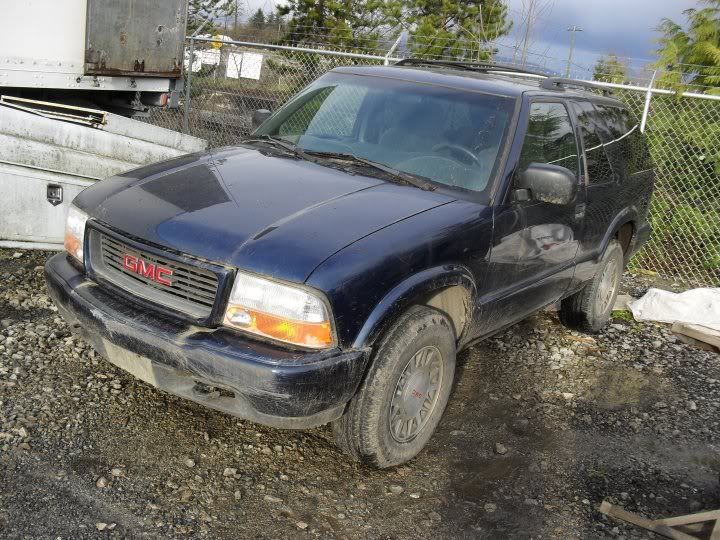 lost the front bumper cover up a graval road and ran it over, destroyed..(should have made sure it was bolted on haha)
my first stuck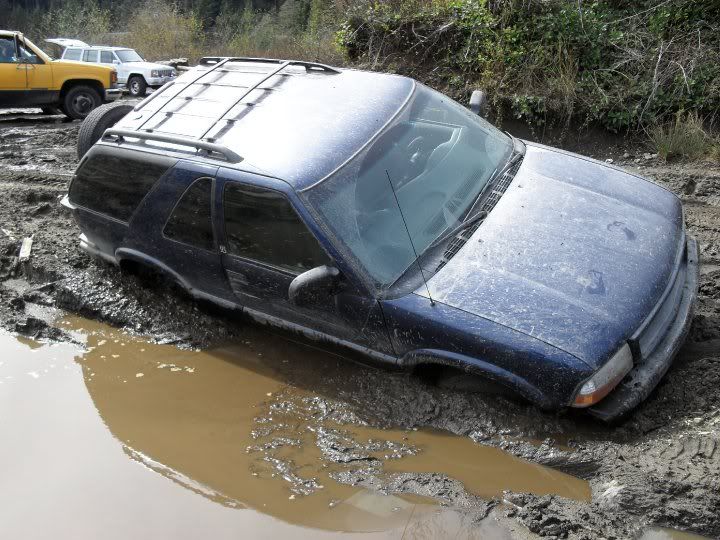 needed something a bit bigger, so I made some 2" lift shackles and cranked the tb's, put on iroc rims with 32x11.5R15 bridgestone duallers (80 for the wheels, 50 for the tires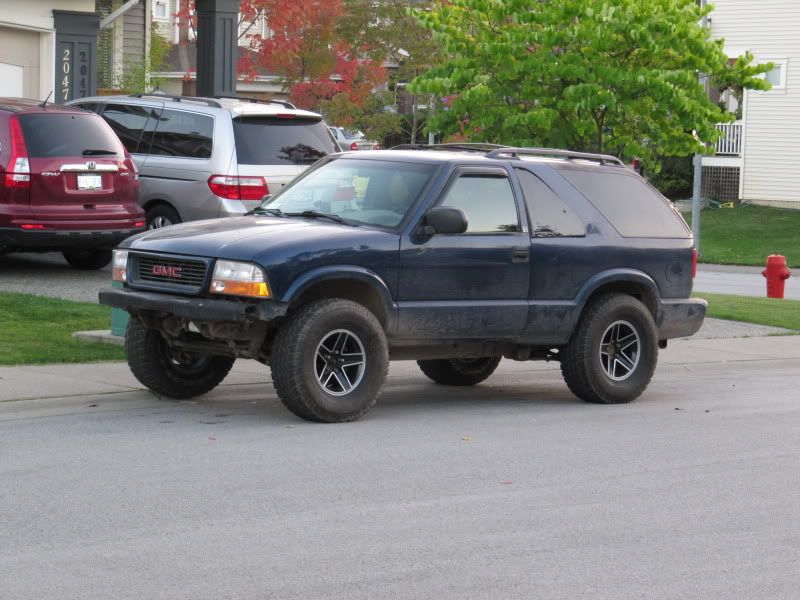 Barely cleared the tires with some trimming, so I installed a 3" body lift and lowered the front down to save front end ware.. 107 for BL
and some flex pictures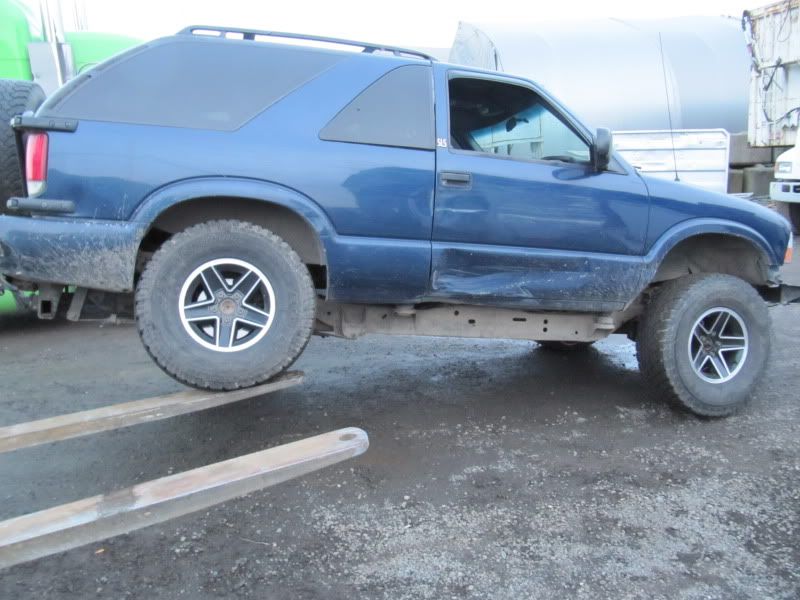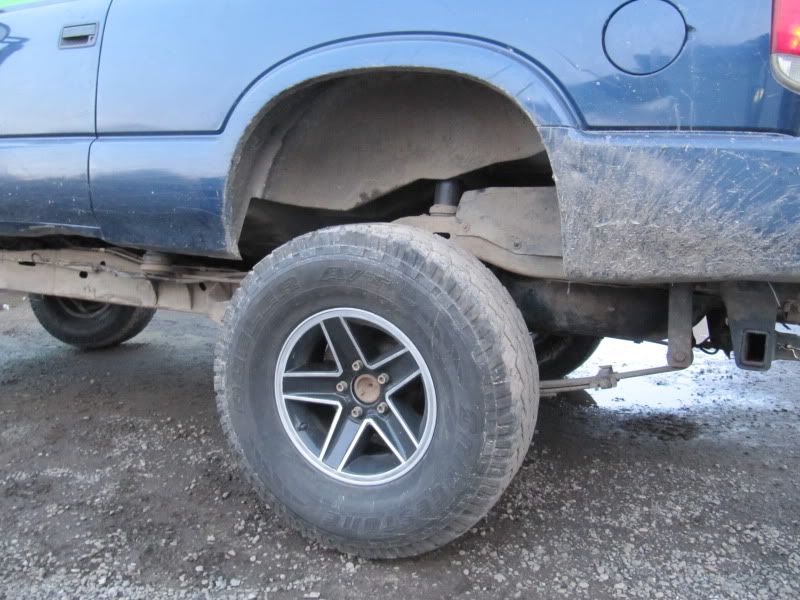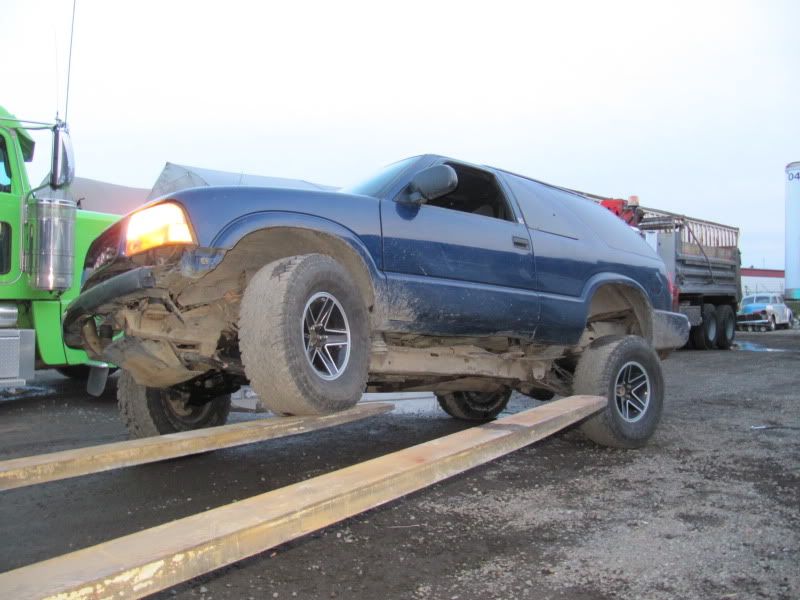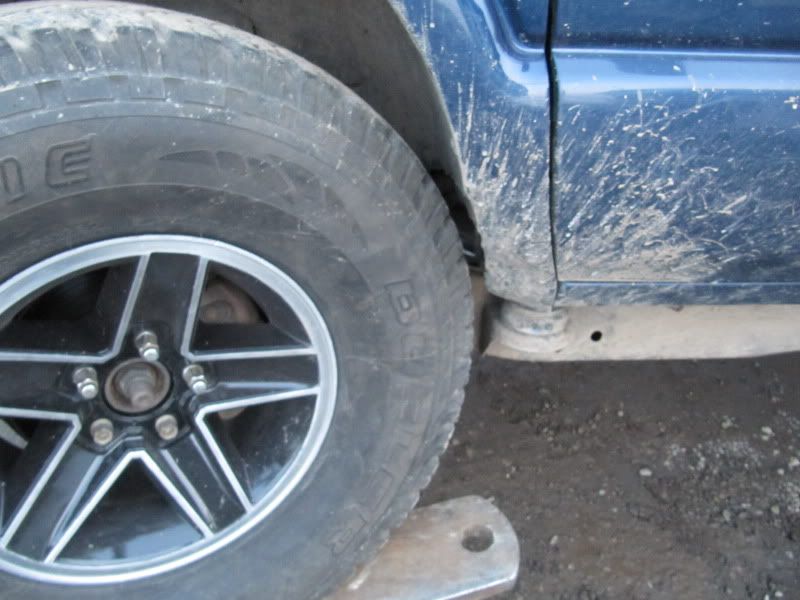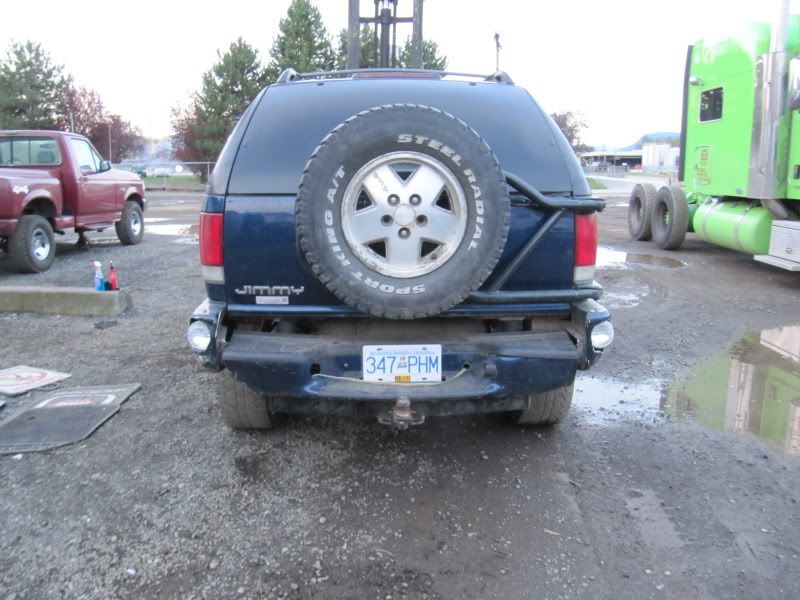 I have not raised the bumpers yet as I am doing a custom front bumper, and haven't gotten around to to the rear yet.
Started installing BL at 1pm, did a water pump and rear brakes in a dodge ram, picked up a free 97 accord and got it running and was out of the shop by 6pm...
and yes I did do a ****ty job cutting my bumper corners, they were pushed in, cracked, etc so it was hard to do a straight cut with the sawzall... I am going to put rubber surround around it eventually to clean it up. they are brighter then my low beams
100 watt 4.5" floods
$12
Truck originally came with 3.42's but now has 3.73's(150 for matching front/rear... still with G80
still sitting under 1K and truck only has 190k on it now and misses on cyl 2... hydrolocked it... new motor after winter, something in the bottom end isn't to factory specs anymore *shrugs* debating a a sbc but am a little leary on it because I like a bit of room in the engine bay and I don't actually 'need' the extra power, just increases chance of getting pulled over
10-28-2010, 07:46 PM
---
and of course, a few days after I put in my BL it goes down in price... pfft. $95 right now
and my alpine mrd-m500 just stopped working..... GRRRR good thing I kept my old clif designs amp(hey, its better then nothing)...

time to pull my amp apart
---
Last edited by 69chevelle; 10-28-2010 at

09:11 PM

.
10-31-2010, 06:13 PM
---
FINALLY.... my 4wd now works properly!!!!

I grabbed a tccm from a junk yard, didn't do anything. looked at the trouble shooting threads, no codes in my system



I was sent some diagrams with the correct pin numbering, wasn't getting voltage at pin 8 (think it was)on my transfercase plug.. but the tccm was putting out voltage to that wire.

ended up being a broken connection inside the plug, replaced the plug, still didn't work. put in junk yard tccm... IT WORKS!!!!

turns out my tccm was fried as well as the broken wire. mine would shift into 4hi then right back to 2. if I unplugged the tccm right after it shifted, it would stay in 4wd when i plugged it back in and could shift between 4hi and 4lo, had to do the same thing to get it back into 2wd.

sometimes i had to have it in neutral and it would only go into 4lo or 2hi(although sometimes the transfer case would stay in 4hi and just unlock the front axle)

my lights were speratic, sometimes I wouldn't have any light up, sometimes 4hi and 4lo would be lit up, 2hi came on once in a while.
---
Last edited by 69chevelle; 11-01-2010 at

12:08 AM

.
11-12-2010, 09:31 PM
---
Well I got my fuel filler extended as well as my rear bumper raised. Tomorrow's task will be to wire in my brake controller. Unfortunitally I do not have the hd tow wiring so I will need to run some wires, but that's ok. I was going to take pictures, but camera batteries are dead and I just put android on my windows mobile phone, so camera on that isn't working yet.

some time next week I am hoping I can get my hitch raised, one of the guys at our shop is a certified welder/fabricator/etc, and has the proper welder(s) to do the job right, so he will be doing to work on the hitch, I am just removing and installing it.


Also hoping to get my truck sprayed sometime before Christmas, but that depends on if we have a free bay.
---
Last edited by 69chevelle; 11-12-2010 at

09:34 PM

.
11-12-2010, 10:13 PM
---


my original plan was to part it(as i have done for him in the past) but liked it to much so fixed it for myself.
11-12-2010, 10:20 PM
Join Date: Sep 2009
Location: GTA-Ontario,Canada
Posts: 133
---
they all have sloppy front ends..lol
i just changed my sway bar links and i noticed a big difference, im also going to swap out the shocks all around but i just sunk a bunch into it plus this is my changeover month for insurance (seasonal cars, 2 cars insured this month) so its a double payment on the 1st...and then theres christmas..so shocks may wait till January.
11-13-2010, 06:07 PM
---
haha ya I didn't do my end links when i did my front suspension and my truck would still 'float' decided to spend the 20 bucks on both new link kits. what a difference. one of mine was bent the other was stripped.
Here is how I raised my rear bumper(don't make fun of my welding, there is a reason I don't weld and am getting someone else to do my hitch)
I basically just took the brackets, trimmed them a bit and tacked them to the top of the hitch, exactly 3" higher. It's not carrying and weight so I'm not too worried about the strength. I am sure Dave(my welder) will clean it up when he redoes my hitch for me.
looks much better raised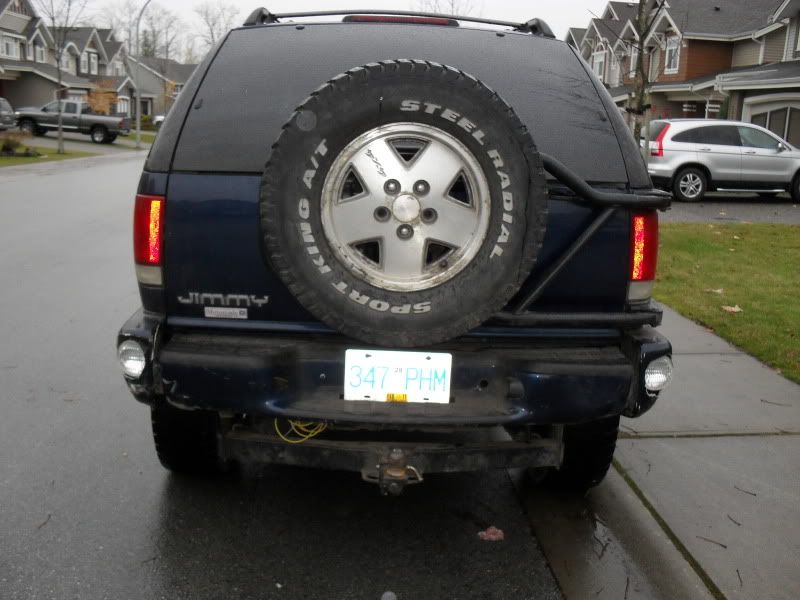 and my fuel filler, I think the line i used is slightly overkill. but that's ok
yes it is fuel rate, It's actually left over hose from a vac truck that run at a local oil refinery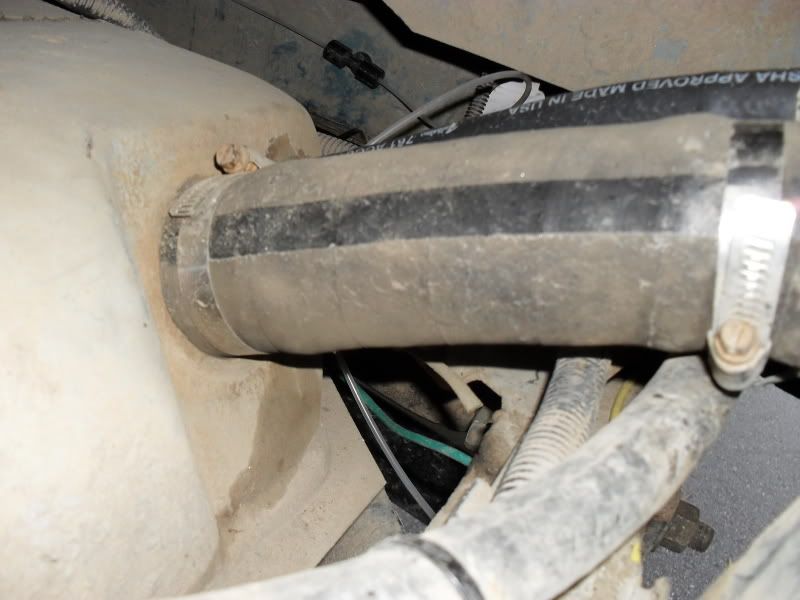 ---
Last edited by 69chevelle; 11-14-2010 at

01:40 AM

.