2003 Blazer Xtreme
10-28-2010, 03:31 PM
Join Date: Oct 2010
Posts: 5
2003 Blazer Xtreme
---
I am bringing this truck home today and wanted to know what a respectable forum thought of it and the ideas i have for it, thanks for you time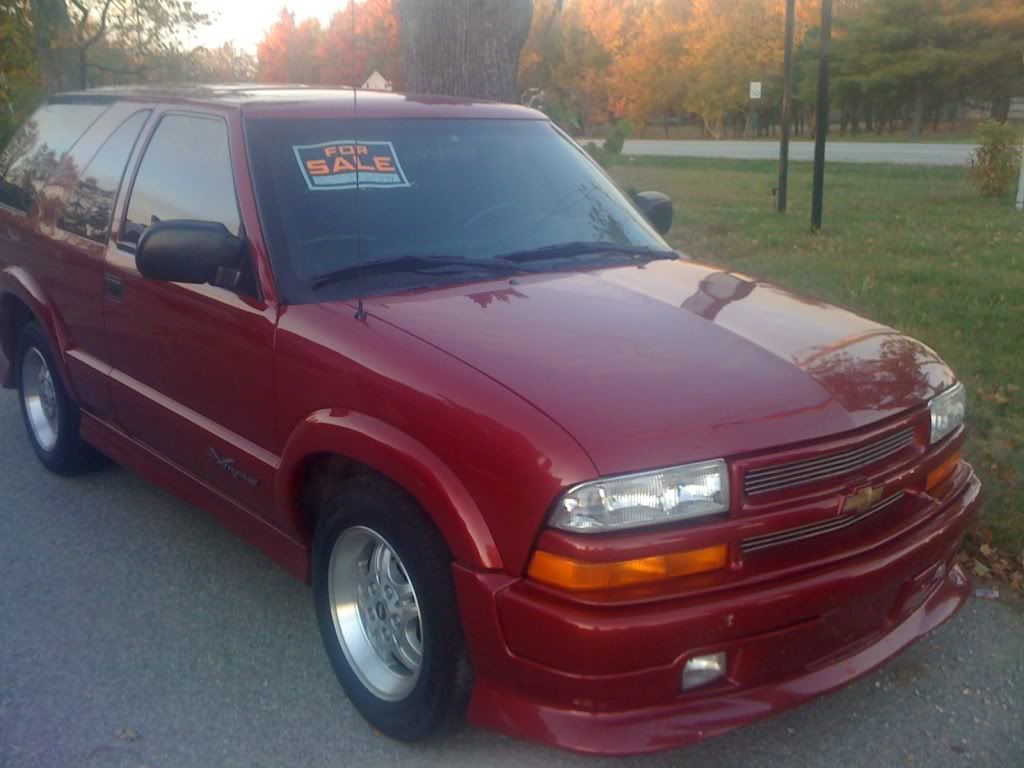 It has the 4.3L V6 with only 85,XXX miles on it. It has been hit in the Left Front Quarter Panel so it has been replaced and repainted, but you cant tell at all.
Here are the ideas I had for it:
2 10" JL Audio Subs for the trunk
Flowmaster Exhaust System
Possible Smoked Tail lights (found a pair for $51)
And Either Black Rims or something Silver and sporty looking
My Main Focus is having a real nice sound system for it, and having it make a real nice sound when it rolls down the street so any tips would be highly appreciated. This is my first Blazer so i am all ears.
10-28-2010, 03:41 PM
Join Date: Oct 2010
Posts: 5
---
I considered neons but i coudlnt think of a color that would look good, any suggestions?

and i will probably not lower it cuz i find that it is already close enough to the ground for my taste
10-28-2010, 04:54 PM
---
First and foremost fix the passenger front headlight its not installed properly... Get rid of the silver grille either paint it black or red to match the truck,put the Xtreme rally stripes on it,fix the black plastic around the back side windows,and if ya really wanna be diff with it , I custom paint Taillights for these year blazers.. look thru my pics for a sample..O and good luck with it, and welcome to the board from another Xtreme owner..alos add sum autoshade wind protectors on the driver and pass doors..
---
Last edited by 2002XTREME; 10-28-2010 at

04:56 PM

. Reason: added wording
10-28-2010, 06:12 PM
---
You could paint wheels black but leave lip and the edges chrome (so paint just the spokes) that might be cool?
10-28-2010, 08:50 PM
Join Date: Oct 2010
Posts: 5
---
thanks for all of your suggestions, sorry i havent been responding, i was out picking her up and getting her washed down. I like the idea of a black grill and black rims, and i am aware of somethings (like the light) that are wrong with it and i will be working to fix those asap

Again thanks a lot for the help and suggestions, they will be taken into consideration
10-28-2010, 08:51 PM
---
Welcome to the Xtreme club! haha.
Sharp looking truck you found.

How do you feel about some interior painting?
Maybe do the window switch plates, and center console around the shifter in red. You could also do the bowtie on your grill.
---
Last edited by cbr995; 10-28-2010 at

08:55 PM

.