420Blazin4x4
05-10-2011, 03:10 PM
420Blazin4x4
---
Figured I should finally do a build thread...
So here is pictures of where I am at with my blazer at this point in time..Mostly cosmetic stuff has been done to it at the moment..Have plans to put on shackles and crank the TBars but have to get time to paint my shackles black..Just havent had much time lately.
---
Last edited by 420Blazin4X4; 05-10-2011 at

03:14 PM

.
05-10-2011, 03:22 PM
---
Here is what she looks like as of 5-9-11 after just getting her back from getting the new headlights,corner markers,bumper and grill put on ..Grill is an aftermarket painted all black...no more chrome bar across the front...I need to paint around the plastic bezels on the headlights though..Not to happy with there fitment..also need to trim a little on the passenger one on the tab that goes into the core support to hold in place better..
New headlights and corner markers from ebay..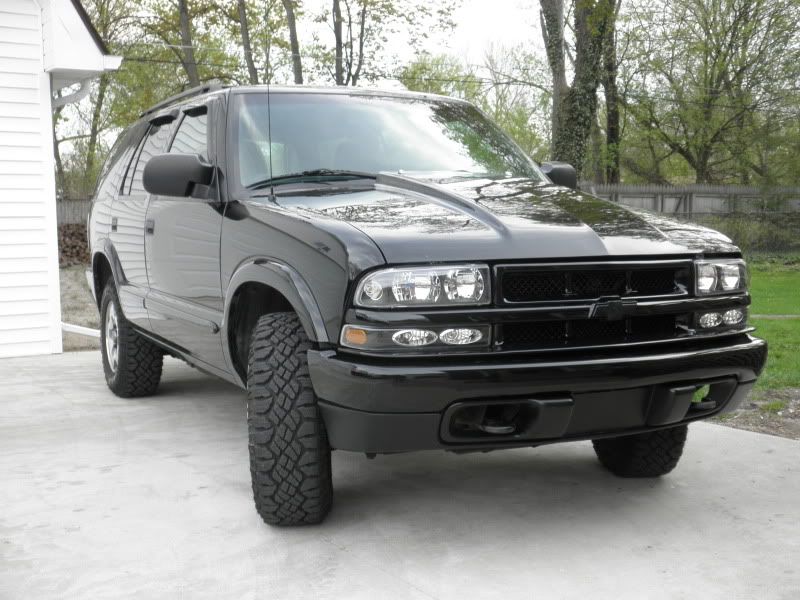 Have lots of plans for her ...pictures of course will be posted as things are done..
05-10-2011, 10:58 PM
---
Shackles TBar crank hopefully soon. 2in BL before end of summer. Been looking for some iroc wheels and 31`s, Also want to mount up a tire carrier on the back.Plan on a cargo rack.Then this winter build my own bumper with built in push bar.Roof light bar.....then if I can think of anything else along the way... Thanks guy.
05-18-2011, 01:05 PM
---
Just picked up a Westin brush guard last night from a guy on craigslist so I will be busy removing rush and wire wheeling that hopefully this weekend and getting it repainted and putting it on if all goes well..