97 blazer LT1 conversion
08-31-2011, 12:34 PM
Join Date: Nov 2010
Location: Surrey, BC, Canada
Posts: 46
97 blazer LT1 conversion
---
in the middle of doing my v8 conversion, thought id start a thread in hopes that it may help someone down the road and post problems solutions i run into.
some info, the truck is a 97 s10 blazer, 4 dr, 4wd. lift is trailmaster 5" with 3" body lift. original engine was 4.3 vortec with blown head gaskets. donor engine is LT1 from a 9C1 caprice.
mounts used were from carshopinc, swap headers are patriots also from carshopinc. i didnt get the swap oil pan due to my lift, the stock b body oil pan clears just fine with the suspension lift.
so far the problems we ran into was the steering shaft, which was anticipated and the accesory bracket touching the frame, which wasnt anticipated. i was under the assumption that frame notching was required when keeping ac. also the swap headers were very close to the shock towers, again didnt anticipate this thinking that being swap headers there designed to fit/clear.
front clip & stock engine removed:
lt1 about to go in: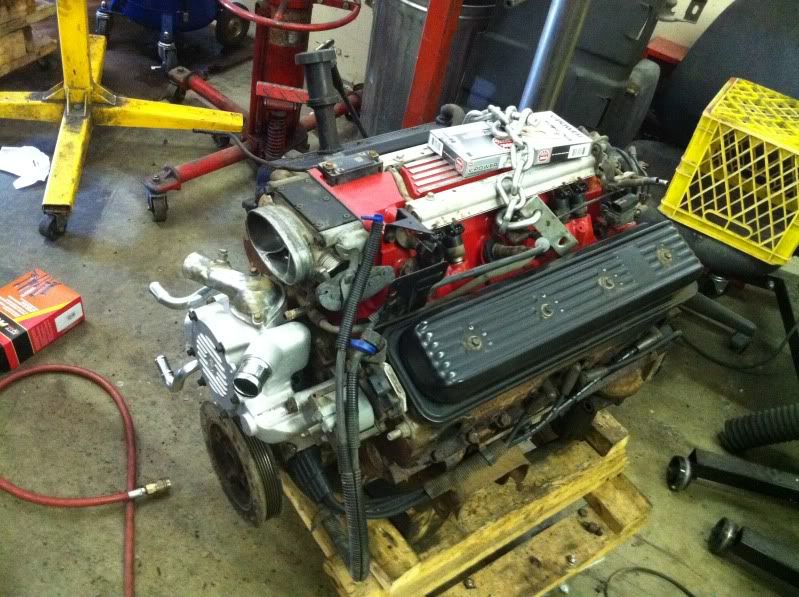 mounted:
headers close to shock towers:
steering shaft at firewall, with 3" body lift about an inch off:
bottom of accesory bracket, corner was touching frame rail so we cut part of it off, still touching so we notched the frame a little, then the actual tensioner was touching the idler arm, so we used a bracket and moved the tensioner up about an inch and hopefully this all works with the accesories:
08-31-2011, 01:31 PM
---
First I've heard of anyone putting an LT1 into a 2nd gen. Good on you!
08-31-2011, 01:45 PM
Join Date: Nov 2010
Location: Surrey, BC, Canada
Posts: 46
---
thanks, im sure more guys have done this swap on gen2's, mostly on s10s and rwd blazers i think. not too many 4x4's that i could find info on while researching the swap.
also forgot to add that wiring wll be done thru current performance, plug and play harness
09-01-2011, 01:30 PM
Join Date: Nov 2010
Location: Surrey, BC, Canada
Posts: 46
---
some more progress pics.
the b body power steering and lines bolted right up to the blazer steering box. but as you can see the lines are a little too long, this will be fixed by shortening the lines using a pipe cutter and a 3/8's union compression fitting. its the return line so its not under pressure anyways.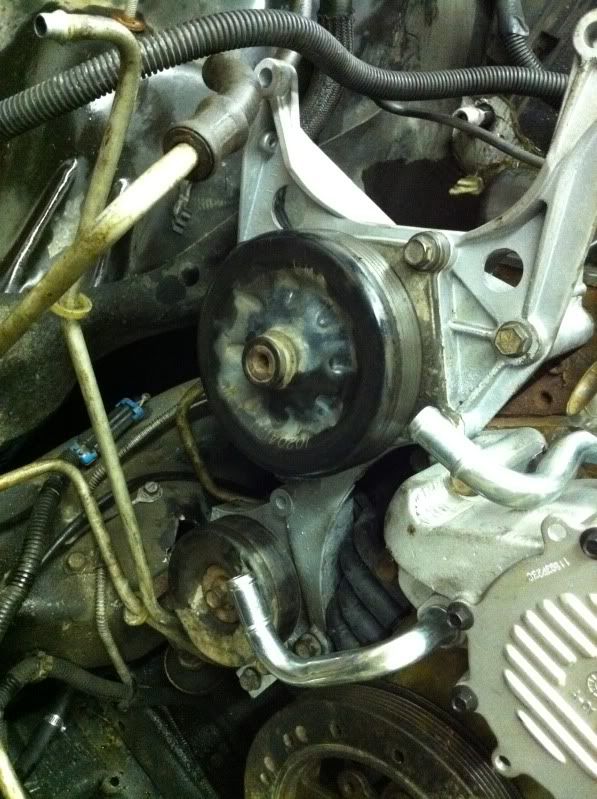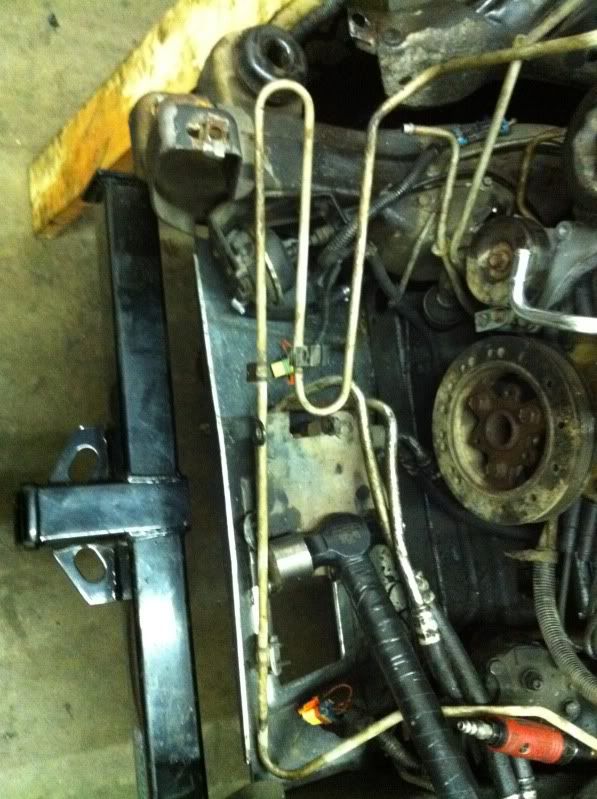 for the steering shaft, simple fix really, since it was off by an inch or so, we notched the firewall down accordingly using a die grinder little by little test fitting along the way. dont want to cut more then needed. for the contour of the firewall we were first going to hammer it flat, but that didnt work so well. so we just bent the mounting pad to the shape of the firewall. fits fine.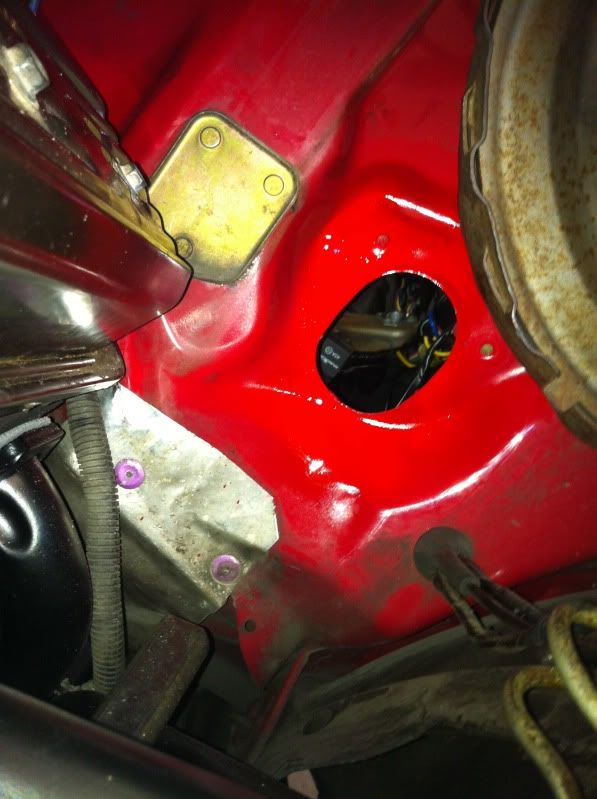 09-01-2011, 03:53 PM
Join Date: Nov 2010
Location: Surrey, BC, Canada
Posts: 46
---
pic below show the lines shortened and line installed: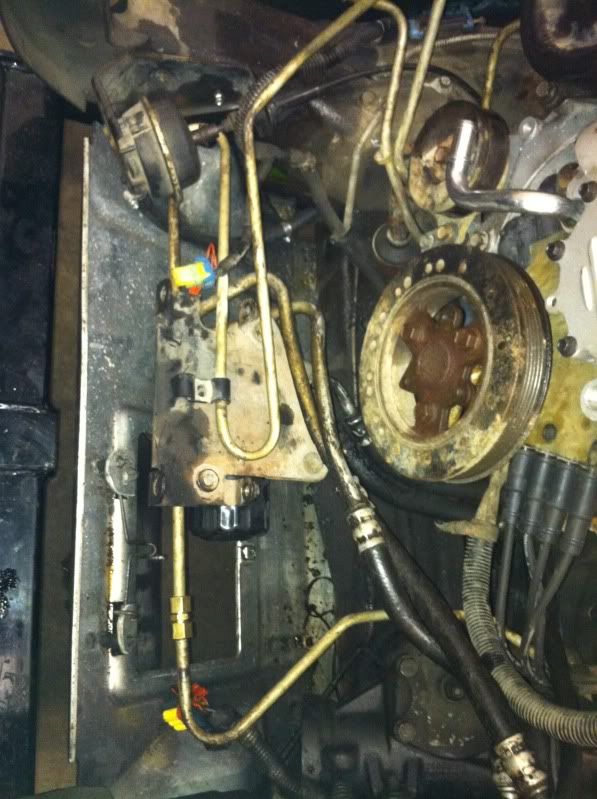 b body power steering resevoir was used, b body bracket was modified to fit and mount.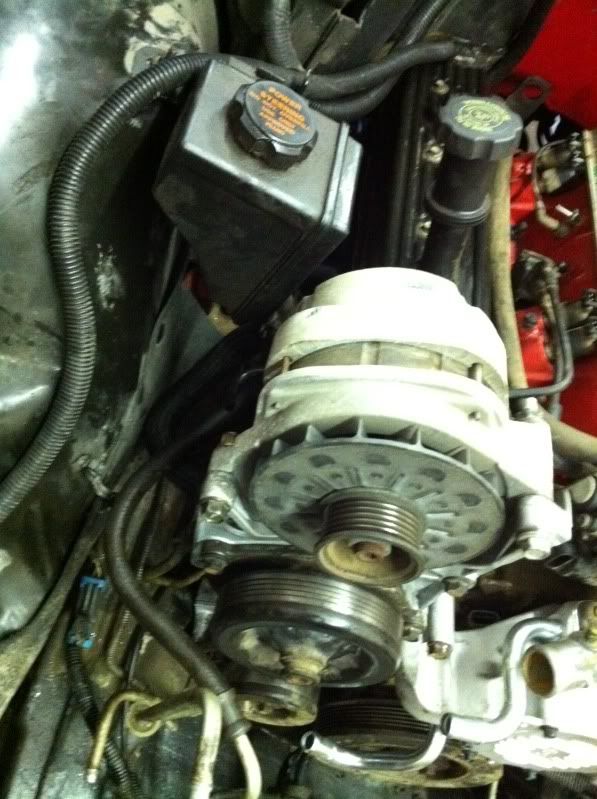 09-01-2011, 05:11 PM
Join Date: Nov 2010
Location: Surrey, BC, Canada
Posts: 46
---
steering shaft mounted, we fabbed up a plate from an old transmission inspection cover, painted it red and bolted it all up. can hardly tell its been modified.
not pictured is fuel lines, heater hose and throttle cables.
for fuel lines simply used high pressure fuel line and clamps to connect from fuel rail to feed lines by firewall.
for throttle/cruise cables, i know some have used lokar tpi cables, f body and b body cables. we cut the part off the stock 4.3 bracket that retains the cable clips and welded it to the lt1 cable bracket. this way the cruise and throttle cables were of equal length and looked near stock.
for heater hose just used bulk hose and clamps.
09-01-2011, 07:02 PM
Join Date: Nov 2010
Location: Surrey, BC, Canada
Posts: 46
---
rad support and rad is in for test fitting, ran into a hiccup. the stock auto trans cooler lines to the rad wont come all the way to the rad, runs into the lt1 b body accessory and tensioner bracket. so rather then bend, pull, kink the lines ive opted to take the oppurtunity to go external cooler on the trans. problem solved.
09-01-2011, 07:43 PM
---
awesome build...takes guts to lead the way.

i second what petty fog says on mounting....with that lift (unless i am missing something)
it looks like your ride swallowed that engine up whole (in that mounted pic)!!
my first thought is why not raise it up...not that i question your skills...just on looker curiosity.