99 4 by 4 build
01-28-2011, 08:24 PM
Join Date: Jan 2011
Posts: 27
99 4 by 4 build
---
so recently i bought a 1999 blazer ls 4 by 4 2 door. its black on black with tint. just recently put in 6000k hids in highs and lows,
plans for it

install push bar(have already).
lift kit(not sure which, 2"bl or 2" sus)
31/10.5/15 tires on stock rims or camaro rims
fix rear hatch window(wont open....)
buy trailer hitch

it also already has a cai, and dynomax exhaust. has 2 small rust spots and only 182 kms, not bad for 2 grand safetied and e tested.

pics to come
comments and suggestions welcome. i still need to figure out which is cheaper to do as lift, i dont wanna do the t bar crank, but im only 18 so all help is appraicated
01-29-2011, 12:52 AM
Join Date: Nov 2010
Posts: 334
---
Well any suspension lift for cheaper than a body lift will be t bar. Even the rough country kit is t bar. You can do the t bar lift for almost free though and a body lift runs around 200 usd. Cant wait to see some pics. Search around there was a post not to long ago about the back glass actuator. And how to get the glass open to replace it
01-29-2011, 10:37 PM
Join Date: Jan 2011
Posts: 27
---
well i decided to go a lil diff route to my build. i decided not to lift it but get a nice set of 30/9.5/15 tires, and 2.5"spacers for rear and 1.5 for the front. i dont need the lift since i wont realli be going off roading anytime soon. this is the only pic i have atm. ****ty cell pic sorry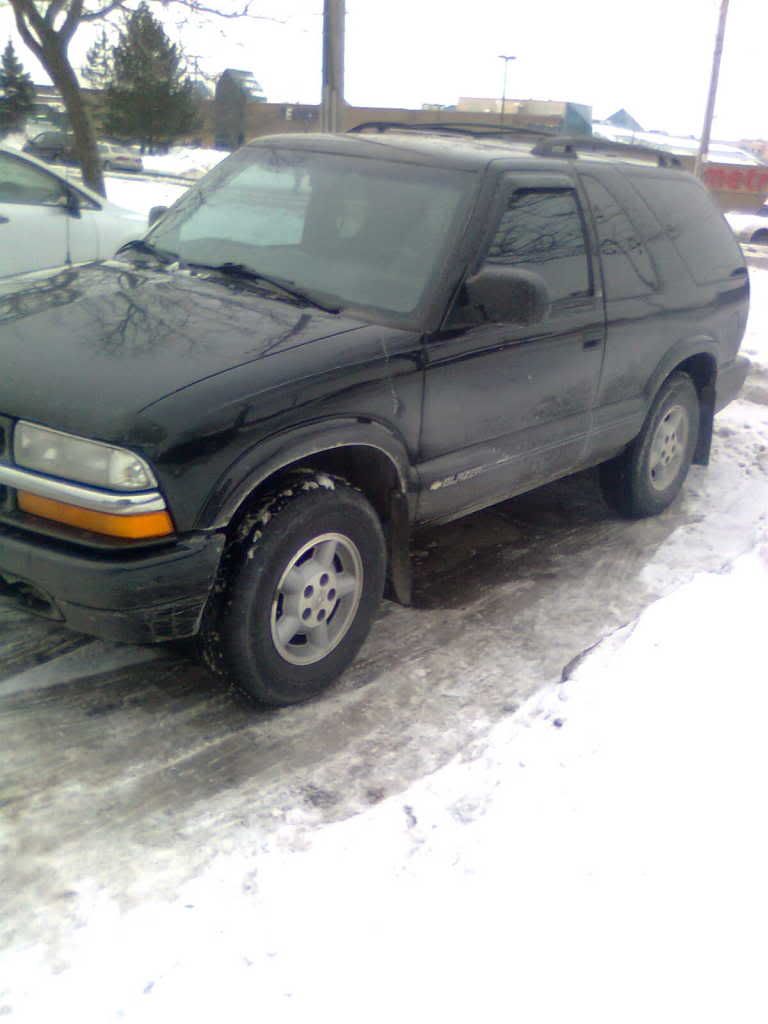 02-01-2011, 08:40 PM
Join Date: Jan 2011
Posts: 27
---
so small little change, i went to get prices for spacers and tey will only sell me 1.25 inch. so instead the body lift will be ordered on friday, its 300 for a 2 inch , also going to get the spacers for the rear to make it more even, then some 31s, will update with pics as i get them.
02-02-2011, 06:08 AM
Join Date: Jan 2011
Posts: 27
---
yes the pa bl is 200, but its american and after shipping and duty and everything it would kill me, i live in london, but now i think it might be on the back burner, i dont think my 4lo is engaging, the front tires dont spin, i got stuck in a 3 foot snow drift....any ideas why it wont spin, the light on the button comes on, it jolts and clunks like it should but the front dont spin....
02-02-2011, 07:49 AM
Join Date: Jan 2011
Posts: 27
---
ok i figured out why its not engaging, newb mistake, the truck was not in nuetrul when i hit 4 lo and also wheni put it into drive, the light was still blinking before i changed gears, newb mistake i know o well.... im ordering the bl from 1 of 2 places, one is a local custom shop(black top customs) or a speed shop here in london. my good buddy knos the owner of black top cstoms so i might be able to get it a lil cheaper :P