First Vehicle!! My 87 K5 Blazer
07-16-2012, 09:10 AM
First Vehicle!! My 87 K5 Blazer
---
I bought this truck in great shape and am having trouble keeping that way (too much fun to play in the woods with!). Ive done some minor work and replaced a few parts but am constantly looking for something new to add!
07-16-2012, 09:14 AM
---
The first think i did was take off the rack and wing on the back, I hated the look of them.. Then i just put a big bolt in the hole, siliconed it and then put an equally large nut on the inside and siliconed it also. I think it did wonders to the look of the truck
07-16-2012, 09:28 AM
---
Then I took off the pinstripes... Took only about 3 hours
. Then just yesterday I bought a brush guard from someone on craigslist for only 75 dollars, was a real steal! Now to get some fog lights...
EDIT: I also bought a hood ornament from a local junkyard for a dollar
---
Last edited by Wyatt Abshire; 07-16-2012 at

04:29 PM

.
07-16-2012, 12:53 PM
Join Date: Feb 2012
Location: Eastern Ontario
Posts: 173
---
Hi Wyatt, good to see the big rigs for sure, wish my 91 was in as good shape.
I prefer the rack and "wing" (helps keep the road crap off window when driving) but to each his own. Good to see you added a "crowd control bar" lol
Happy trucking, Jim
08-10-2012, 11:38 AM
Been a while..
---
Its been a while since Ive had enough time with the computer (my family shares one) that I thought I could update my build but the time has come!
I found some fog lights on walmart.com for 15 bucks and thought well no matter how bad they are their probably worth 15 bucks haha. So i orderd them and while they were shipping had to make some mounts..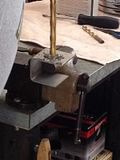 Stainless steel is such a pain to drill...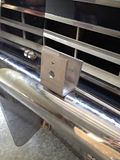 Finnaly got them mounted up, then we took them to a friend and got them welded on! Now came the wiring, it wasnt really that bad (my dad had done it before) to wire them all up, and it all looked great after!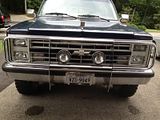 Also with my walmart order i got a nice metal hitch cover for bout 15 bucks too.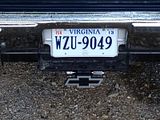 My friend sold me a hitch and D ring for 50 bucks.. Both insainly well made and USA.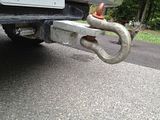 Testing out and aiming all my lights (for the first time) haha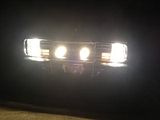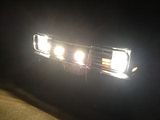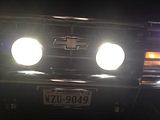 Pretty good for 15 bucks in my opinion!
The next day picked up this emergency hammer and trying to figure out where to put it.. Till them itll sit in the console hah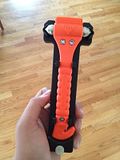 Thats all for now! Still really want to get a lift but cant decide if its worth it or even what brand to get, also would like to do a 3/4 ton swap.. One day!! Thanks for looking, please leave comments or if you have any ideas for me! Have a great day
---
Last edited by Wyatt Abshire; 08-10-2012 at

11:47 AM

.