Redneck Navy ZR2
02-20-2012, 04:43 PM
Redneck Navy ZR2
---
Greetings all,
Ive been reading this forum since I got my Blazer a year and a half ago. Ive gotten a lot of good ideas from it so I thought I would share what Ive done.
Its a 2001 Blazer ZR2. Here's how I got her.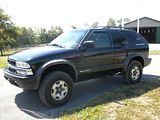 Last summer I painted the front fenders and put a Uniden Pro520XL CB in place of the ashtray. Its hooked up to a Wilson Lil Wil Antenna. I use this a lot on trips too and from school. Its a blast to listen to the truckers.
This past January I put 2 KC 516s in the grill. I also put a cheap Walmart light on the rear tire carrier to help when Im backing up at home. I live in the country and it gets pretty dark. I put the switchs in place of the coin holder that I never used. Eventually the middle 2 switchs will power lights on the roof.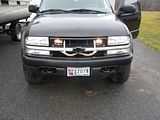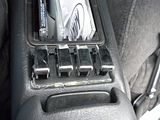 Also added this for the amusement value
This past weekend I disabled the AHL and did the Quad headlight mod.
My next plans are to get an Ebay CAI and make the head shield. Im hoping to do this over spring break. Ill keep this thread updated, but Its not going to move very fast due to lack of funds and lack of time.
02-20-2012, 05:21 PM
Join Date: Sep 2009
Location: Milwaukee, Wisconsin
Posts: 73
---
nice looking truck! I like your placement off the back up light. Is the walmart light bright enough? I've been looking at em but haven't bit the bullet yet. I also like the placement of your switches, good idea.
02-20-2012, 06:12 PM
---