Wallpaper chop
08-30-2011, 10:39 PM
Wallpaper chop
---
Well i found pictures of my parents 89 blazer that was suppose to be passed on to me but got totaled in 2005
I wanted to make a wallpaper with the 89 and the 92
I was thinking a black background with a Chevy logo with the year then blazer Under each one
Or if you have something better in thought i dont mind go crazy on it
Here is the picture of the 89
https://blazerforum.com/forum/members...2006-18564.jpg
And then the famous 92
https://blazerforum.com/forum/member...1107-18173.jpg
Thanks in advance and for the time consideration Its greatly appreciated
---
Last edited by xgiovannix12; 09-04-2011 at

12:28 PM

. Reason: Added a better picture of the 89 (scanned)
09-02-2011, 09:04 PM
---
tryed to make one my self and i deleted it since it came out terrible =P photoshop hates me
09-03-2011, 03:01 AM
---
That's gonna be hard pressed to come out looking decent... I'll attempt it tomorrow.

Is the 89 a scanned picture? You might be able to play around with some settings and see if you can't get it to turn out a little less blurry.
09-03-2011, 12:09 PM
---
i cant scan since the dumb printer wont do much if it dont have int
09-03-2011, 12:21 PM
---
what a homo printer... you'd think it would at least scan considering it doesn't use any ink...

anywho, I haven't started on the wallpaper... I actually think I'm gonna trace the 89 on paper, and then scan that in and fill in the color, and then of course do the same with the 92, don't want them looking different.
09-03-2011, 12:23 PM
---
the 92s pic is a digital camera picture for the 89 i might have to take a ride to wallmart to get it scanned on to a sd card

Imma play with my parents bootleg printer a little more =P brb
09-03-2011, 12:29 PM
---
Alright then, no hurry. I've started tracing the 89 since my husband's lazy butt won't wake up so we can go get our son...

ugh... I've just remembered how much I suck at tracing tires...
---
Last edited by ChevyBlazerChick; 09-03-2011 at

12:46 PM

.
09-03-2011, 12:50 PM
---
i give on this dumb printer
i mean its a great printer dont get me wrong great quality prints / scans / and the inks cheap
but god when it has no link it can be a bi****
i should be heading to town tomorrow see what i can get done
09-03-2011, 12:55 PM
---
lol, this is what I've gotten done so far...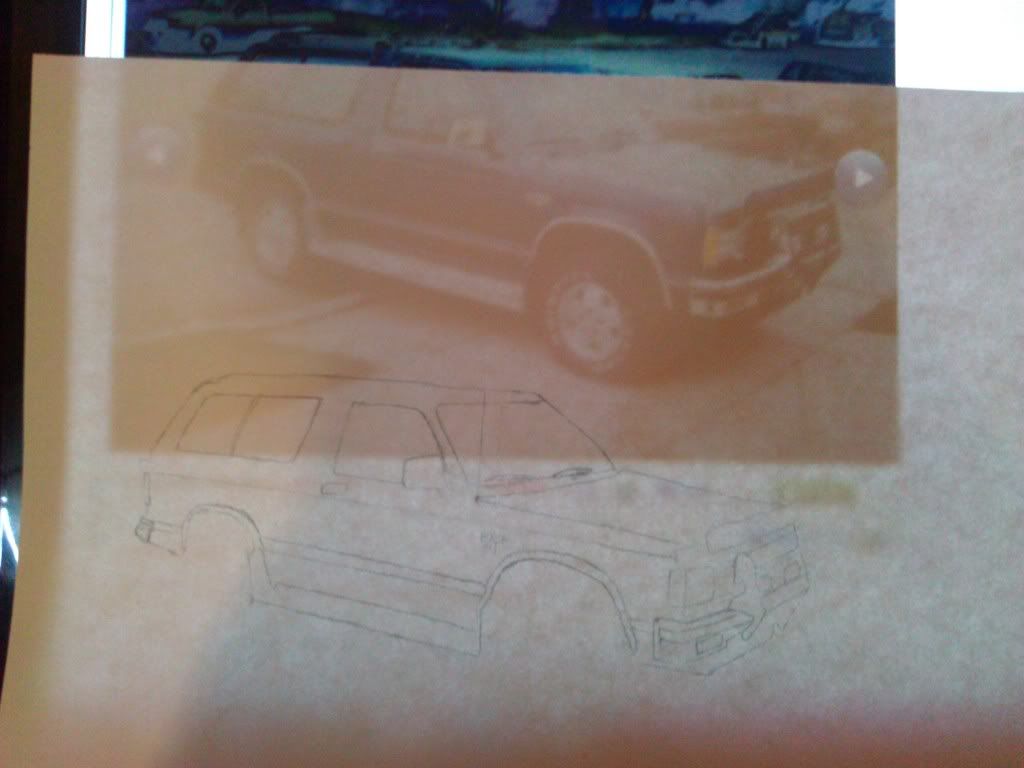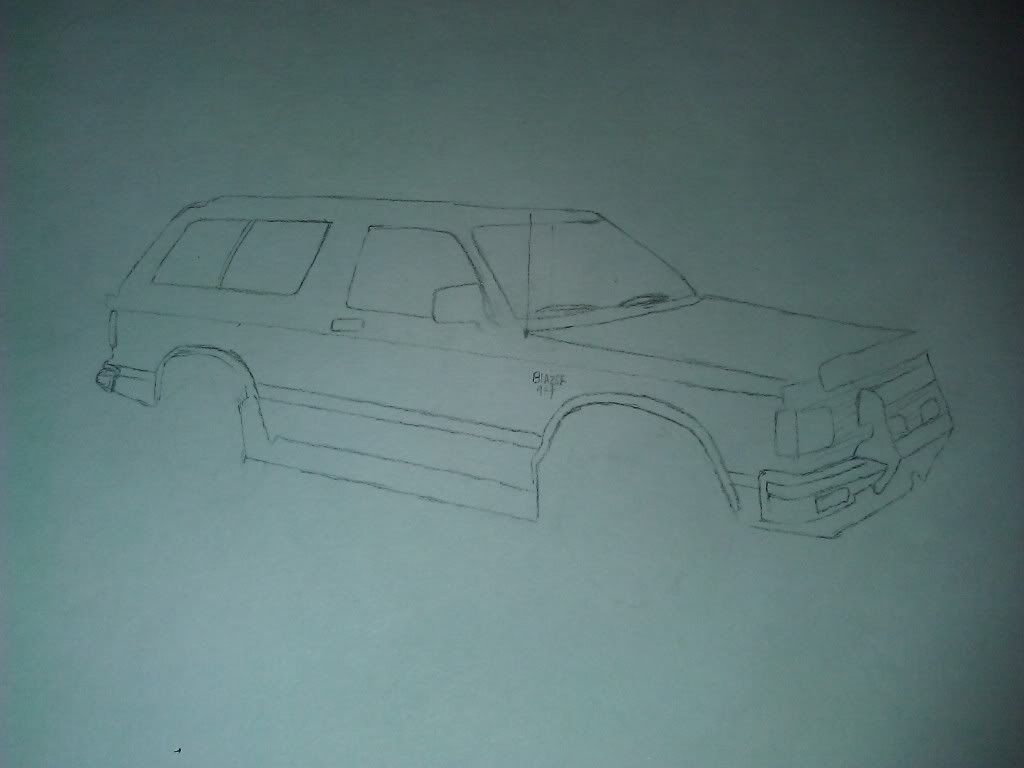 The angle in the second picture makes it look weird. I assure you it isn't, once it gets scanned it will look nice... hopefully. lol
09-03-2011, 12:57 PM
---
haha dont go crazy ill get it scanned the tracing looks good tho *thumbs up*