Backseat input/advice
07-04-2009, 04:25 PM
Join Date: Jul 2009
Posts: 4
Backseat input/advice
---
Hello, My father ands I built by 1994 Blazer, saving it from being scraped by someone who used parts for their rat rod. We recieved a tub with a blown motor and a couple boxes of parts. Within acouple weeks we had a running, drving truck. One problem I am having is the back seat. The last owner took the seat to use in his rat rod. My local junkyard had 1 in a 2dr tahoe that was decent, but after attempting to removing it a couple times, with no luck the truck was crushed (damn Wisconsin bolts).
My question is, is it possible to get the 40/60 split seat out of a 4dr tahoe to fit, with modifications of course? The Blazer had a 2 post system, and by the looks of it the out side posts from the 4dr will fit, but is the floor the same shape for the inside 2 post to be drilled and bolted up? I would hate to buy the seat and have it not work. Any advice, input or opinions please.
Also here is my Truck: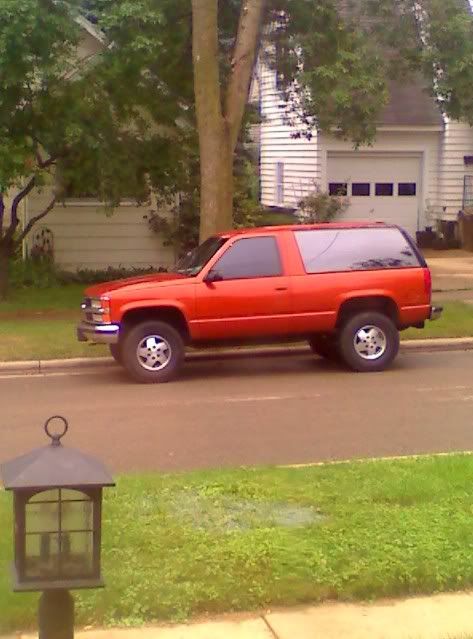 2.5" lift. The truck now has 20's wraped with a 31" but I am saving for 33"s. The picture has the factory 16"s wraped with a 33".
07-05-2009, 03:30 PM
---
Anything is possible, but it will not be a bolt in install. The 4dr Tahoe floor pan was recessed under the rear seats while your floor will be elevated at your rear seats.
Thread
Thread Starter
Forum
Replies
Last Post
1st Gen S-series (1983-1994) Tech