how big of tires can i get?
12-17-2009, 12:35 PM
Join Date: Dec 2009
Posts: 2
how big of tires can i get?
---
I have a 90 k5 blazer with a six in. suspension lift and im tryin to find out what the biggest size tires i can get without cutting the fenders.
12-17-2009, 12:54 PM
---
Your problem will be the stock suspension... The 10-bolt axles that are under your truck are limited to about 33-35" tires. 33" if you are planning on challenging the vehicle offroad. 35" if you are going to go easy with it.

With that said, a 6" suspension lift will likely allow for the use of around 36" tires without too much trouble anywhere. It really depends on the backspacing on the rim as to whether you will have problems at the front and rear of the wheel well on the front.
12-17-2009, 07:42 PM
---
you can run 38s on it if you dont plan on taking a corner faster then 2mph or hitting any bumps so id agree with 36s
heres a old suburban i had with a 6inch lift and 38 12.50s on the stock rims i just cut the fenders. i drove it home from work like that. rubbed on the turns and hard bumps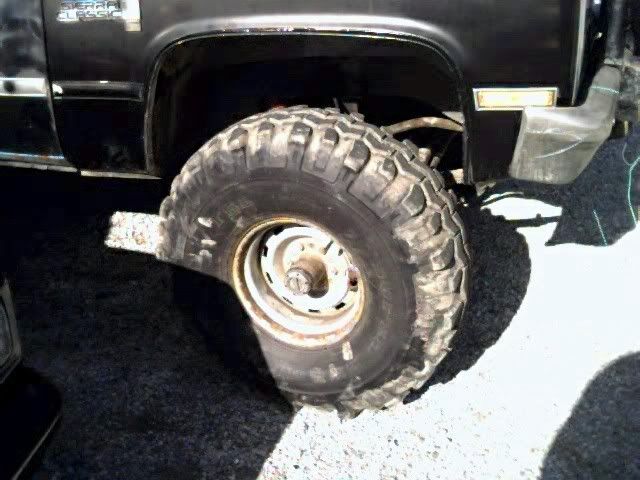 12-17-2009, 09:10 PM
---
Recommended by Superlift is 35x12.50x15s as well as other companies so i would really try to keep with suggested tire size the lift kit companies suggest.
12-18-2009, 10:19 AM
Join Date: Dec 2009
Location: tappan ny
Posts: 2
---
i have an 86 k5 blazer and i just put 35's on it with a 4in suspension lift, and well it works fine for me, but you have to take it easy with 35's, i could put 38's but its a pain to play in the mud with
12-18-2009, 01:12 PM
Join Date: Dec 2009
Posts: 2
---
12-20-2009, 11:22 PM
Join Date: Apr 2009
Posts: 36
---
Hey, I got an '82 K5 running 38.5x11-15 bogger's on a 6 inch lift without and rubbing at all, they work great... but blew the wimpy np208 pretty quick..
Thread
Thread Starter
Forum
Replies
Last Post
2nd Gen S-series (1995-2005) Tech