Spider injector question... Please help! Intake manifold piece?!
12-14-2017, 04:01 AM
Spider injector question... Please help! Intake manifold piece?!
---
Hi so after spending months trying to replace unneeded parts, I finally fixed my no start issue. My injectors were bad... So long story short we pulled off the upper and lower manifolds, and replaced the gaskets along the way and replaced my spider injector set up... Well, my buddy who was leading this little operation, took out a small metal tube piece that was slightly less secure than it seems it should've been.. Well he removed it completely, and after about a month of everything running Pretty smooth for the most part, its leaking an excessive amount of oil now, much more than it was originally. Like, when i start my engine, i can see drops on the ground already immediately after i crank the engine. Can someone tell me what this little guy is for? I posted pictures... I kept saying, that looks important are you sure this isn't needed?? Because I'm pretty positive that piece is important, everything in me, kept saying, that, piece is important and that's all I know... So please! I hope some one can help me...
12-14-2017, 07:24 AM
---
My first thought was for the EGR system, where the gases come back into the intake. But looking at the intake on my 04 that doesn't have EGR system, it has the tube as well so I don't think that's it...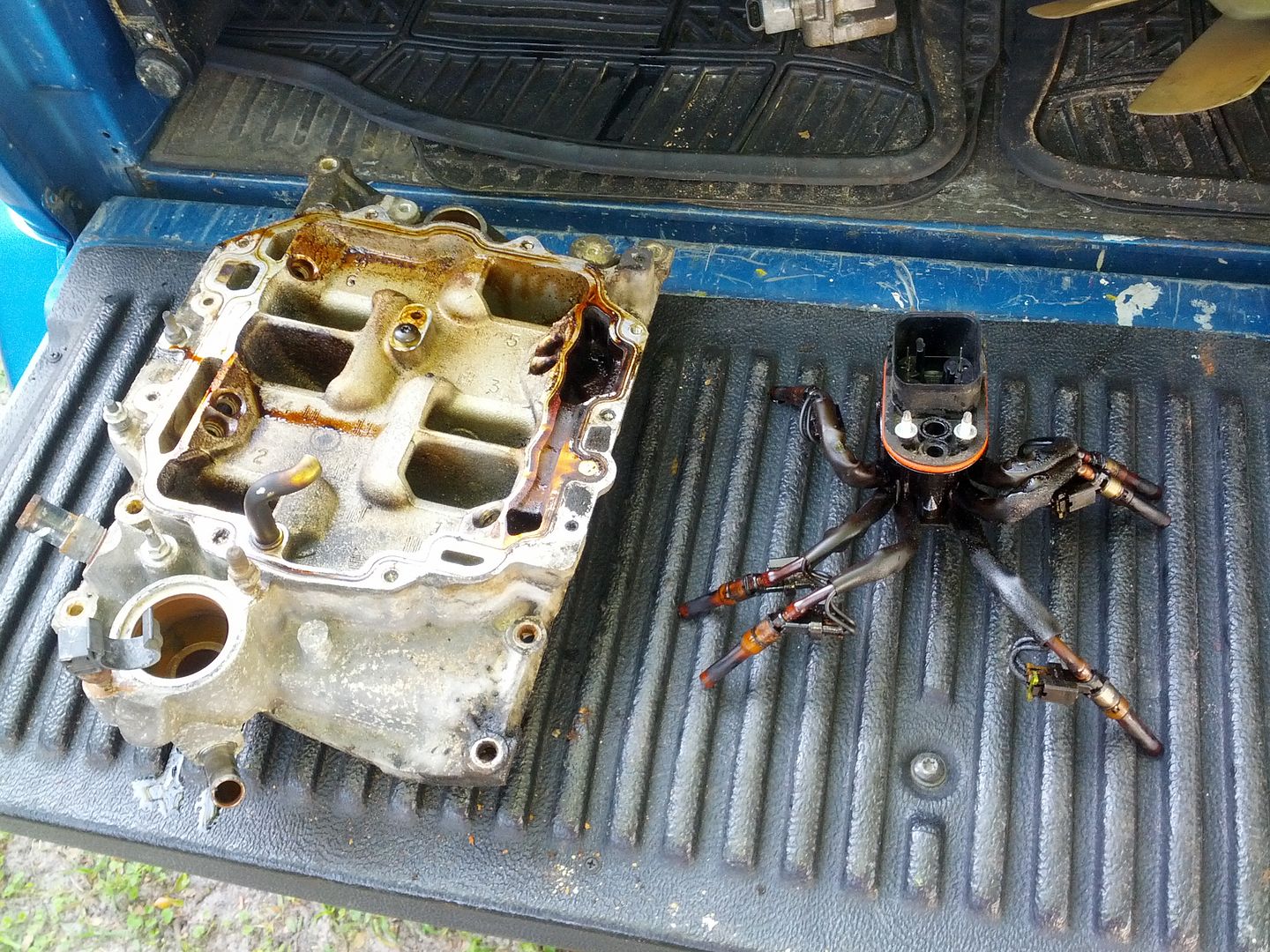 12-14-2017, 07:47 AM
---
Yea, my buddy said oh outs just a vacuum or uhm, for oil to transfer.... Something like that... And any vacuum lines.. Are important... As well as where oil is transferred to... So his story didn't make me feel any better, I've been searching online trying to figure out wtf that thing is for and have had no luck
im not sure if that's what causing the excessive oil leak... I can figure out what's leaking. It's dripping out like directly onto the starter almost looked like it was coming from the starter but realized the starter is under out as just soaking it ...
12-14-2017, 11:43 AM
---
Could it be part of the PCV system? If so I would think it is not critical and its purpose is to introduce the vapors more centrally into the volume of air under the upper intake plenum. You might be looking at a coincidence rather than a cause-and-effect situation here.
12-16-2017, 07:56 AM
---
Well. Not so easy to find. I've gotten up under there and there's oil pretty much on everything. When i fire the engine, it almost immediately starts dripping , ive been losing oil pressure pretty quickly too. I think ive replaced almost 3 quarts this past week or so... :-O and my fuel consumption... Insane.... I just picked up that uv dye for the oil so after work tonight i think I'm going to try that and see if i can pin point the leak.... Drivability feels off... Thought it was motor mount but i checked them and they didn't budge on either side when starting or revving the engine... Feels shaky when I'm braking but caliper pins are tight ... Ugh, gets frustrating when i get home after work and its dark already .
oil is coming from somewhere up in the engine obviously above the starter, cuz the starter is soaked . and it drips onto my exhaust and smokes sometimes when it burns off
---
Last edited by MsVortec4x4; 12-16-2017 at

07:59 AM

.
12-16-2017, 11:31 AM
---
FYI I replaced my fuel injector spider a couple months ago as part of a lower intake manifold (LIM) gasket replacement. As such I'm curious as to how you could have come to have so much trouble with your truck.
So I've gone over the thread again and if I am not mistaken, these are the symptoms with my interpretations and/or data that might be useful to know:
symptoms started about a month after replacement of fuel injector spider (miles driven?)
"Mystery" tube on LIM deleted
Oil leak onto starter from above (not from other side?)
Oil leak when engine running (only when system under pressure?)
excessive oil loss (~3qt/week)
driveability problems (engine response? rough idle?)
very poor fuel efficiency (MPG?)
feels shaky when braking (or when motor is revving down, not under load?)
List of thoughts:
After compiling this list, I'm wondering if there is something that operated fine immediately after you did your fuel injector replacement which later worked loose.

Regarding the mystery tube, was it completely hollow, i.e. no valving or anything? If just a simple tube, then I doubt it could have anything do to with these problems. If for some reason it has some sort of valving, then it could play some role in pressurizing the oil system. I very much doubt this later possibility though.

Could the hole into which this tube fit gotten plugged by something and then pressurize the engine block? I admit this is a crazy idea but I ask it to be thorough.

Did you leave the LIM in-place for your repair? I ask to determine what might have been disturbed.

While in there did you change out anything else such as the valve cover gaskets. Or did you try tightening down the valve cover gaskets? This could be a source of an oil leak but would not explain the poor fuel economy unless their is a problem with the spider installation (e.g. an injector coming out of its hole).

How does the top of the engine and top of the intake manifold look? Is there any fuel pooling anywhere? I ask as fuel flowing into the intake plenum directly would cause excessive fuel loss (consumption) and dilute the oil which could damage bearings. But again, I can't see how this would also cause an oil leak.
You did not say if there is a check engine light on and if so what the error code was.
I am at a loss to think of a reason that the oil loss would be related to the fuel injector spider replacement and cause the rough engine running.
Christine
12-18-2017, 06:35 AM
---
Doesn't sound too good. Such an oil loss is "massive".

Investigate - this one should be close to spraying not merely drip if you loose that much oil.
Right hand aft side of the engine...

...not much there with oil.

Things that spring to my mind:

- O-Ring in the valve cover
- Oil pressure sensor (but normally leaks down on the left aft side.)
- Distributor
- Oil Return hose from the valve cover (rubber grommet in the valve-cover gone bad?)
- Oil filler neck in the valve cover (lower gasket gone bad or damaged/cracked neck)
- There should be no oil leaking from the heads (construction feeds oil through lifter rods, only no pressure return oil is routed through the head - if it is the head - headgasket)

Good luck with the UV.
Run it for short times only then check with the light or have somebody run it. With that leaking it could make a mess quickly and you have the die all over places again.