Soooo, I got a welder...
02-23-2019, 07:11 PM
Soooo, I got a welder...
---
A Harbor Freight 110v 90 amp flux core. You know, the cheap one.
Been wanting to learn to weld for some time now, figured I'd start with this. $120 welder and walk out of Harbor Freight spending $230 between extra wire, a helmet, gloves, wire brushes, hammer, etc...
Put a few practice beads today on some random scrap 3/16 steel I had laying around. First time I've EVER picked up a welder, so the first few beads looked like hot garbage. By the 4 or 5th bead, getting the settings right, it actually started to look like a decent weld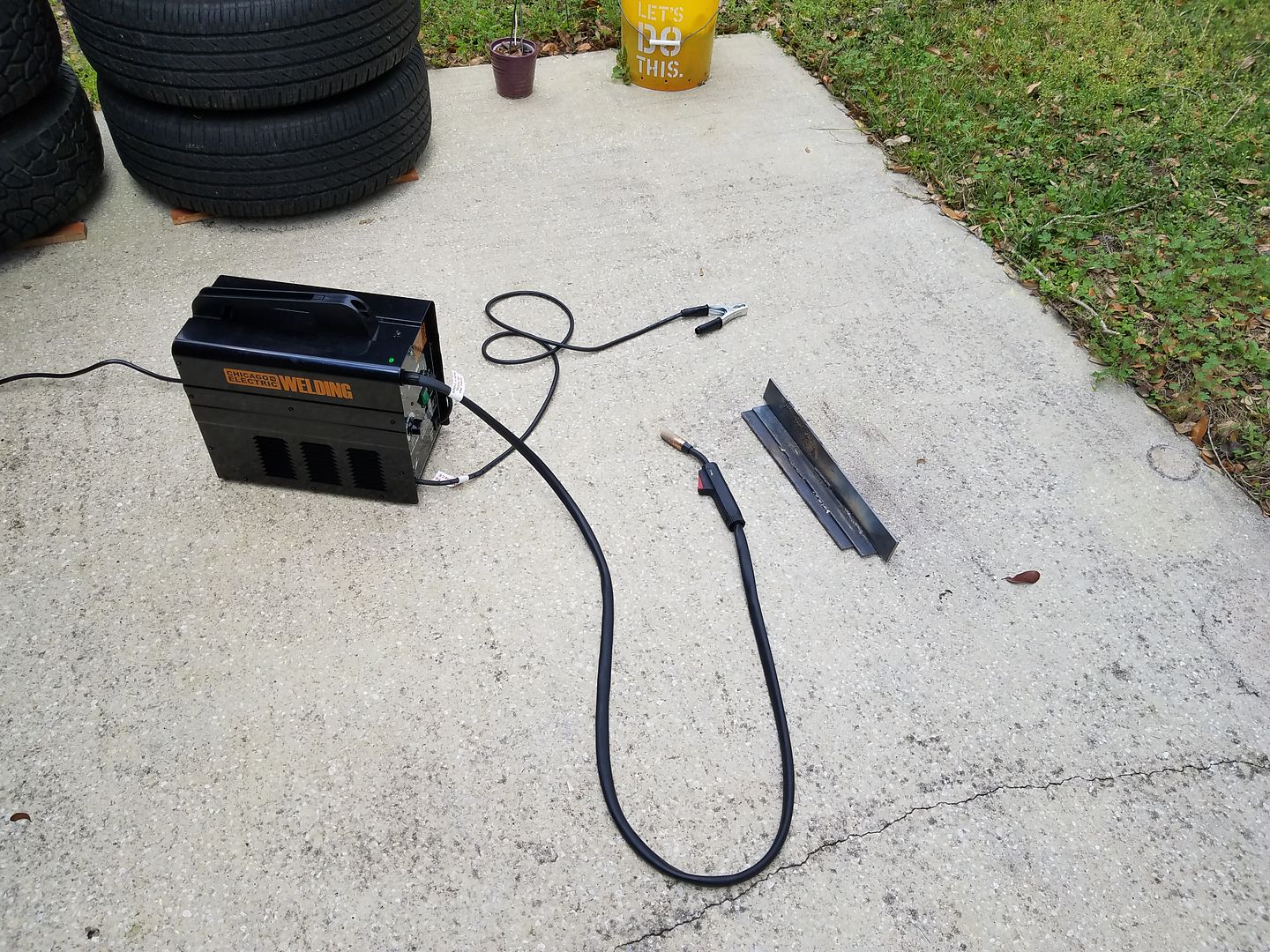 02-23-2019, 07:52 PM
---
Would love nothing more than to be able to lay a stack of nickels with a tig
02-24-2019, 03:36 AM
---
Check out if You have the possibility of connecting CO2 to Your set. It significantly improves the quality. I am not a pro, but I have my experience welding MIG + CO2 and MIG, when the gas was over ...
I've also recently got a decent welder. I am thinking of welding a set of these as a first project:
I may post a list of materials if You like. Below the end plate are a profiles (top one goes over above the bottom one), so they make sort of a telescope and could be jacked even higher. They are going to be horizontally drilled through, so that You could put a locking pin through.
---
Last edited by Mike.308; 02-24-2019 at

03:45 AM

.
02-24-2019, 11:31 AM
---
This one is flux core only, no hook up for gas. For as much as I'll probably use it, I didn't want to bother spending the extra for one that can run gas. If I end up using it a lot more than I originally thought though, I'll invest in a better one that can use gas.
02-24-2019, 04:07 PM
---
There is nothing wrong with using a flux core welder especially if you are trying to justify the expense of a welder in the first place. Both can make very strong and visibly indistinguishable welds when done correctly. The biggest downside to flux core welding is the need to clean off the slag that is left behind to shield the molten weld pool. You can't argue with the up front cost savings though. Just take your time and get comfortable with your materials & machine.
02-24-2019, 05:00 PM
---
I've owned and used a Chicago Electric 220 volt unit from harbor freight for a few years now, it can use gas or flux and has held up well. It's the welder i used to build my 4X4 rx7 with
Even tho I have the regulator for gas I have left it as a flux unit instead of the cost of rental on a bottle of gas. along with slag to chip away on a finished weld splatter is a little more pronounced than with gas.
The duration of welding time without over heating the welder and having it shut down is actually longer than the more expensive units.
If your looking into one try and find one that will use a 10 lb spool of wire and not just the two lb spool, the cost difference per amount of wire is more than worth while. At harbor freight A 10# spool of .035 flux wire is $64.99 - five 2# spools of the same is $109.95 in cost.
I think at the time I bought it I gave around three hundred or so for it compared to around a thousand for compatible units.
---
Last edited by odat; 02-24-2019 at

08:21 PM

.