Lowering my 4X4 2000 Jimmy
04-07-2009, 06:26 PM
Lowering my 4X4 2000 Jimmy
---
I'm looking to lower my truck 1" thats all I want. I'm gonna do the front with the torsion bars and the back with blocks. Do i need shocks? My Dad thinks that it will mess up my front axle yokes. CV joints?. It looks like they're bending down at stock height so wouldnt an inch level it out and decrease wear? Well any insight would be appreciated because i'm totally new to the whole truck thing. My last car was an Eagle talon so having a truck is a little disorientating.... well whatever enough of that. Thanks for the help. Appreciate it.
04-07-2009, 06:41 PM
---
You will be fine with 1" if that's all you want to go. I would say shocks are unnecessary at that little amount of drop. I lowered my old neighbor's Bravada by backing the torsion bar bolts all the way out and 3" angled drop blocks. I told him he needs drop shocks but refuses to get them. Guess he likes having limited suspension travel and feeling every bump in the road.

I have a feeling 1" isn't going to be enough for you once you see it.

Pics coming soon.
---
Last edited by TripleBlackBlazer; 04-07-2009 at

06:49 PM

.
04-07-2009, 06:57 PM
---
Yeah it probably won't be enough but down here in Georgia I can't take normal corners at even the speed limit without the tires complaining. Everything should be fine then? Will 1" make any difference in appearence?
04-07-2009, 07:29 PM
---
Complaining as in squealing? What size tires/rims are you running? Is everything else stock otherwise? Lowering the center of gravity will actually improve that but to answer your question, yes. Everything should be fine. Your stock shocks have 1" of play in them, it just won't be as forgiving as the stock ride.
1" drop will give you a negligible difference in appearance.
Here are the pics of the Bravada drop as promised (click for fullsize):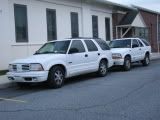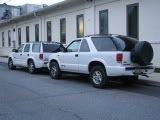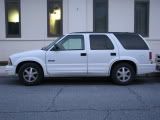 Blazer VS Olds rear wheelwell: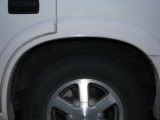 Blazer VS Olds front wheelwell: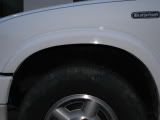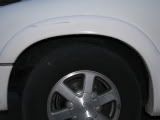 Remember the Bravada has front torsion bar bolts backed all the way out and 3" angled drop blocks in the back, no drop shocks installed, resting on the bumpstops in the front. Rides is like butter...COMPLETELY KIDDING. Rides worse than my truck. Probably could've gone 4" blocks in the back, cut the front bumpstops and added drop shocks and it would look 100% times better. Maybe ride 50% better.
---
Last edited by TripleBlackBlazer; 04-07-2009 at

07:36 PM

.
04-10-2009, 08:53 PM
---
Thanks for all the help. Just found out today when I went to get an alignment that I have bad ball joints. I'm gonna replace them soon probably do it myself. After that I'll drop it. Damn, I got this truck with less than 30,000 miles on it and drove 800 miles down to Georgia didn't expect stuff like this to go bad that quick especially because it was driven by my grandma, well anyways thanks allot.
09-15-2009, 09:31 PM
---
So I finally dropped my truck. Wow, it made a huge difference. The truck handles corners now just as good if not better than my girlfriends accord. One thing that i'm a little confused about is what you do about the front bump stops. I got 2" blocks for the back and just backed out the torsion bar bolts a little bit and now the front suspension is resting on the front bump stops. Do I replace them or cut them? I already cut the back bump stops but the front ones seem a little more solid. Thanks for the help.
09-15-2009, 10:08 PM
---
I've heard of people just cutting them, but you may be able to buy shorter ones. You may want drop shocks in the front. The rear shouldn't matter since the shock mounting points weren't changed with the blocks, just the axle position.
10-11-2009, 10:48 PM
---
hey hows it going i just cut the rear bump stops out and left the stock rear shocks and i switched out my front shocks only cause the pass side shock was bad but over all my blazer is droped 3" in the front and 4 in the rear.
10-13-2009, 06:08 PM
---
Alright on with the arguments again, my Dad is trying to tell me that because I dropped the truck 2" (backed the torsion bar bolts out all the way 2" blocks in back) that it will burn up my transfer case and mess up my front axles somehow. Thanks for your feedback
10-14-2009, 11:50 AM
---
no you wont burn up your transfere case or axles you only dropped it 2/2 i have a 3.5 inch drop in the front and 4 inch in the back plus i still have my front axles in cause i drive in 4wd just to keep the front actuator from going bad. your dad is just worried and dosnt want you to mess the truck up but with it being droped it has a lower center of gravity rides a little better and handles 2x better i heard the same stuff on my 92 s10 4x4 that was also dropped for 2 years and never replaced a axle or transfere case.
sory for the short story.