Wow look at this
03-14-2009, 11:22 PM
Wow look at this
---
today i was just thinkin to myself, how cool would it look to cut the back out of a 2001 blazer. and i got home, flipped open my four wheeler mag. and there it is, the exact thing i was thinkin of, here is the internet article on it
http://www.fourwheeler.com/eventcove..._09/index.html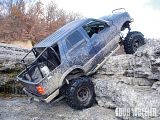 03-15-2009, 10:39 AM
Join Date: Feb 2006
Location: Saskatoon, Canada
Posts: 3,333
---
that actually looks pretty sweet!

welded his spider gear, very nice
03-16-2009, 06:38 AM
Join Date: Oct 2007
Location:
Posts: 1,169
---
looks like a sport trac wannabe.
03-16-2009, 08:12 AM
Join Date: Feb 2009
Location:
Posts: 11
You never saw the Shark?
---
It's a 2 door and whoever did it did a good job. kind of cool. I guess 2 people had the same idea!
03-16-2009, 03:12 PM
---
was the first two like a factory concept? it looks way cooler than a sport trac. i like it
03-16-2009, 04:34 PM
---
Originally Posted by
stevo
today i was just thinkin to myself, how cool would it look to cut the back out of a 2001 blazer. and i got home, flipped open my four wheeler mag. and there it is, the exact thing i was thinkin of, here is the internet article on it
http://www.fourwheeler.com/eventcove..._09/index.html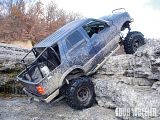 He just backed up too much & fell off. LOL
03-16-2009, 08:53 PM
---
thats seriously what i thought
it doesnt look like he has enough front end clearence to go up like that
uncles thats how he got his bumper off lol
03-18-2009, 06:07 PM
Join Date: Mar 2009
Posts: 5
---
get an S10 truck that's four door. i don't like it
03-18-2009, 08:31 PM
03-18-2009, 08:49 PM
Join Date: Jan 2009
Location: Portland, OR
Posts: 641
---
Ahh you know just avg hater...

Im going to do that to my truck...

but im going to put a kiddie pool and a palm tree in the back! then I'ma roll around in paradise everywhere I go! yah-baby!