New Wheels and a Crazy Idea
02-07-2012, 09:11 PM
Join Date: Aug 2011
Posts: 40
New Wheels and a Crazy Idea
---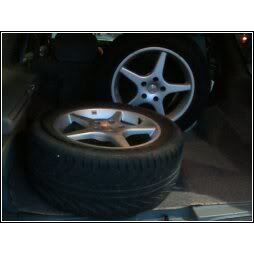 I found these 17 inch wheels on Craigslist and I just went and got them for my Blazer. I paid $130 for 5 wheels and four decent tires. They also came with a set of locking lugnuts. One wheel doesn't have the centercap but it is the one with the bad tire so it will probably be used as the spare. The lugnuts that they came with are black, but I will probably run a new chrome set. The 255/50r17 tires are actually shorter than my stock tires but I'm not gonna complain for what I paid for them. I don't plan on putting them on until after the snow is gone cause these are more of a performance style tire with about 50% tread and some uneven wearing, but they will be good to run for a while. I plan on buying the lugnuts and a new tire for my spare before I mount them. This has me motivated to possibly get a tint strip tomorrow.
Now my crazy idea, I think I am going to do some measuring and see how hard it would be to fit another backseat into the cargo area and fit 8 people in my Blazer. I did a bit of measuring, and I think it will be possible if I dont run headrest. I think the hardest part will be mounting the seat to the floor and getting seatbelts to work right. I am sure that I will have to mod the bracket on the bottom of the floor too. I'll do more math and check back in on it. Any thoughts or suggestions will be appreciated.
---
Last edited by lo.1987; 02-07-2012 at

09:16 PM

.
02-07-2012, 09:20 PM
---
take out the tie down holds take 2 peices of flat stock drill 4 holes in each one bolt the flat stock to the seat frame and then bolt the lap belts and the flat stock to the holes where the tie downs were
02-07-2012, 09:25 PM
Join Date: Aug 2011
Posts: 40
---
How would lap belts work on a bench seat? Have the other side run up through where the original seat belts click into and then dont run a belt for the center seat? then it would seat 7.
02-07-2012, 10:31 PM
---
my first thoughts are you'll have no headroom, no legroom and no cargo room. but I'd agree utilizing the tie down points would be a good idea.
02-08-2012, 07:54 AM
---
thats really the easyist way to do it abd bc of the room in the back and even fiting to people back there it would be tight and there would be no leg room at all
02-08-2012, 07:49 PM
Join Date: Aug 2011
Posts: 40
---
I got my tint strip done today for $29. They had a bit of a deal happen because they claimed they don't have the tool needed to take the rearview mirror off and they didnt do a clean cut around the mirror, but they cleaned it up after I complained a bit.
Stock:
First strip they did:
You can see that it wasn't clean around the mirror:
They then trimmed up a bit and evened out the cuts a bit:
Current view of the tint line from the inside: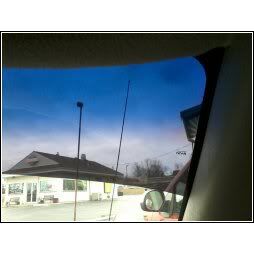 Tomorrow I might clean up the Nightshade tint on my taillights as there are a couple of spots that I missed.
Current mod list:
Tint
Tint brow
Glasspack
Aftermarket floormats
Tinted taillights
Added a 2 inch ball
Thread
Thread Starter
Forum
Replies
Last Post
Performance & Brainstorming
2nd Gen S-series (1995-2005) Tech