Watkins Glen International
08-06-2010, 05:00 PM
Watkins Glen International
---
So I've been catching up on getting pictures and movies off of my camera from our last camping trip. Well this year we went down to the state park in Watkins Glen from July 9th through July 16th. One of our side trips was over to the track.
Since I don't have a camera mount, the wife had to hold the camera while I was throwing it around the corners. She didn't do too bad of a job, but she did complain a bit...
This was part of their Thunder Road Tours. $25 for 3 laps around the track. We stopped at the start finish line during the 2nd lap then took another lap around before exiting just after turn 1. We went around the long course so this is longer than what the NASCAR boys do and we did get to go through the 'bus stop'.
If you have 10 minutes and can deal with the wind noise, ENJOY: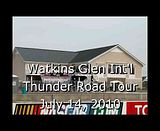 I really need to put a sound track to this to combat the wind noise. If I only had some free time...
The pace truck was supposed to be keeping everyone at 55MPH, but that didn't really happen. I was over 80 a few times...
Probably would have been faster than that if I didn't have to keep slowing down for the people in front of me. Passing was prohibited. The funniest part of the whole thing --> my kids were stone faced the entire time. Just another drive for them... Wonder what that says about my regular driving??
Pictures from the Start/Finish line: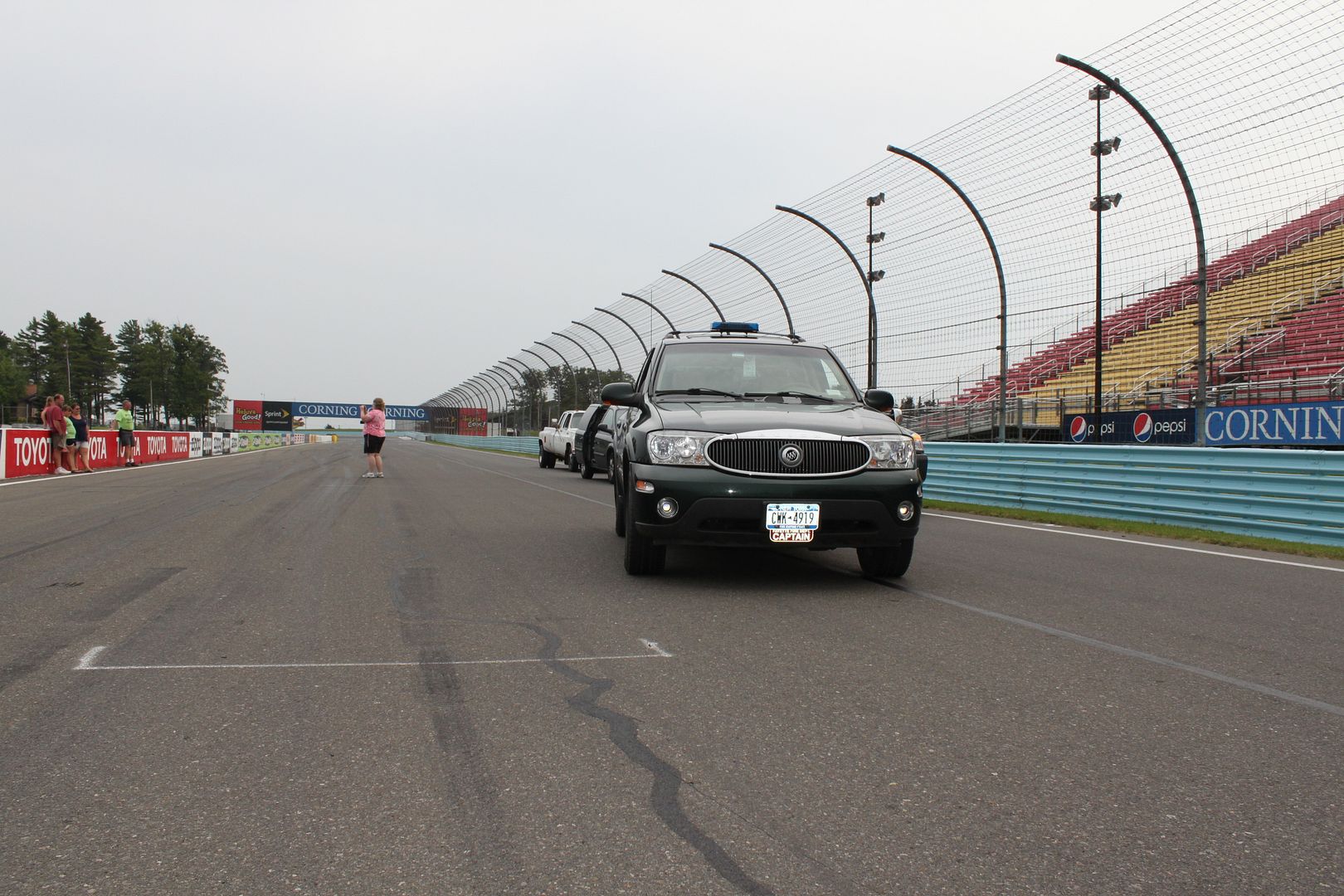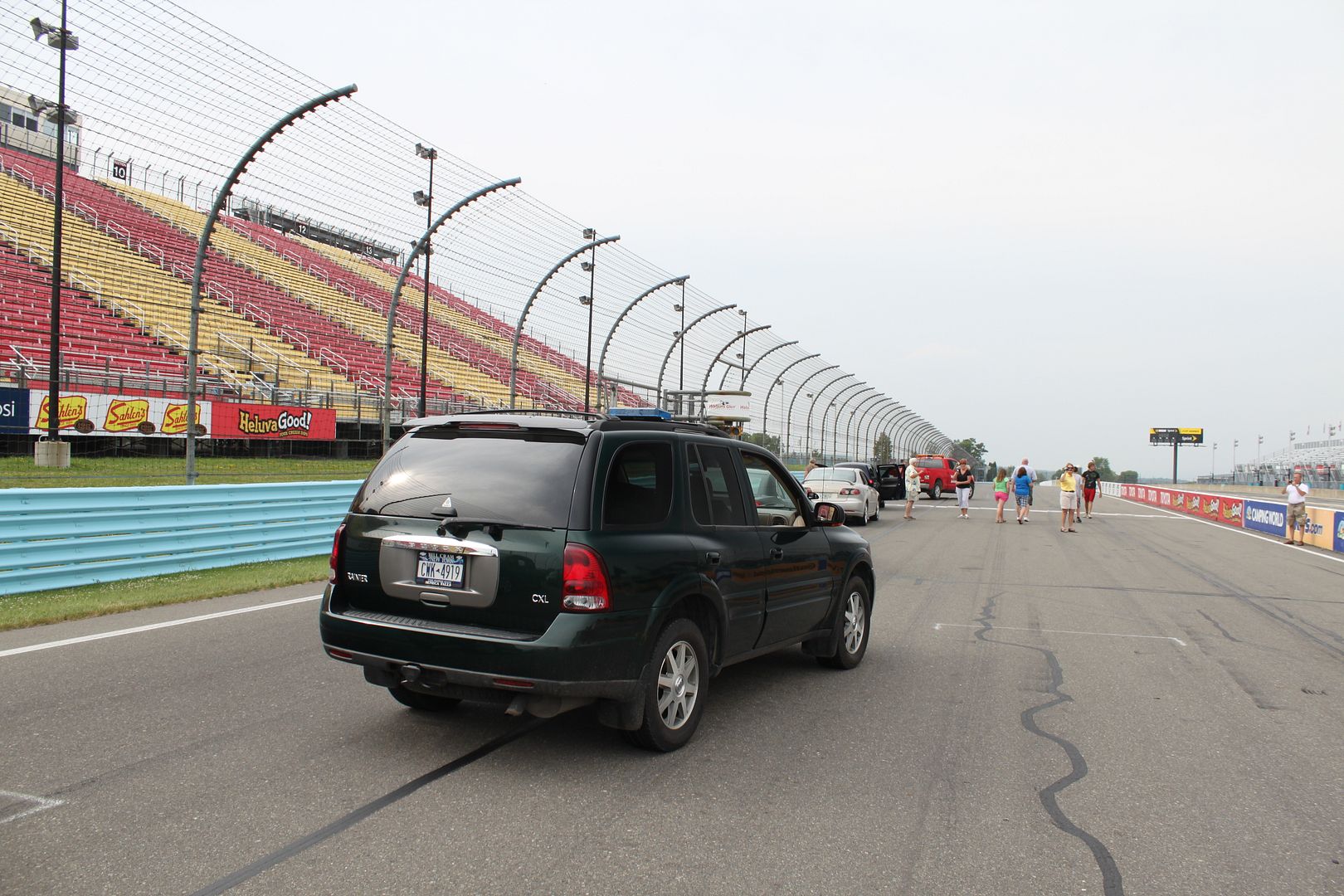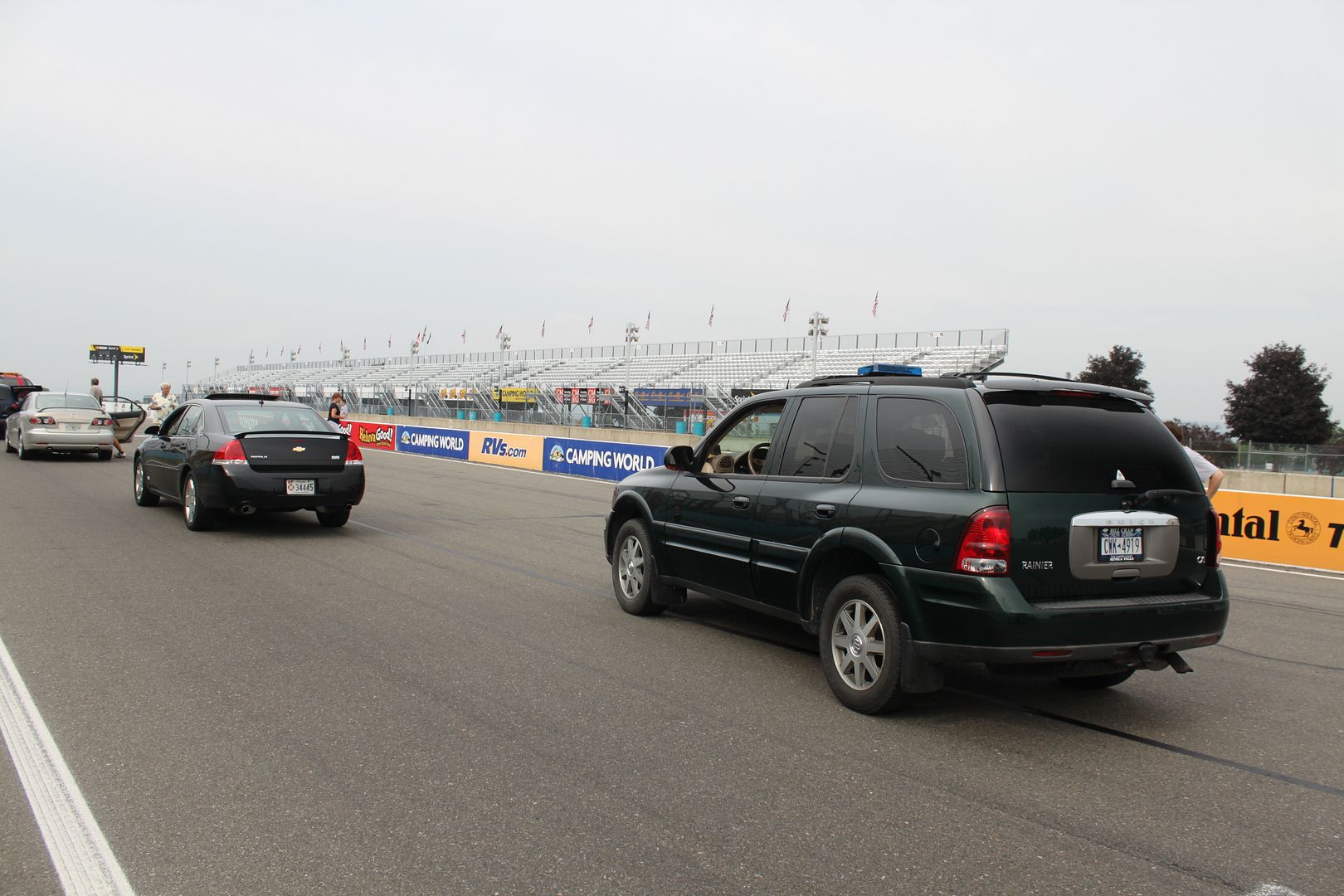 Tires got a bit warm (135F by my infrared thermometer). My hand stuck to the tire when I touched it and came back with rubber on it!! Not really good for tread life, but hey... It was fun!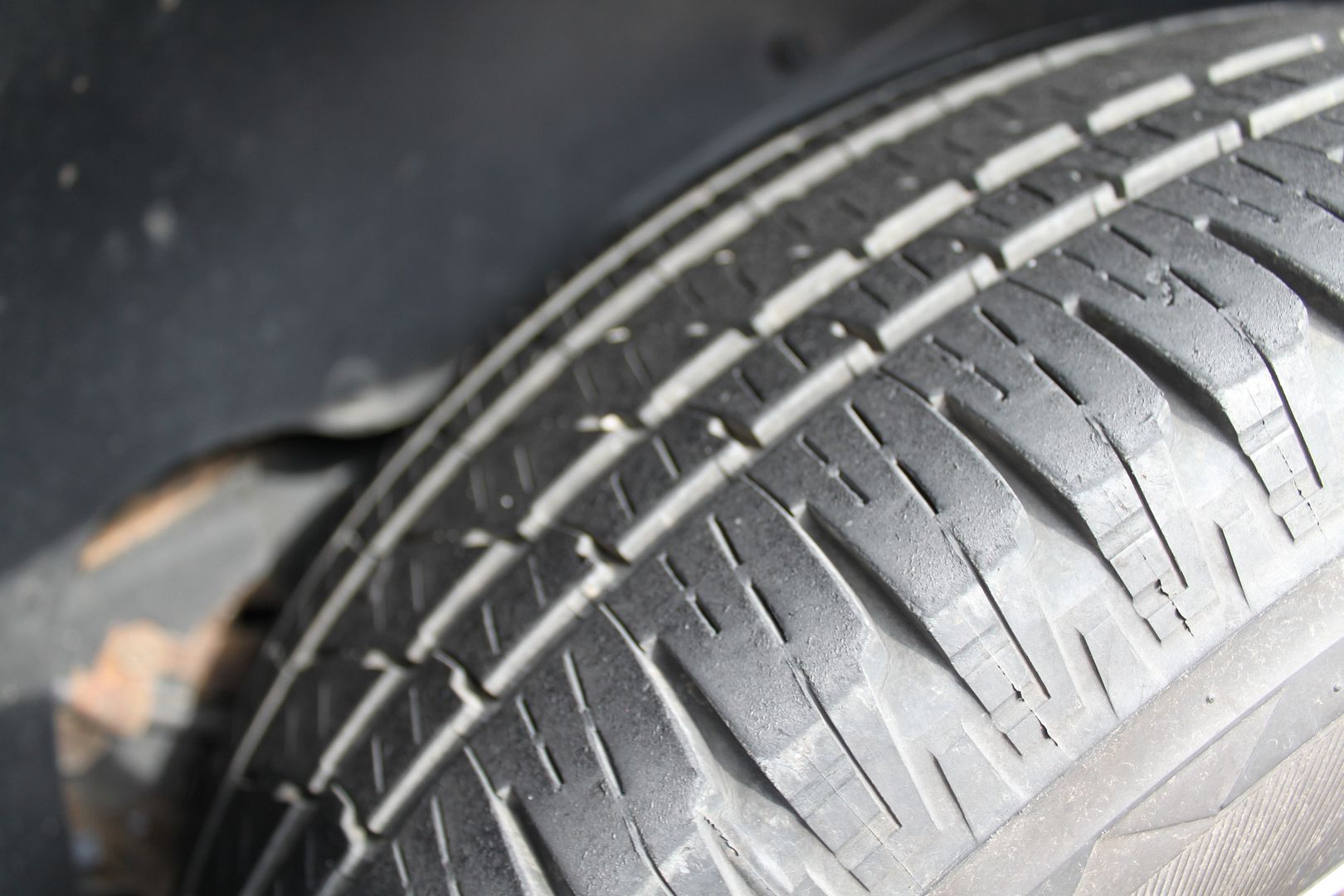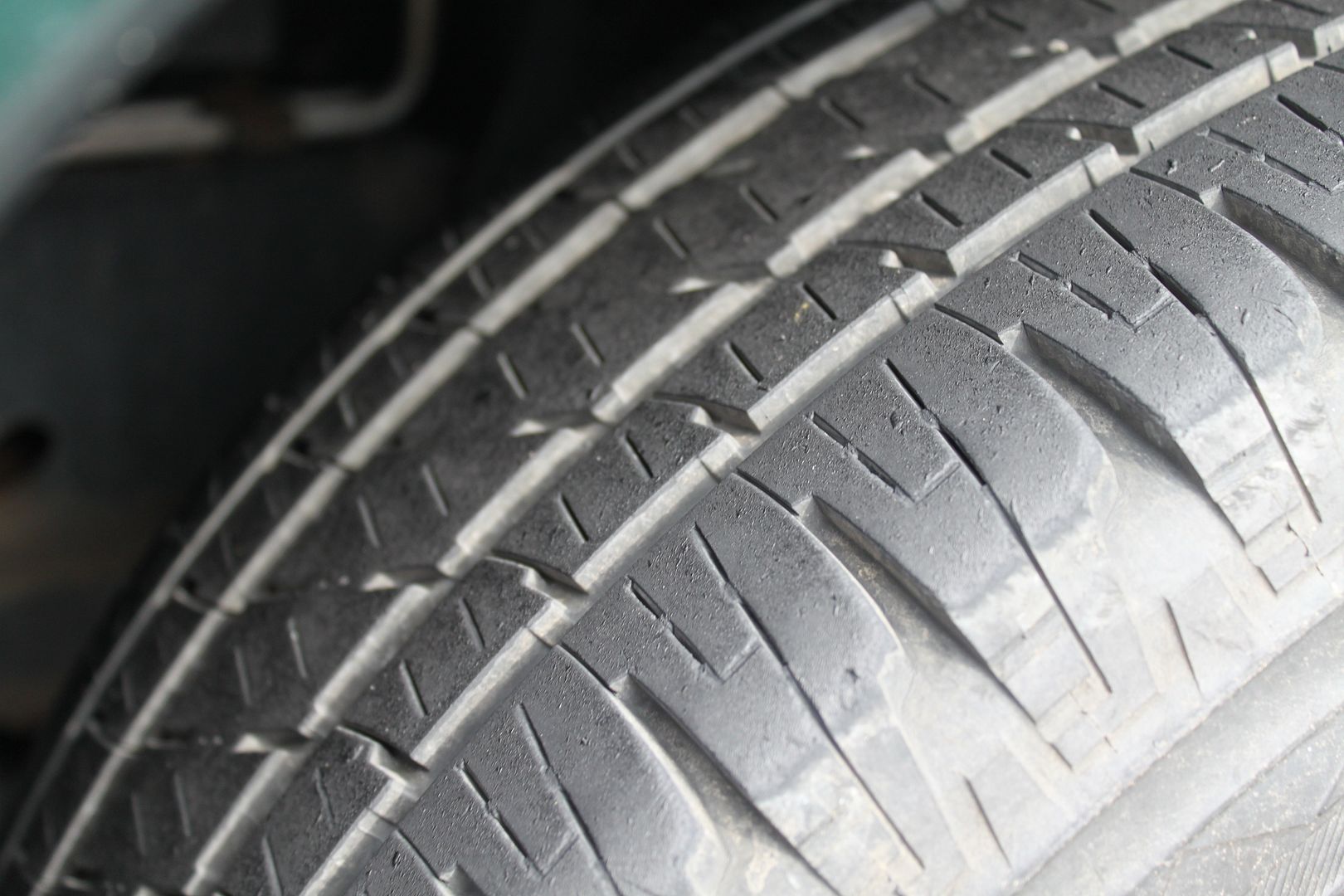 Air temp was 87F with the track temp at the start/finish line at 118F
08-09-2010, 11:23 AM
---
08-09-2010, 12:58 PM
Join Date: Jul 2009
Location: Oklahoma
Posts: 1,604
---
08-09-2010, 04:29 PM
---
Were there any other 'bigger' vehicles there? I saw the Titan (maybe Armada?) in the background of one pic.

Not only were your kids stone-faced (as per your account) but I think I hear one of the boys egging you on to pass? LOL That mixed with your Wife saying "This is scaaaaaary" and "Stooooop" at one point was hilarious!
08-09-2010, 09:19 PM
---
Yeah. Kaleb, my oldest at 5, was trying to get me to "just pass" everyone that was slowing us down! That was pretty funny.

And my wife might have been a bit quieter if she could have held onto the HS handles, but she had the task of holding the camera on the dash! Gotta have priorities!

As far as bigger vehicles, the truck behind me was a titan. There was another sedan or two behind him and then at the end of the line was an early 80's GMC 2+2 long bed dually! He didn't have a chance of keeping up.
08-09-2010, 11:27 PM
---
sounds like your truck is much like mine Kyle. except my son knows the Blazer can't pass everything, it's my daughter that's always going, "C'mon Dad, you can get around him!".
looks like you had a fun trip around the track. too bad you couldn't get a run @ the oval.
08-13-2010, 09:04 PM
---
Oh, forgot to say, nice apexing. Something the Impy in front of you didn't know how to do apparently.
08-13-2010, 09:45 PM
---
Yeah, I was using the whole track most of the time just to smooth things out a bit. I wasn't always going fast enough to require it. A few times I was. Picked up a pretty good push a few times and there were at least two corners where the AWD kicked in when I accelerated out after the apex.
11-21-2010, 11:05 AM
---
I live only about a hour from this track looks like you guys had a great time . I thought your wife was pretty cool I know mine would of had he hands around my throat if I did this with her in the vehicle . Glad I watched it , and thanks for posting it .
11-21-2010, 02:45 PM
---
I'm only about an hour away as well. I'll have to see how the new Tahoe does going around the track the next time we go down there camping.