Cragar soft 8's size
11-17-2010, 06:03 PM
Join Date: Nov 2010
Posts: 10
Cragar soft 8's size
---
okay so i have decided to just break down and buy a new set of rims,i am looking at ordering the Cragar Soft 8's ...problem is,i dont know exactly what size to order? i dont want them sticking out a whole lot...just want it to look basically stock. or maybe you guys have some other ideas for around the same price? any input would be great. pics of the soft 8's or others would help too.

thanks
11-17-2010, 06:23 PM
---
You have a 4WD truck right? You posted yesterday asking about older 4x4 wheels so I'm assuming so.

Soft 8's are about the cheapest wheel option there is. Unfortunately, I don't think there are any that fit the same as the stock wheels. I just checked the Soft 8's on summitracing and the Procomp version on 4wheelparts.com and the closest fit is 15x7 with 4.5" backspacing. That means they'd stick out an 1.5" further than your current wheels
---
Last edited by mdehoogh; 11-17-2010 at

06:25 PM

.
11-17-2010, 06:37 PM
Join Date: Nov 2010
Posts: 10
---
makes sense,are there any other options that would stick out less, that are still some what cheap?
11-17-2010, 06:53 PM
---
About the only options would be OEM wheels from other 4WD Blazers and S10's, Camaros and Corvettes. I don't know the specifics on what model Camaro/Corvette wheels will work though so you'd have to search for that.

Your current (4WD) wheels are 15x7 with a +51mm offset and 6" of backspacing. If you don't want wheels to stick out any further, look for the highest offset you can find (the highest Soft8's are only a +12mm offset).

There are a lot of people here with the Cragar/Procomp steel wheels and I think the slightly wider stance looks good. I have some 2WD (0mm offset) steelies I'll be putting on soon
11-18-2010, 02:54 PM
Join Date: Nov 2010
Posts: 10
11-18-2010, 04:20 PM
---
Originally Posted by
Cojack2
It's got 5" of backspacing but being an 8" wide wheel instead of 7" wide, it still has the same 12mm offset as the 4.5"BS Soft-8s
blazinloud posted a couple pics the other day that show that style wheel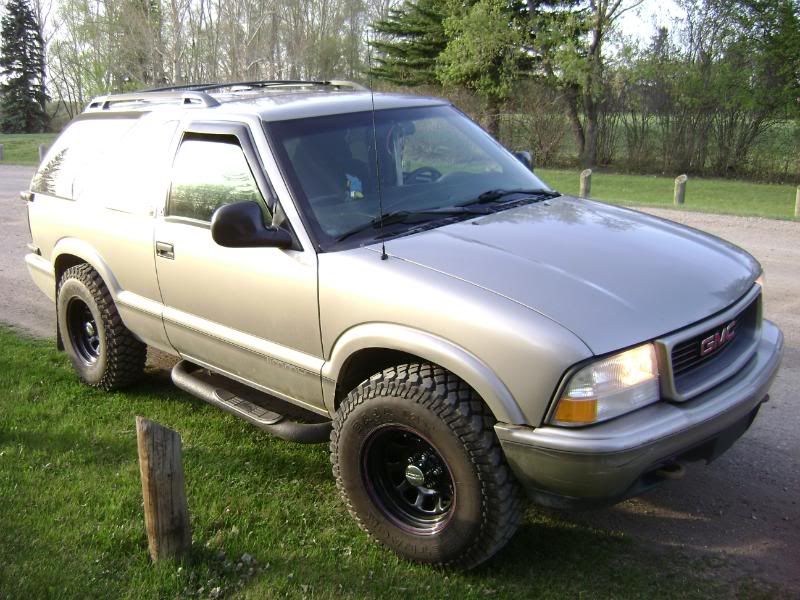 The only cheap steel wheels that will fit the same as stock would be the one like your spare tire has. As far as I know, they only ever came as spare wheels so you'll likely have to piece together a set one at a time
this is what the 4wd spare wheel looks like
11-18-2010, 06:00 PM
---
I'd go for some Camero rims.
11-18-2010, 07:12 PM
11-19-2010, 07:37 AM
---
Oh, yeah, just like is calendar guess I have a problem with my "a's" lol
Thread
Thread Starter
Forum
Replies
Last Post