I need help on my blazer
05-24-2009, 04:10 PM
Join Date: May 2009
Posts: 1
I need help on my blazer
---
hey guys im new to this site so dont start judging me cause i posted this in the wrong area. Ok so i just bought a 2000 Chevy Blazer and i hate the fact that the wheels are sticking in a bit too much. Is there any way that i can make the wheels stick out more??? I want a really cheap and safe way to do this. I dont have the money to buy new axle and stuff. I just want them to stick out more.
LIke the one in the picture below>>>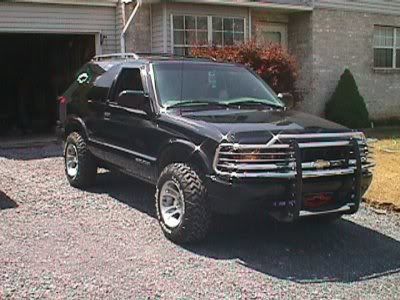 05-24-2009, 04:27 PM
---
Spacers or lower backspacing on the rims.

*Moving to Tires & Wheels*
05-30-2009, 01:35 PM
---
Is great!
05-31-2009, 05:58 PM
---
Thread
Thread Starter
Forum
Replies
Last Post
2nd Gen S-series (1995-2005) Tech