Spare tyre carrier
08-03-2009, 01:24 AM
Join Date: Aug 2009
Posts: 3
Spare tyre carrier
---
from Italy. Is it possible to assemble behind the hatchback a spare tyre carrier on a 2000 4wd 4 doors blazer?
08-03-2009, 01:27 AM
Join Date: Apr 2008
Location: Antigo, WI
Posts: 1,328
---
anything is possible....have a search around this topic has been discussed a few times, but i dont recall anyone actually going through with due to the extra bracing needed to support the carrier.
08-03-2009, 03:12 PM
---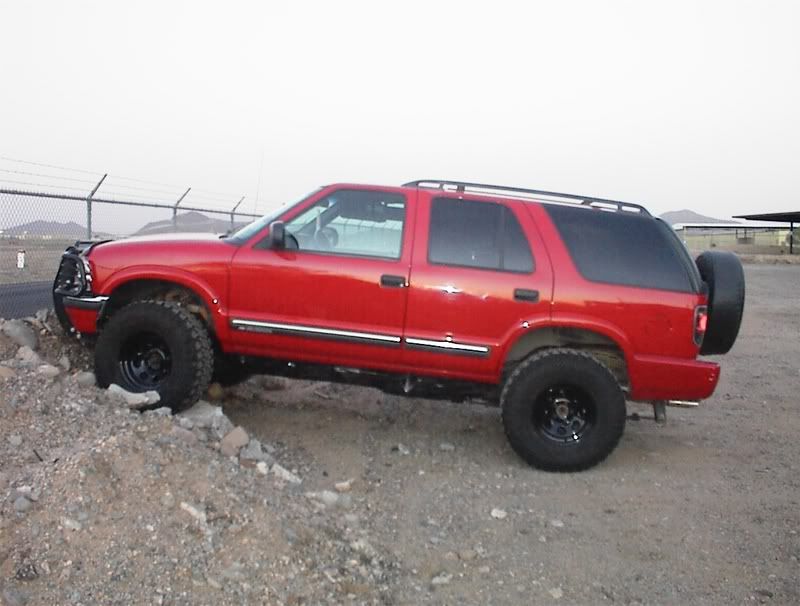 Rcars2 has the carrier from a 2dr on the back of his 4dr. I'm not sure if he added anything inside the body panels to help support the weight or not though.
08-15-2009, 12:24 AM
---
08-15-2009, 11:08 PM
---
Well since I have a tire carrier I guess I can give a little bit more information

I recently took off the tire carrier and strike plate to repaint them and behind them, guess what, steel anchors, they look to be about 1/4" thick (kinda hard to tell). It's definitely not going to be easy to weld them one b/c it's going to be hard to get behind the panels. Another thing to consider is the cost of everything, the bolts the hold the tire carrier are about $8 each.

Good luck, if you still decide to do it make sure to post pictures
Thread
Thread Starter
Forum
Replies
Last Post
2nd Gen S-series (1995-2005) Tech
2nd Gen S-series (1995-2005) Tech