Wheel Size
05-18-2008, 10:36 AM
Wheel Size
---
I have a 2000 Blazer 2wd I know the wheel size is 15x7 5x4.3/4 What is the stock off set and back spacing? I'm looking to buy some chrome wheels with the stock size.
Bob
05-18-2008, 12:43 PM
RE: Wheel Size
---
I think that finding chrome wheels with stock backspacing is going to be almost impossible, but thats just from what I have looked into.
05-18-2008, 01:19 PM
RE: Wheel Size
---
I believe stock offset is 0 mm and stock backspacing 4' for you...6' on the 4x4s.
Anyone else back up that offset measurement? You'll probably have to get a rim with 3.75' backspacing...that's usually pretty popular.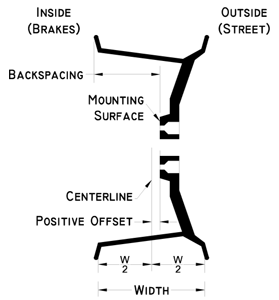 05-22-2008, 01:33 PM
Join Date: May 2008
Location:
Posts: 172
RE: Wheel Size
---
Your offset should be +42 mm just liek all 2nd gens.
05-23-2008, 09:22 PM
RE: Wheel Size
---
09-17-2008, 03:56 AM
Join Date: Sep 2007
Location:
Posts: 23
RE: Wheel Size
---
Is this correct, +42mm? I cant seem to get a straight answer of the exact offset. There are several threads but noone is really sure.
Thread
Thread Starter
Forum
Replies
Last Post
Headers, Intake, & Exhaust