bigluelok's unknown jimmy
12-25-2010, 11:54 PM
Join Date: May 2009
Location: SoCal 91001
Posts: 36
bigluelok's unknown jimmy
---
well looks like after a year since I joined this forum my friend is selling me his Jimmy. it a 96+ body style don't remember the year but its a teal green color. from looking online it looks like its a '96
good
It has new suspension kyb shock's
new poly bushing
new alternator
just serviced the 4wd
clarion head unit with new speakers all around
has HID's
just had a full tune up about 3 months ago his uncles a mechanic.
new brakes all around
K&N air filter
Magnaflow muffler
new walbro fuel pump
bad
front seats need to be recovered recovered
and needs new tires soon.
other than that I'm happy with it. I get it tomorrow so pic's tomorrow if its not raining.
Plans for this car will be to be a DD
so it will be simple mod's

TO DO LIST

Clean all interior really good
New tires
Recover front seat's
respray passenger fender to match the rest of the car
amp and subs 10's or 12's but most likely 10's
maybe 3-5 inch lift?
will add and mark of things as I go.
12/26/10
got it earlier today.
My friend told me it has a 98+ front end and oem fog light's
on to the pic's since everyone loves pic's
1. Front driver side
2. Driver side interior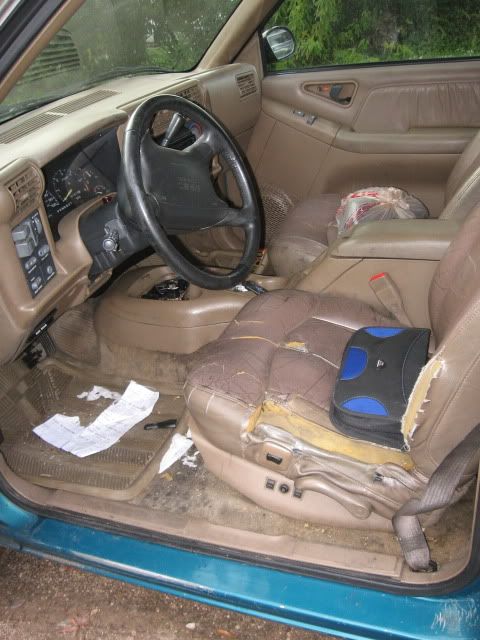 3. Back window hatch open
4. Rear driver side
5. 6k Hid's and fog light's
6. Passenger front
7. Cluster with 201k miles
8. Clarion head unit
9. Motor front view
10. Motor Passenger side
11. Motor Driver side
12. Fog light
13. Driver side suspension
14. Passenger suspension
15. need to replace the rear passenger tail light cover
---
Last edited by bigluelok; 12-26-2010 at

07:34 PM

.
12-26-2010, 11:30 AM
---
Yup, can't wait to see pics. Good luck with it.
12-26-2010, 07:32 PM
Join Date: May 2009
Location: SoCal 91001
Posts: 36
---
Got it earlier today pics on first post
---
Last edited by bigluelok; 12-26-2010 at

07:35 PM

.