Blaaazer's 97 SAS 4 door
01-06-2011, 01:36 AM
Join Date: Aug 2010
Posts: 9
Blaaazer's 97 SAS 4 door
---
I do not have very many pictures to show for this because they were all on my old phone which got stolen (Droid+kids at skatepark=bad news). Anyways, I got my Blazer from my mom back in 07 when I turned 16 because I had already blown the motor in my turbo Talon so she gave me the Blazer to drive until I fixed my car, but after two more motors and about a week worth of driving time on my talon I ended up driving the Blazer for 6 months until I got a 97 Integra GSR. Well after putting a ton of money into that and getting in way too much trouble in it I was forced to sell it which put me back in the Blazer. Well my friends always loved the Blazer because we would always go 4 wheel it when we had the chance, so it motivated me to start modding it.
It started out with a dvd player head unit and a Kicker L5 15, then went to torsion keys and shackles, 31 inch mud terrains, an intake, cutting the exhauast after the cat, painting the bumpers, making a skid plate, and so on. But then after breaking cv shafts, tearing boots, destroying wheel bearings, having to realign it every other week, and finally grooving the torsion bar bolt out of the key and breaking the bolt, it was time to switch to a solid front axle.
So I started sourcing all the parts I needed and researched as much as I could. I fould the Off Road Direct solid axle conversion kit and a 93 Wrangler Dana 30 front axle with 4:10 gears so I was set. Off Road Direct is probably the best group of people I have ever dealt with when ordering parts by the way. Customer service is top notch and they will go out of their way to make sure you get what you need. It took four days working ~10 hours a day with one of my coworkers helping me most of the time (my family owns a tire shop that I also work at so I did it there). There were some things that required creative thinking to pull off like rerouting the hard brake lines to put enough slack in the rubber ones, and the steering seemed like it was going to be impossible to figure out but all in all the project went smoothly. It now sits at roughly 11 inches of lift in the front and 9 rear with 33s and I love the stance! Here is the total parts list and pictures:
ORD Solid Axle Conversion Kit (Leaf spring hanger, shackle mounts, shackles, shock hoops, spring plates)
93 Wrangler HP D30 axle 4:10 gears
Pro Comp ES3000 (17" collapsed 29" extended)
Rancho RS4404 leaf springs (2.5" lift Wagoneer springs)
15x10 Cragar D Window wheels
33/12.50/15 Eldorado MTZ Sport tires
5 on 4.75 to 5 on 4.5 1" thick wheel adapters
Rerouted brake lines all around (can post pics if requested)
2" lift shackles and 2" blocks
Stock shocks in the back for now waiting to do some testing to find the right length
89 2wd Astro van gearbox, Cherokee pitman arm, cut out a section of the cross member, and a custom Z bar drag link for the steering
Cut rotors and ceramic pads up front, new drums and shoes in the back
My parking brake cables are currently unhooked because I have no idea how to make them work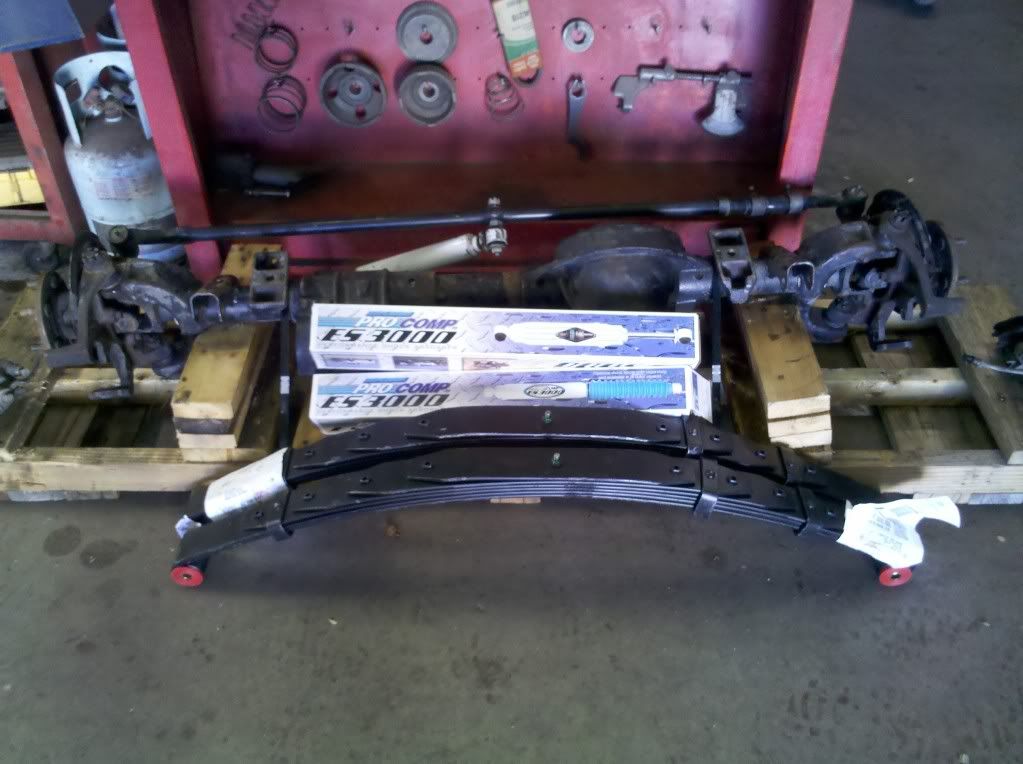 My coworkers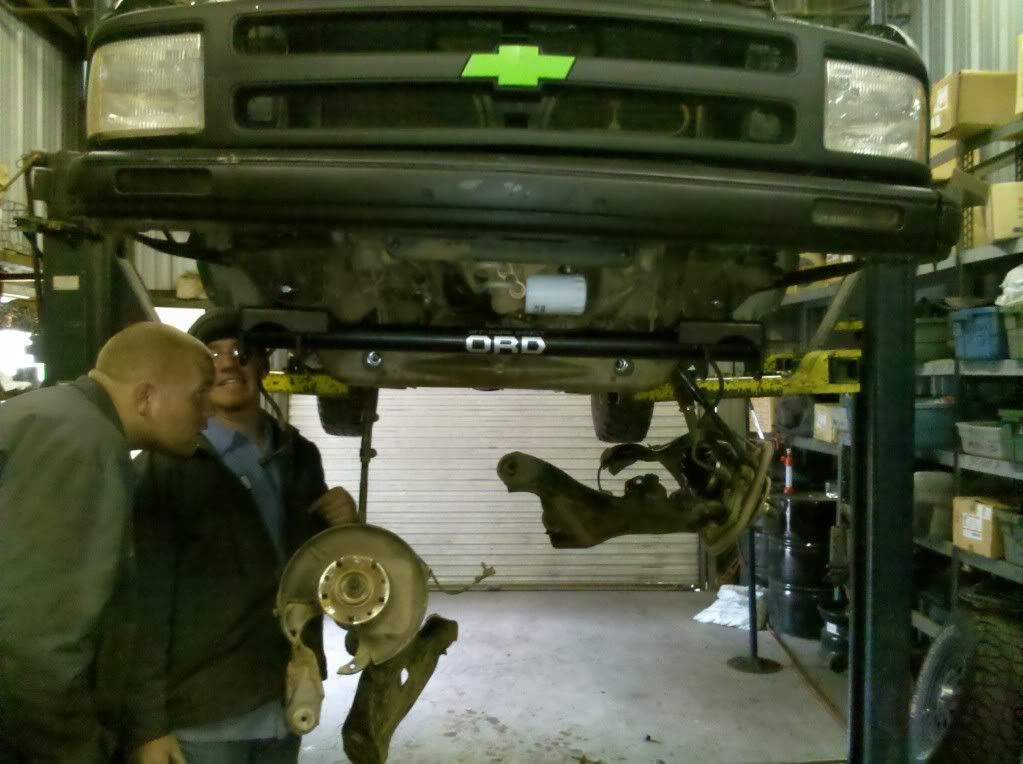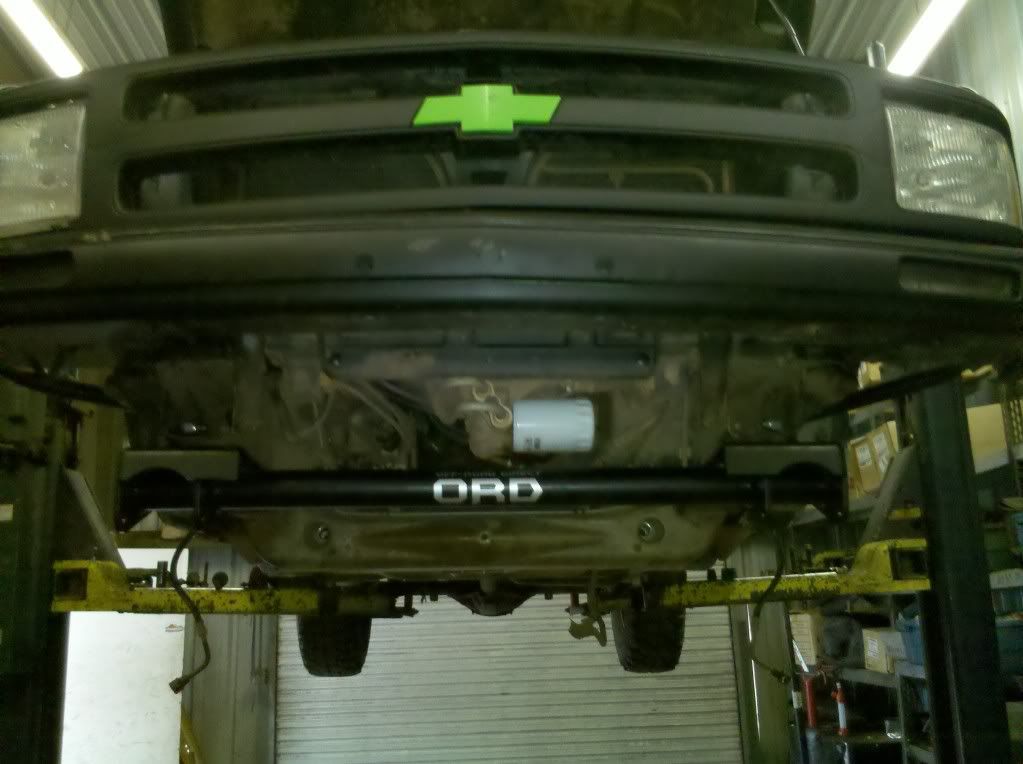 Anybody need some stock parts?
01-06-2011, 12:36 PM
Join Date: Aug 2010
Posts: 9
---
Well the springs were really stiff when I first put them in, but now that they have worn in its pretty nice. It drives way better now than it did before but that was because I had aftermarket torsion keys that raised it a lot and made it drive like a tank. I would say its a little rougher than a bone stock blazer but better than almost any other lifted vehicle I've driven before.

My blazer is currently at the local 4x4 shop getting my 4:10 gears put in the rear end, a Cherokee front driveshaft, and the yoke switched out on the transfer case for a Jeep one. Hopefully I will get it back today so I can take some pictures of my fresh rubberized undercoated undercarriage!
01-06-2011, 01:41 PM
---
if you dont mind me asking some things....

alot of welding involved?

final cost of project...est is fine..

i am looking at either doing susp lift or this...i have a budget so i am looking at my options..

thanks..

ride looks great by the way.
01-11-2011, 12:51 AM
Join Date: Aug 2010
Posts: 9
---
Thanks guys! I have some pretty nice pictures from when I went out crawling over the weekend but they are on my memory card on my phone that I managed to run over so I won't have access to them until I get a new phone tomorrow.

But there wasn't much welding involved with the actually lift, the only welding was the new leaf spring pads on the axles which is pretty simple. The lift itself was actually cheaper than say a superlift 6 inch it was probably around $1600 for the complete lift, but then when you add in the new gears for the rear end, having to get a new trans cross member made, and the front driveshaft puzzle it gets closer to $2500 or more depending on how much you do yourself.

I finally got four wheel drive working last friday after having to get a jeep output flange put in my transfer case, my crossmember modified, the exhaust piping off the driver's side manifold tucked up more, and buying a custom made driveshaft. It does amazing now though! Hopefully I will take some pictures of all that in the morning.