Mmmrodge's 2000 Jimmy
10-05-2012, 06:54 AM
Join Date: Jul 2010
Posts: 84
Mmmrodge's 2000 Jimmy
---
I'm new to posting around here but I have been creeping for a little while. Here is my quick dabble in S-series trucks.
2005 bought a 95 Jimmy for a winter beater. Brakes were so bad the front calipers were wearing against the rotors. Did exhaust tune up, fuel pump, spideys and swapped in a 2000 blazer leather seats, new carpet and drove the **** out of it. here she is
[IMG]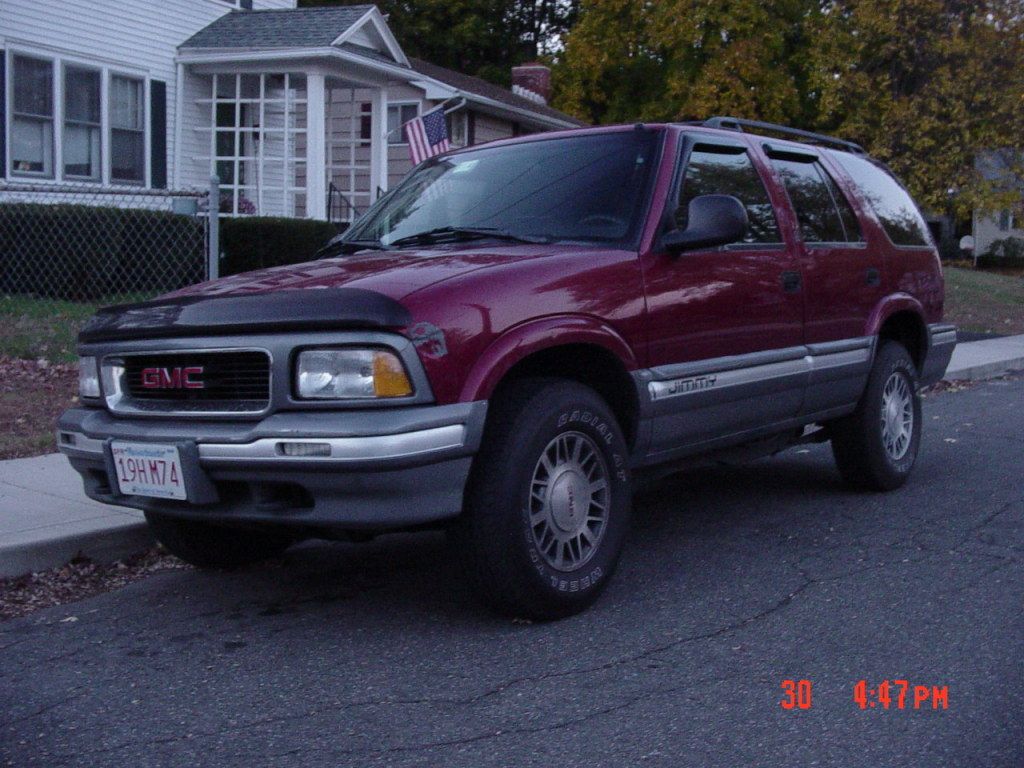 [/IMG]
I bought a 2000 GMC Jimmy SLT 4x4 4 door on ebay locally for cheap. CT salvage title. The guy had fixed alot on it, I bought it, finished it and had it reinspected to get a rebuilt MA title. Here she is the day I picked her up
fixed her up and wah lah
Still had my red 95 (see behind Cobalt SS)
10-05-2012, 06:55 AM
Join Date: Jul 2010
Posts: 84
---
a few years later...
bought a 98 Jimmy with 200k+ on it for $300 and flipped it (for cash, not a roll over)
last spring bought a 2001 Bravada fixed it up and doubled my money. had alot of rust, leaky gas tank, rear brakes, front abs sensors
---
Last edited by mmmrodge; 10-05-2012 at

07:00 AM

.
10-05-2012, 06:56 AM
Join Date: Jul 2010
Posts: 84
---
bought some Z28 rims and figured they would look better with 33's on them, so I ordered Rough Country 2.5" lift and Performance Accessories 2" body lift and began wrenching
Body lift done
test fit
---
Last edited by mmmrodge; 10-05-2012 at

07:07 AM

.
10-05-2012, 08:04 AM
---
Nice jimmy! Why are there so many posts lol!! Espescially the last two that don't even make any sense. There is an edit button on the right side of all of your posts so you can edit to add more info just a tip since you did say you were new at this
10-05-2012, 06:47 PM
---
They will rub big time on the front!
See here;
https://blazerforum.com/forum/tires-...er-pics-71189/
I am currently running 33x10.5's and I have built up the steering stops with a 5/16" piece of round steel and I still touch the frame. I have my fenders trimmed significantly and I still rub the fender at times. I have the 2.5 " lift on order bit it will only gain me another 1.5" on the front. Basically the RC lift will level out my blazer.
If your blazer stays on road you might be fine.