Modify-Restore '79 k5
06-04-2012, 11:25 PM
Modify-Restore '79 k5
---
I picked my Blazer up a couple months ago, and I am excited about how much work this is gonna be.
I am doing much of this work for the first time. Not much body work experience, most of the work I'm used to is just reviving up beaters to sell for the next shiny thing to come along.
Its a 1979 Blazer, 350/350 Edelbrock intake manifold, Preformer carb.
Picked it up for $1200(retrospectively I would have talked this guy down way more) But I was so eager I jumped on the opportunity.
The dash is torn and cracking, high back seats are off a chevy van, I think, and are ripped to shreds. Rust on both drivers and passenger floors, Behind both seats, minor holes in cargo area, rusted wheel wells, rocker panels are Swiss cheese. No heating system, vent ducts or vent grills, wires everywhere. The previous owner had rigged up grill lights to fuse box, connecting the various colored wires together with duct tape.
Thanks to this forum,
I have fixed the speedometer, gear was bad. Got the rear power window working again, jumped the safety switch, probably will clean it up, but keep the safety out.
Did a rebuild on the carburetor, got various interior pieces from junk yard, new dash bezel, parts to the heating system and duct work.
But my first real big project will be the rust, took seats out, removing rest of interior and assessing the floorboard work. Real test of my welding skills will be to cut out old floorboards and put new ones in, but I'm hoping to put Rino-lining in so its not complete perfection I'm after.
Still trying to figure out how to add photos
I started this thread, because I know I'm gonna have problems later on, and it just feels really good to vent!
06-05-2012, 11:41 PM
---
Well I finished tearing the interior down to floorboards, and the rust is not as bad as I had initially thought. Cargo area is mostly salvageable, the worst of it is right up front, and everything else can be sanded down and coated with preventative. Lot to cut out up front, probably easier to get all new floorboards from LMC, then to try fabricating replacements out of sheet metal. Only the front cab mounts need to be replaced, both rear quarter panels are good to go.
Also the back seat is in great shape under the seat cover, even brackets look good, and its the original maroon/plaid that goes with this truck, I think I'm going to stay away from factory color scheme, but its just good news.
Top is great, no leaks up front so far, but seal on rear glass could use replacement.
35 BFG's are at over 90% tread, and engine is running quite well at the moment.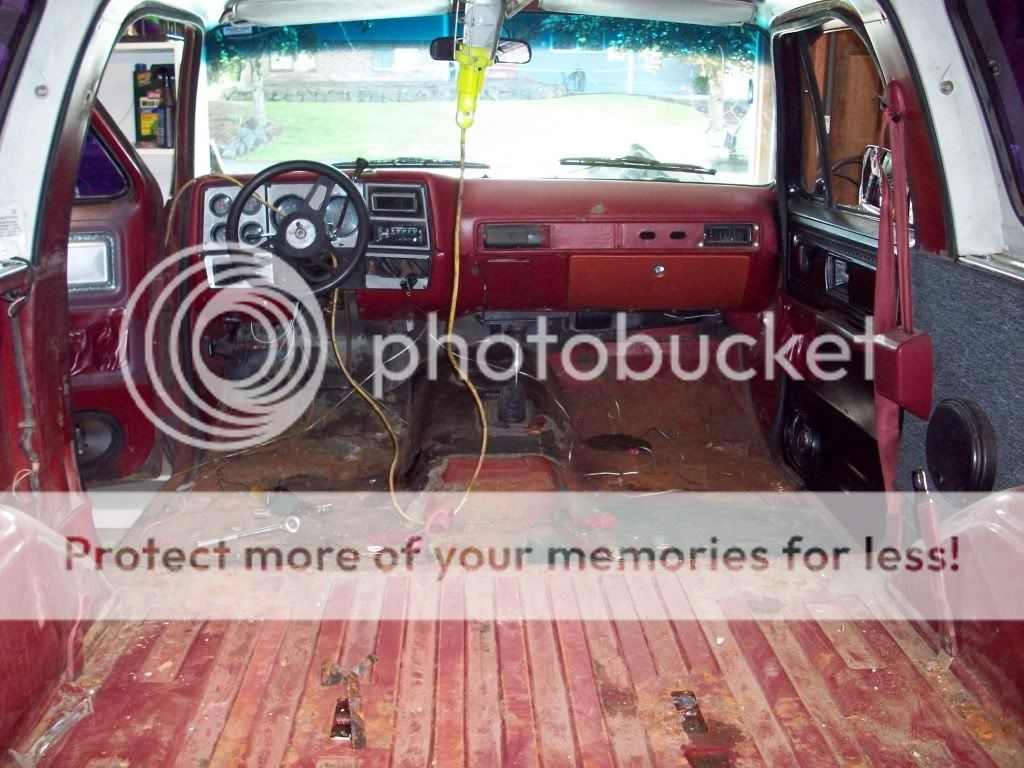 06-11-2012, 03:42 PM
---
Spent the weekend grinding the minor areas of rust down, and deceiding what I'm cutting out. Just ordered new floor boards and front cab mounts from LMCtruck.com, I have not found a cheap chassis for sale with the floorboards I need on it, but I may buy one of the cheaper ones I found to grab rocker panels and other things that are still good. Also got a new tailgate glass sash, from LMC old one is rusted out and warped, already paying for shipping, why not?

All thats left is to wait for new floorboards to come in, cut out the rust, swap out, bondo and primer the ground-out spots, and I may put seats back in at that point, weather is getting nice, and I want to play around a little before I have to put it up to start major work.
06-18-2012, 07:55 AM
---
My floorboards came in last week, along with my new cab mounts. I had found a great deal on a stick welder, (as my wire feed I didn't think could quite do the job I want) but it requires a 220v outlet, and the one my dryer is hooked up to is the wrong style.
I was thinking about replaceing the power cord on the welder to fit the current outlet, but then I will have to move the dryer, and run leads from laundry room each time I need to use it. So I have a buddy coming over to install the proper outlet in the garage later on this week(hopefully). Besides I am having a hell of a time trying to cut out the old rusted out floorboards, using low quality pnuematic cutting tools.
I have plenty to keep me busy though, I still need to replace cab mounts while I'm working in the area, and wire up grill lights, with any luck things will be looking alot better by next week.
06-18-2012, 09:00 AM
---
Good call on installing the proper outlet. They are configured by amp rating. The welder may or may not have been rated higher than the dryer, but probably was rated higher.

What did you have for a MIG? Personally, I would MUCH rather use a MIG for sheet metal work than a stick.

Having an air recip saw makes fitting floor pans much easier. Or at least a cut off tool with some 0.040 cut-off disks. The air recip saw makes for an almost burr-free edge that is ready to weld as is for a nice butt-weld.
06-27-2012, 05:25 PM
---
Oh absolutely the recip saw is great, however I went for the cheapest one I could find(months ago) and it went out on me, air goes right through.

As for welders, I have a better time with thinner metals using the wire feed, but anything much thicker than tin, and it bubbles up and looks awful, I havn't used a sick welder before, but seems like it would be easier to get a nice bead going. I still have yet to fire it up though, buddy who was gonna help me out installing new outlet, his work is picking up for the season, and we havn't been able to get together.
06-27-2012, 07:18 PM
---
All comes down to settings with MIG welders. 1/4" is where I'll draw the line for my little Millermatic 135as machine, but anywhere from 1/4" down to the really thin stuff (wire size & gas type/flow-rate changes aside) and it'll lay down nice beads. Anything bigger than 1/4" and I'll go use my dad's Ltec 250.

As with any kind of welding, you have to get comfortable with it and definitely DO NOT weld onto crusty/rusty old sheetmetal! Clean it up first.
07-03-2012, 08:55 PM
---
Well certainly not as far along as I would like to be on the floorboard project, but I have been quite busy lately. I still am working on getting the old floorboards cut out, I have yet to go out and buy a good reciprocating air tool, I would very much like to just spend good money on a tool that will last.(good money being a relative term) So in the mean time I have been cleaning things up, all grill molding had been painted black, as with the bowtie. So took it all off and have been going at it with old fashioned steelwool and elbow grease. Cleaning up wiring that was sagging(is it one
G
or two?) below the undercarrige, and wrapped around the engine mounts. And fine tuning the rear window, as of right now it just doesn't have enough power to raise the glass, and the window sash is wobbely(<---- I cannt spel nething) so I think I need to get a silicone adhesive to fill in more.
Mishimoto-just a flux wire