Project 2k - Mild trail / camping rig build
03-09-2014, 06:59 PM
Project 2k - Mild trail / camping rig build
---
This is my second 4dr, first one being a 1995 Chev blazer that i absolutly loved, however i was commuting almost 3 hours a day and it wasn't that economical. But after getting my dream job 2 blocks from my house i figured it was time to get another 4dr and do it up right. I have done quite a bit to my Jimmy so far, and figured i would jump on board and create a Build thread.
So i purchased the 2000 Jimmy Aug 2013 . Paid $1700 for it, had aprox 345,000kms on it. On my hour long highway drive home with it , had the death wobble at 100kms an hour, i knew it needed front end work, but wasnt sure of the extent. So i got it home , had a buddy shake the wheels around, and found all 4 ball joints were bad, all the tie rod ends, of course the idler arm, and broken sway bar links, and rotting upper control arm bushings, and of course both front wheel bearings. On top of that found major oil cooler line leak. Cat was rattling, muffler and tailpipe was rusted through and split open.
So here she is the day i bought her.
So this is a list of stuff i did to it right away
Complete tuneup, plugs, wires , cap , rotor, fuel filter, new belt.
Basically the complete front end except for the upper control arm bushings
New rotors and pads front and rear
Had an exhaust shop cut the cat off, install new pipe , stock muffler, and stock tailpipe.
About a week later i ordered the pa 2" body lift and , and traded a flat of beer for a set of almost new artic claw 31/10.50's
Lost all the pics from the install of the body lift, however it was pretty straight forward, all pretty easy as my body mount bolts were quite loose to start with haha .
Got that done and the truck looked awful saggy in the rear end, so i figured i would band aid'er up and picked up a pro-comp 2" add a leaf, and cranked the torsion bars up.
Couple pics after the AAL, and the body lift.
so drove it like for a few months and did lots of little repairs;
wiper motor, blower fan resistor, t-case vacume switch, broken abs sensor wire etc. At christmas time i put in a JVC deck and replaced all the speakers with some Clarions
got some soft 8 knock off wheels from work, and mounted up my winters to them, and i am really liking the offset.
Pics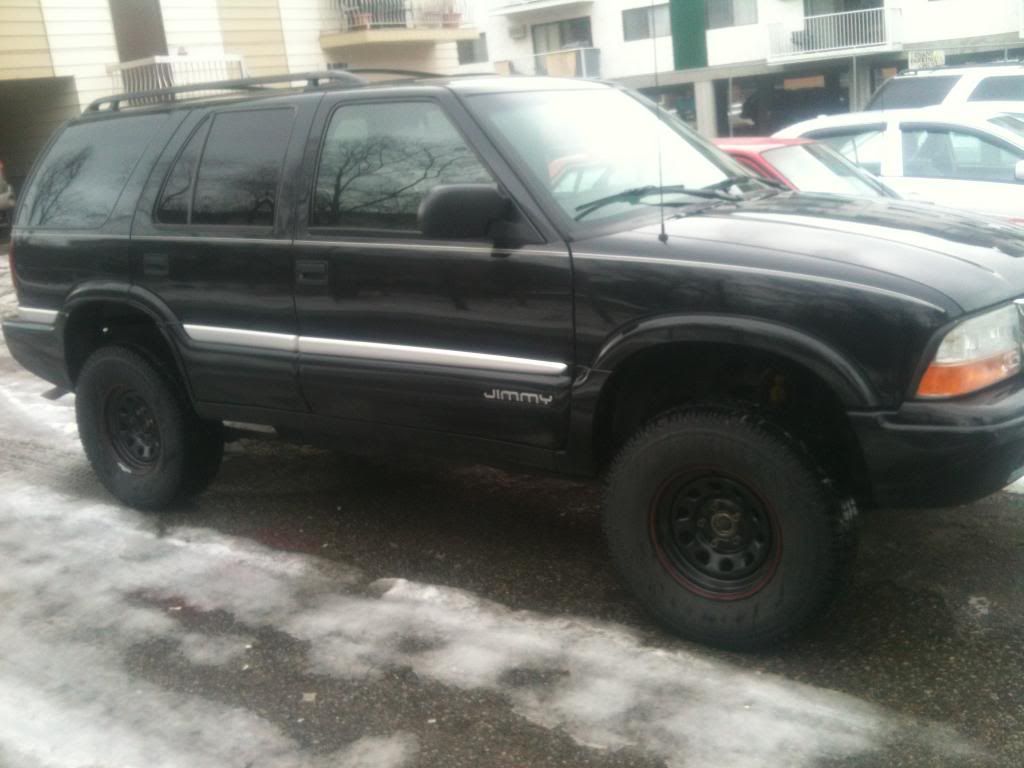 And as of today i replaced the rear axle bearings and seals, and mounted my radar detector .
Took a couple shots as it was a nice day
couple crappy flex shots;
So some short term plans for the Jimmy now the weather is getting nicer is;
Some type of at/mt tire. havent decided what kind yet . Thinking a duratrac or cooper stt, or maybe baja claw.
Looking at getting a nice sounding muffler of sorts, but not sure which way to go.
Going to pic up the rough country 2.5" kit once my tax return comes back.
Really need some sort of subwoofer woofer weather its a powered bass tube or a small 10" .
Keeping my eyes peeled on craigslist for some sort of roof rack or basket, and finding a swing away rear tire carrier but for some reason they are a rare find around here..
There is more to come !
03-12-2014, 08:46 PM
---
Well couple updates..
Had a nasty pulley noise, so i bought a new idler and tensioner which i definitley needed, however i gave the alternator a spin and it had a bad bearing aswell. Replaced all that, much better. Also got my HID stuff installed. cant wait till a little later once it gets dark to aim them. the local princess auto has a nice little safari basket for a good price, think i might pick one up this weekend.
03-15-2014, 08:16 PM
---
Little update, picked up a Audiobahn 15 dvc sub, a power cap, and an xcite amp from a guy at work for a hundred bucks. The box is obviously too small for the sub, so planning on building one. will post some pics up tommorow once i get it installed.
03-17-2014, 08:49 PM
---
Well found a box for my 15" sub, going to hold off on building something until i know if i am going to keep it or not. I am thinking possibly getting a single 10 and make something nice to fit in the back so i can still carry camping gear and such. But for now i at least have a little bit of thump back there.
here is the so-so amp. going to run this for awhile for the sub but eventually it will be used to power the door speakers in the truck as it is a 4channel. i saw some nice setups people have on the forum here, and like the idea of a fiberglassed in box underneath the side windows in the back.
Also picked up a box of misc resistors to disable the automatic headlights as they are hid now, and dont want them turning on and off all the time.
Couple "Urban Wheeling" shots from today after work down at the marina soaking up some sun.
03-24-2014, 02:13 PM
---
Picked up a set of Hella 6" lights for the front of the truck. and a set of cheapy fogs for the backup lights. having a hard time deciding were i am going to mount the Hellas, and were i am going to mount the switchs inside. any suggestions?
03-24-2014, 09:11 PM
---
I sold off the 15 this weekend. it was just too much for me, also took up alot of room. i am looking for a good quality 10" that i will make a small enclosure for off to the passanger side of the truck in the back. I dont need huge bass, just a little thump.
Still trying to figure out were to mount these switchs at. there isnt really a good place to mount a set of switches.