Project: James
12-14-2010, 09:22 PM
Project: James
---
Well, I figured it's about time I start a build thread before I do too much and never want to write it all up haha.
As it sits right now:
-GM Brush Guard
-Hella 500 Driving Lights
-15x8 Pro Comp Rock Crawlers
-1.5" T-bar Crank
-3" Rear Shackles
-Sony Xplod HU
-2 10" Pyle Drivers
-Accented Dash
-Under-dash neons
Started out with:
1996 GMC Jimmy SLT
Added a Sony Xplod HU and 2 10" Pyle Driver's with a 500 watt Scosche Amp
Then came the 1.5" T-bar Crank and Shackles (don't really have a good picture)
After that came the ebay CAI with the Sceptre filter
I used some Krylon Fusion paint for plastic for the interior
Later, I cut the downtube on the CAI intake to raise the filter up, painted the tubes with some high heat silver, and added the homemade heat shield.
Then came time for a little bit of rust removal.
Next addition was the Brush guard, a Craigslist gem that I bought brand new for $100.
Next came the Hella's. I mounted them to the brush guard using 1/4"x1 1/2" aluminum stock from Lowe's.
My rust removal attempt ended up failing so I turned to craigslist once again. Found a spare tire rack and Bravada rocker panels for $50 total (if I remember right) Painted the rocker panels and placed them over my existing ones.
Worked on the tire rack this summer. Got it sand blasted, primed, and bed liner'd but ended up throwing it in the attic because I ran out of time to put it on before school started.
And there you have it, the build of my Jimmy in the past two years to date. I plan on continuing the build up process but now I've got to pay for some replacement parts after and accident I got into this past weekend.
Here are some pics of that...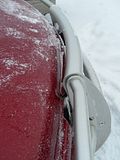 Congratulations!!! If you are reading this then you've successfully made it through my build thus far and I appreciate it, more to come soon!
---
Last edited by Red 96'; 12-15-2010 at

01:28 PM

. Reason: Sp3lling airor
12-15-2010, 08:49 AM
---
12-15-2010, 01:21 PM
---
Well, just picked my Jimmy up from the shop, I had to get the freeze plug replaced, AGAIN! Do yourself a favor, if you replace a freeze plug, replace it with an OEM brass/stainless one. The rubber one I used just shrunk in the cold weather and started leaking again. Anyway, the bill came to $130.00, ugh.
12-15-2010, 03:06 PM
---
Same here. I see some on craigslist, but they don't specifically say they will fit on a blazer. I guess I need to see what the measurements are and go from there.