Project: K5
09-17-2012, 10:05 PM
Project: K5
---
So i got a new toy and its time to start a build.
from the dealer.
Man, who ever owned this before pretty much half ars everything they tried to do.. the grill was a mess, flaking all over the place.
so i painted it black today.
Then i pulled the sticky bus driver steering wheel out and replaced it with a seemingly golf cart sized grant steering wheel, this will do until i can buy a nicer one.
The s10 next to the new k5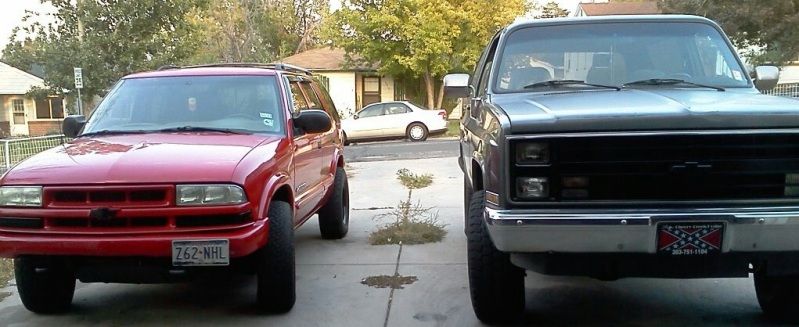 Next plans are, fixing the door locks, they are kinda sketchy.
Painting the rockers black, you can see where they painted them white and
did a horrible job i might add. then i might tackle the rust.
Lots of ideas and other stuff to come!
---
Last edited by Brian_D; 09-17-2012 at

10:38 PM

.
09-23-2012, 09:05 PM
---
Today was a day for some paint.
Had to get rid of the horrible white crap someone put on.
Sanded
Taped off
3 coats of primer and flat black 2 coats of clear.
Lastly, got the stereo installed. (finished just in time, it got dark..)
anyways i think it turned out allright, a 100 times better than what it was before, im thinking that after i fix the rust on the fenders i will have it painted professionally from the crease down, or just have it all done black.
Have a nice evening folks!