A thoroughly British Blazer Build
04-13-2011, 03:42 AM
Join Date: Nov 2010
Location: Shropshire UK/ Lot France
Posts: 91
A thoroughly British Blazer Build
---
So not much to report so far, I bought my Blazer a couple of months ago and so far have spent my time undoing the neglect of previous owners, a full service and tune-up, plugs, rotor, cap, wires, all were the originals at 66K miles so all have been changed for genuine AC Delco items. Brakes have had a good going over although I still need to bleed them as I suspect theres air in there somewhere, trouble is the bleed nipples look very corroded so I'm not sure whats going to open. Any tips for getting them undone appreciated! I need to source a new inlet hose as the previous owners butchered the current one to fit the LPG (Propane) mixer in it so I think its letting air in so may be running a touch lean. A coolant change is also on the cards. Plus a change of gear, transfer box and axle oils when I have time, especially as the "Service 4wd" light comes on intermittantly. A nasty summer job will be a good clean up underneath, strip all the flaky paint off the frame/floors and a good coat of chassis paint and then a good wax injection in the frame and all the cavities to stop rust.
I have started on the external stuff though, first up, new boots, well new to the Blazer anyway. It came with a set of mismatched cheap off brand all terrains on it and I happened to have a less than half worn set of slightly taller 135/
75
/15 General Grabber AT2's rather than 135/
70
/15 tyres from my old Trooper in the garage. Those went on yesterday and what a difference, much quieter than the cheap ones. Outline white letters look so much better I think!
Before
After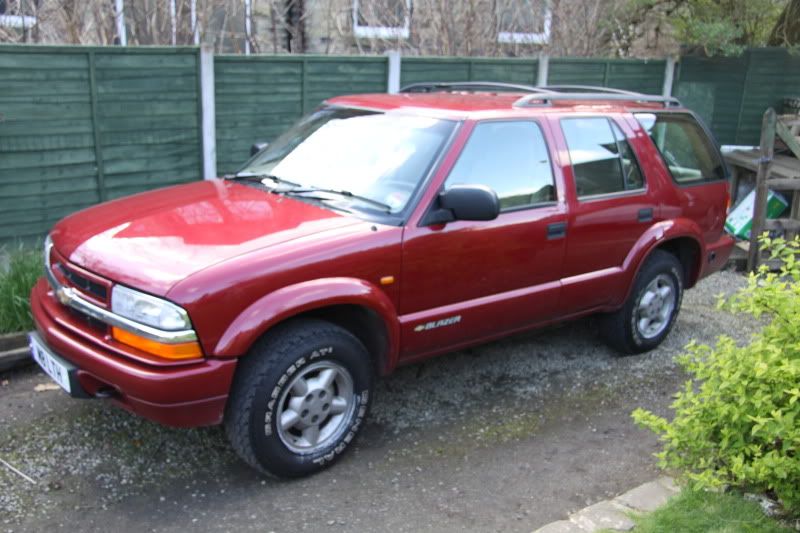 Next up, lighting. I have a big pair of Hella Jumbo 220's to go on the front bumper, they were previously on my last Trooper.
Roof lights, I have four Hella FF75's sat under my desk waiting for me to fabricate a light bar, I want to keep it as low profile as possible as I will still need to carry the odd load on the roof. The bar is going to be made in stainless, have a local company that will water jet cut the end plates and a friend of a friend will TIG weld it together for me. The idea is for something along these lines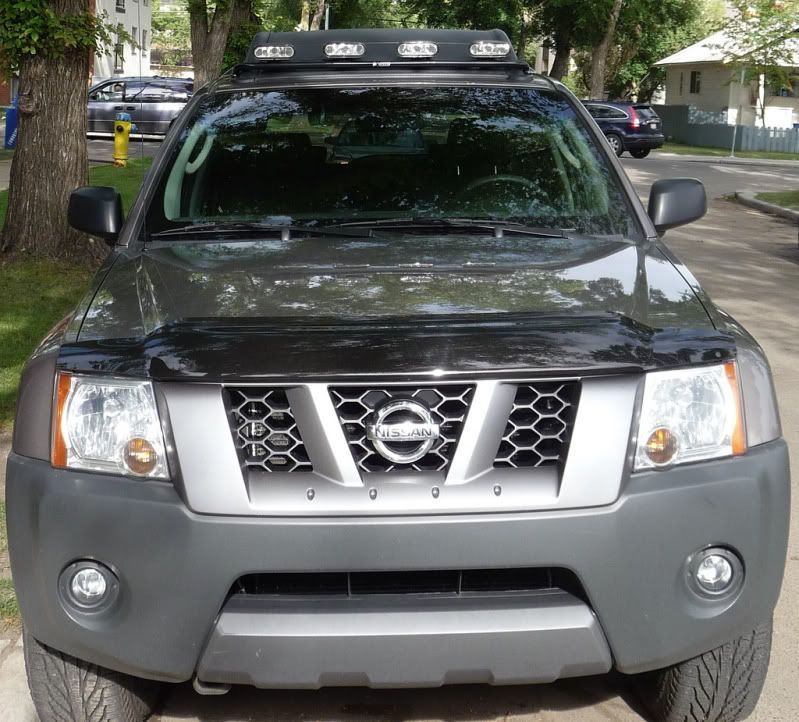 Then CB install, antenna is going to probably be a three foot firestick mounted like this (thanks for the inspiration whoever owns this jimmy)
with the CB replacing the ashtray as its a full din sized Midland Multi that gives me UK and all European frequencies.
Trouble is I need to fit this in around the demands of having two houses, one 900 miles away in France, trying to sell this house in the UK and move, a young family and my project 67 C10. Might be a slow build!
01-22-2013, 11:06 AM
Join Date: Nov 2010
Location: Shropshire UK/ Lot France
Posts: 91
---
Well it's due its annual inspection on Friday (MoT test) thursday its going in to have both rear calipers replaced and new pads as they are both sticking and have been for a while but they are getting worse. I also adjusted the E Brake up so it actually does something as thats another instant fail.

Haven't had time to do much to the Blazer this last year as its all been a bit frantic following a house move 2 weeks before Christmas 2011. Been loads going on and not much time to do anything to either the Blazer or my C10 other than a few running repairs like a new alternator. Hopefully this year I might manage to actually do some of the above, now I have a decent garage to paly in (well I will once I've reroofed it and laid a new concrete floor, oh and wired it up for power.......
01-22-2013, 08:28 PM
---
Life has a way of putting the brakes on a build.
01-23-2013, 03:44 AM
Join Date: Nov 2010
Location: Shropshire UK/ Lot France
Posts: 91
---
Yeah it sure has, moved house just before christmas 2011, then last year we ripped out the kitchen and bathroom for a full refurb, rebuilt half a falling down barn, laid in new gas pipes from the bulk LPG tank and cable for power to the garage, created a veg garden, put up the wifes greenhouse, cut more grass than I thought possible all in the second wettest year since records began in the UK. Not to mention three trips to our house in France where I did more work and a weekend in Marrakech.

Got an electrician friend coming up beginning of february to help me wire up the garage and we have a full rewire of the house starting on monday which will be a nightmare as its very complicated as the oldest part of the house is oak framed and dates back to about 1630.
01-24-2013, 12:04 PM
Join Date: Nov 2010
Location: Shropshire UK/ Lot France
Posts: 91
---
Well it's not gone according to plan, one of the repop calipers had a dodgy thread for the brake pipe, my mechanic ended up having to helicoil it otherwise I'd have had a weeks wait to get another one. Then both flexy pipes started leaking at the caliper and he couldn't get them to seal so I've now had to run around trying to get hold of new hoses and banjo bolts. The main GM importer wanted a ridiculous £57.50 + 20% sales tax PER side for hoses but I managed to find what seems to be the last pair of aftermarket ones in the country at a specialist for a thoroughly reasonable £15 per side. The banjo bolts have been even more troublesome, I've had to order them from the main importer who didn't have them on the shelf (a company called Bauer Millets in Manchester) who wanted two kidneys and a ******** for them, then they find GM only has one in their european warehouse but he managed to find stock of the previous older part number in stock at an outlying warehouse which means it is unlikely to be here until monday, I can either then drive an hour and a half each way to get them or wait another day for them to ship them. I've had to cancel its MoT test (annual safety inspection) and its not driveable anyway so is stuck in the mechanics shop until the parts arrive.

It's not been the best of days!
01-22-2014, 08:52 AM
Join Date: Nov 2010
Location: Shropshire UK/ Lot France
Posts: 91
---
Its a long time since I did an update so here goes.

Nothing much has happened in terms of the build, the house, kids, becoming a scout leader have all taken their toll on my time. I eventually got all the brakes sorted out and a pass on its inspection and its just been plugging backwards and forwards when needed over the year. The annual MoT inspection is due again now and I had some big issues with the immobiliser back end of last year. Because of this it went in to a sdpecialist and had the immobiliser sorted out, I resoldered some broken connections in the remotes, the specialist also found a load of vacuum leaks in the 4x4 system so thats now working although I need to replace the long vac hoses that run under the engine to the axle to be sure. They also replaced both front brake hoses and the handbrake shoes which were chipped and cracked to hell and got it all set up to spec. Today I've been out and replaced both front swaybar end links and bushings as the old ones came up as an advise last year. The nearside one was particularly bad, the central spacer seemingly missing in action so there was a lot of slop in it. The other side was pretty worn out too. Cut them off with the grinder, bolted the new ones in, dropped it back on the wheels and tightened everything up and jobs a good un. I also replaced the broken hood alarm switch with a new waterproof switch. I just need to splash some paint on the front suspension arms as they came up last year as being rather rusty and the tester advised me to just sling some paint on them.

I've also started work on a roof light bar that will bolt to the load rails and hold four Hella FF75 driving lights. Next up if it ever stops raining for long enough is sorting the door hinges out on the drivers door so it opens and shuts properly and doesn't leak!
---
Last edited by Lippyp; 01-22-2014 at

09:44 AM

.
01-22-2014, 09:54 AM
Join Date: Nov 2010
Location: Shropshire UK/ Lot France
Posts: 91
---
Yeah they certainly do. My biggest issue is lack of time tbh. I'm trying to sort out my garage which needs a load of work before I can get a car in it, I desperately need to start work on the pickup, I have loads of projects in the house as we're working our way through the whole thing getting it how we like it as we've only been here for a couple of years (so far done new kitchen, new bathroom, new boiler, full rewire, kids bedroom, my study, dining room) still working on our holiday home in France during holidays, big garden, trying to sort out enough space to set up my forge and hopefully start up a blacksmithing business alongside being a full time dad, househusband, cook, cleaner etc. etc.
01-22-2014, 10:14 AM
---
Here's something else to add to your list. If your going to add all of those lights on it then I strongly suggest that you upgrade the big 3.


I know what you mean about having lack of time as the dogs take up all of mine.