Engine Cranks But Does Not Run
12-10-2009, 01:22 PM
Engine Cranks But Does Not Run
---
Engine Cranks But Does Not Run
CIRCUIT DESCRIPTION
The diagnosis for an engine that cranks but does not run must have three elements present before proceeding with the diagnostic table. The following conditions must exist:
* The battery must be adequately charged.
* The engine cranking speed must be sufficient.
* There must be an adequate amount of fuel in the fuel tank. Refer to Engine Controls Schematics.
DIAGNOSTIC AIDS
If no trouble is found in the fuel pump circuit or the ignition system and the cause of an Engine Cranks But Will Not Run has not been found, check the following conditions:
* Perform the Fuel Injector Coil Test.
* An after-market vehicle theft deterrent system may cause a start then stall or a no start condition.
* Fouled spark plugs
* An EGR valve stuck open
* Water or foreign material in the fuel system
* A grounded or intermittently grounded Ignition Control (IC) signal circuit
* Restricted exhaust system.
* Check the following ignition components:
* Worn distributor cap
* Worn distributor rotor
* Check ignition wires by lightly spraying them with water in order to identify intermittent no starts.
Check the following mechanical components:
* Cylinder valve timing
* Loose or broken timing chain
* Low compression
* Worn camshaft lobes
* Bent or burned intake or exhaust valves
The VCM has integrated circuits that are fault protected, therefore if a circuit has failed, the integrated circuit may not be damaged. If that is the case, the system will keep the circuit open until the condition has been corrected.
Afterwards, reinstall the VCM and check the circuit. Replace the VCM only if the circuit is still inoperative.
An intermittent may be caused by any of the following conditions:
* A poor connection
* Rubbed through wire insulation
* A broken wire inside the insulation
Thoroughly inspect any circuitry that is suspected of causing the intermittent complaint.Refer to Testing for Intermittent and Poor Connections in Diagrams.
If a repair is necessary, refer to Wiring Repairs or Connector Repairs in Diagrams.
Diagnostic Chart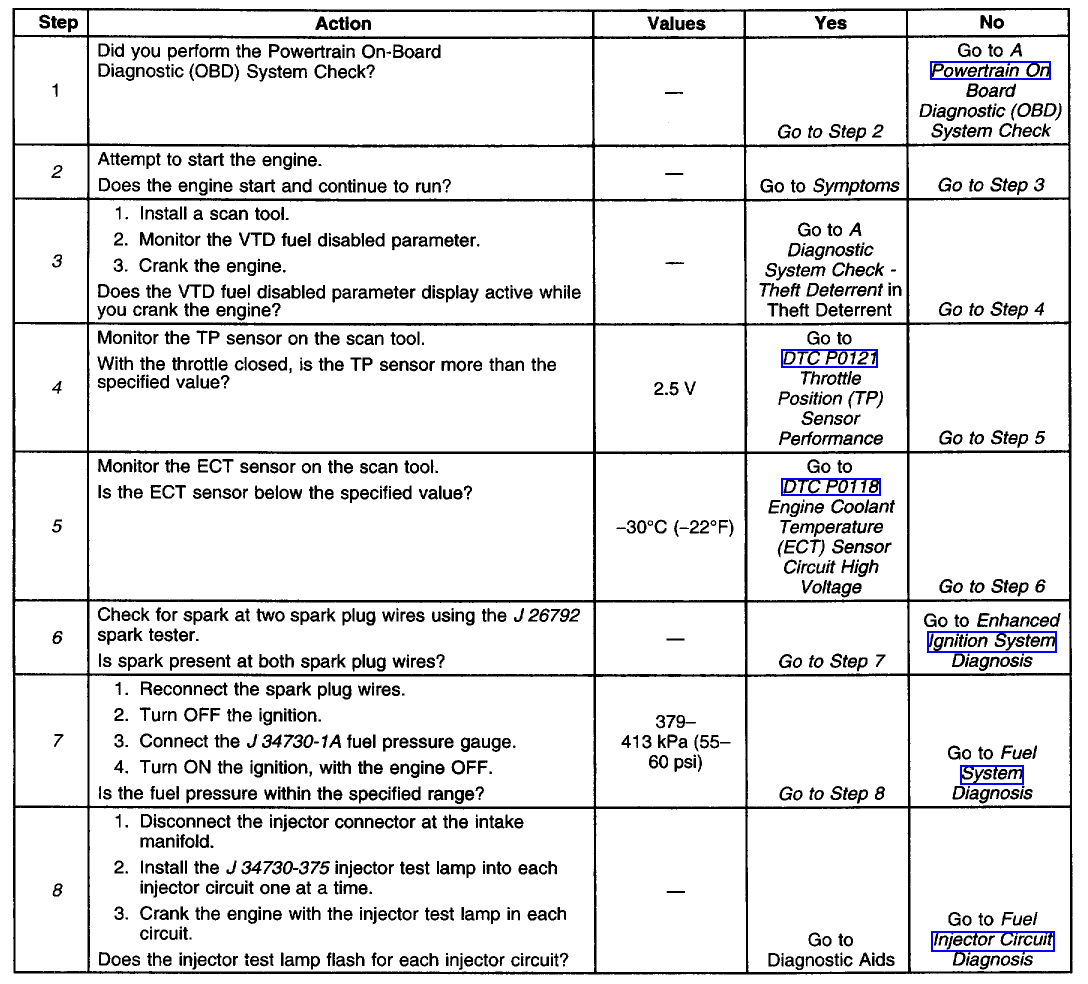 TEST DESCRIPTION
The numbers below refer to the step numbers on the diagnostic tables.
2. If the engine starts, the problem could be intermittent. Basic engine mechanical problems, the Vehicle Theft Deterrent (VTD) system (if equipped), and poor connections could cause a no start condition.
3. This step will determine if the cause of the no start or start and stall is related to the VTD.
4. If the signal is more than 2.5 volts , the engine may be in the clear flood mode which will cause starting problems.
5. If the engine coolant sensor is below -30°C (-22°F) , the VCM provides fuel for this extremely cold temperature which will severely flood the engine.
6. Voltage at the spark plug is checked using the spark plug tester tool. No spark indicates a basic ignition problem.
7. This test will determine if there is fuel pressure at the fuel injection unit and holding steady.
8. Use the injector test lamp in order to test the injector circuits. A blinking lamp indicates that the VCM is controlling the injector.
Thread
Thread Starter
Forum
Replies
Last Post
2nd Gen S-series (1995-2005) Tech
2nd Gen S-series (1995-2005) Tech
2nd Gen S-series (1995-2005) Tech