1987 k5 question
05-13-2011, 09:52 PM
Join Date: May 2011
Posts: 3
1987 k5 question
---
whats the biggest tire i can fit with a 6 inch suspension lift? i'm thinking 35 14.50 15. anyone running bigger without the tires hitting? i'm not going to be doing extreme flexing.
05-14-2011, 11:52 AM
---
I know you can run 35's with a 4" lift, with a 6 I would assume a little bit more. I'm just guessing though.
05-14-2011, 06:12 PM
Join Date: Jul 2010
Location: Minnesota
Posts: 181
---
I believe you can fit 38s with a 6 inch
05-14-2011, 09:51 PM
---
38s on a 6 inch are really pushing it. i ran 38s on 3 trucks with 6inch lifts. its possible to drive it on the road without it rubbing but any big bumps or any turns over like 2 mph they rub.

can always slap a 2 inch body lift on
05-17-2011, 11:43 AM
Join Date: Dec 2010
Location: Orlando
Posts: 62
---
35 x 12.5 easily on a 6" lift. They rub on a 4" even with trimming.
05-17-2011, 07:48 PM
---
35/12.50/15 on a 6inch lift
38 12 50s on stock rims, again 6 inch lift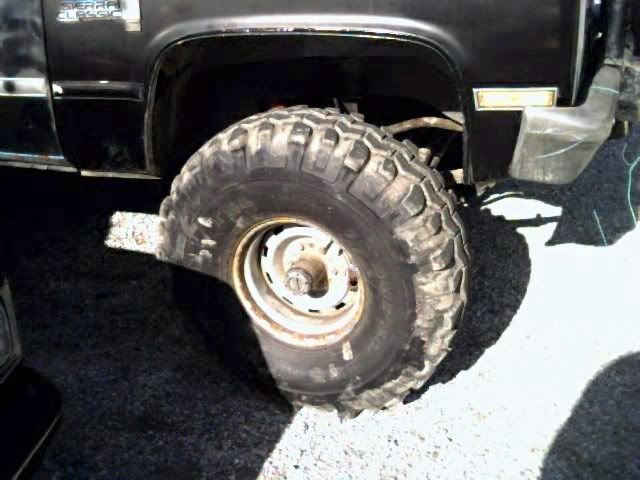 as you can see you can technically drive it. i drove it like 5 miles to work like that rubbed a few times while turning and hitting hard bumps
05-18-2011, 10:35 PM
Join Date: May 2011
Posts: 3
---
thanks for the pics. 35x12.50's is what i have now on 15x10 wheels. i'm putting 37 13.50's on 15x14 wheels. hope it doesn't hit but if it does i guess i'll have to jack it up a little higher
Thread
Thread Starter
Forum
Replies
Last Post
Full Size K5 (1969-1991) GMT415 (1992-1994) Tech
1st Gen S-series (1983-1994) Tech
Full Size K5 (1969-1991) GMT415 (1992-1994) Tech
Full Size K5 (1969-1991) GMT415 (1992-1994) Tech