A couple of shots...
06-20-2010, 06:47 PM
A couple of shots...
---
...of what I have been up to durring my absence.

My spring has been all about work, but my Blazer has been there with me the whole time.
I have been working on the house a lot, chnged the 3rd bedroom into a home office, done some serious yard work, even built a one-of-a-kind containment unit for my "special needs" daughter. (Pics 1, 3 and 4)

I have been fishing like it's my job. I have been working the lower Clakamas River, Lower and Upper Sandy River, and a couple near by lakes. In between, I have been hiking and camping and just enjoying what Oregon has to offer. (See the really bad shot of the canoe hauler, pic 5)

I got hit in the parking lot of Home Depot, and the offender was kind enough to drive off, but not before cracking my impact strip, breaking my grille, and knocking my bumper out of whack. That being said, she still looks nicer than the new H1 i have been puting together...
(pic 0)

Enjoy.
06-20-2010, 09:46 PM
---
have to agree, was starting to wonder.
good to see your back.
oh, in case you were still wondering what "rally stripes" look like on a blue blazer check em out.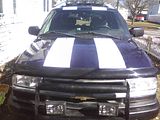 too bad about the hit and run....always has to be a jerk in the parking lot somewhere.
07-14-2010, 01:47 AM
---
like hell it did!
that thread may have slowed down a bit (to many damn cops are on to me.............) but it's still rollin'.
and that H1 looked pretty sweet Curtis, but why the bling on a field unit?
Thread
Thread Starter
Forum
Replies
Last Post