Clamping on new muffler.
01-02-2012, 07:35 AM
Clamping on new muffler.
---
Im planning on cutting out my old muffler today and clamping on my dynomax super turbo I bought a few weeks back. I just went out and took a look at the stock setup under there now and I dont know where to start to cut. Im cutting the flange off But a cant decide if I should cut it at 2 because it doesnt look like I could slip the muffler on. So should I cut it at 1 and leave the flange? thanks alot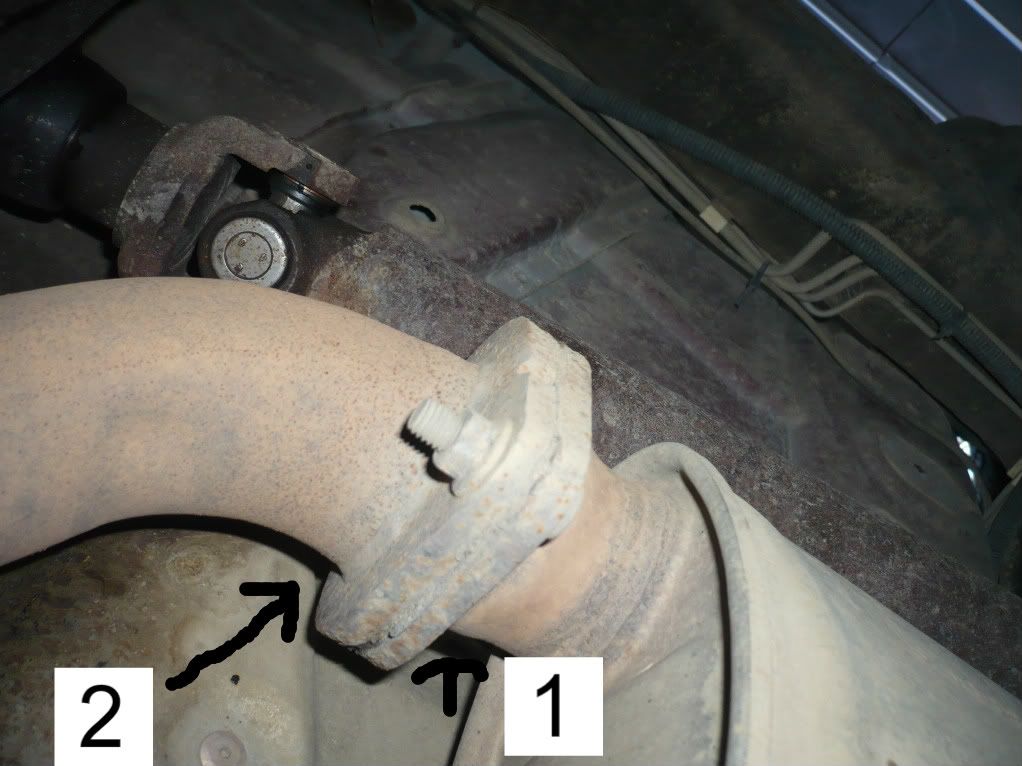 01-02-2012, 05:27 PM
---
Took a better look today. Dont think il be able to clamp it. If anyone has clamped it let me know how you did it and how it turned out!
01-02-2012, 06:33 PM
---
you could always weld the new muffler to the flange
you cut it then weld the muffler to the flange its self then bolt it back up
No need to mess with clamps or dealing with leaks
02-28-2012, 08:07 AM
Join Date: Feb 2012
Location: Glassboro,NJ
Posts: 44
---
@antman94 did your 1.25 wheel spacers bring the back wheels inline with the front?
02-28-2012, 10:23 AM
Join Date: May 2011
Location: SW Central OH
Posts: 2,252
---
Not only that.. it's the best solution even if you have room to clamp it. Take it from me, after over fifty years of messing with exhaust, cant beat 'bolt-up'. Not only that ...factory exhausts are WAY more better than they used to be.
If you MUST clamp then at least make it a snug fit before you clamp it and remember, with classic saddle clamps and a small leak tighter is not always better. Often makes small leak worse.
04-09-2012, 04:35 PM
---
04SSBlazer yes the 1.25" were perfect! I live right near glassboro so you may even see them in person sometime lol.

I ended up just buying a flange to clamp onto the new muffler, that way I still have the bolts for an easy removal. That flange was like 50$ though!
Thread
Thread Starter
Forum
Replies
Last Post
Headers, Intake, & Exhaust
Headers, Intake, & Exhaust
Headers, Intake, & Exhaust
Headers, Intake, & Exhaust