PC Builders
12-11-2017, 03:00 PM
PC Builders
---
Anyone else here on the forums into building their own PC's?
Post up with your ventures and pics of builds
I started tinkering with them back in elementary school (seriously) before I knew what the heck I was doing lol. I remember opening them up, being mesmerized by the complexity inside, wanting to know how they did what they did... Eventually got brave enough to try and swap a sound card from an old IBM that didn't work into a Gateway that did, didn't know anything about drivers so never knew why it "just didn't work" in Windows 95 at the time :P Through trial and error I learned about how some RAM sticks could work in other computers and began combining them to get a whopping 256MB of RAM!... This is back when a 5200rpm 2GB hard drive was considered awesome mind you. Fast-forward a decade and I was building them from scratch once I learned about Newegg back in about 2004. When I got my first real job is when the hobby really took off, that is, when I could actually buy cool stuff lol. My first ground-up build was VERY basic... A 478 socket Pentium 4 single core 3.0ghz with HT, 2GB of RAM, Intel motherboard, a 300GB hard drive, NVidia GeForce 6800 512mb AGP graphics card, wrapped in a case with a clear side window lit up with blue cold cathode lighting and clear LED lit 80mm fans buzzing away at full throttle all the time, it was a CRT 1024x768 resolution Halo playing BEAST! That setup went through a couple changes over the next few years, RAM upgrades, graphics card changes (this is when the MSI brand left a bad taste in my mouth after having two of their graphics cards fail on me...), swapped into a completely different case. Could only get so much out of the 478 socket and AGP graphics though... I got a hand-me-down used Dell that although I didn't care too much for, it had a Core2 and DDR2 in it and a PCI-E slot, so that expanded my upgrade possibilities. Only thing I ever did to it was stick a Radeon HD4870 in it and 4GB of RAM and it did great for a few years. I retired it with my second ground-up build when Intel launched the i7 core CPU's. I ordered the parts and built a rig around an i7 920 about a month after they first launched. MSI brand motherboard (decided to try MSI again despite them leaving me broken down in the past...), i7 920 CPU, 6GB Corsair XMS RAM in triple channel, 1tb 7200rpm WD hard drive, carried the HD4870 over, all wrapped in an Antec 902 case. It killed everything I could throw at it! The HD4870 died and I stepped up to an HD6970, but other than that I made no other changes to the setup.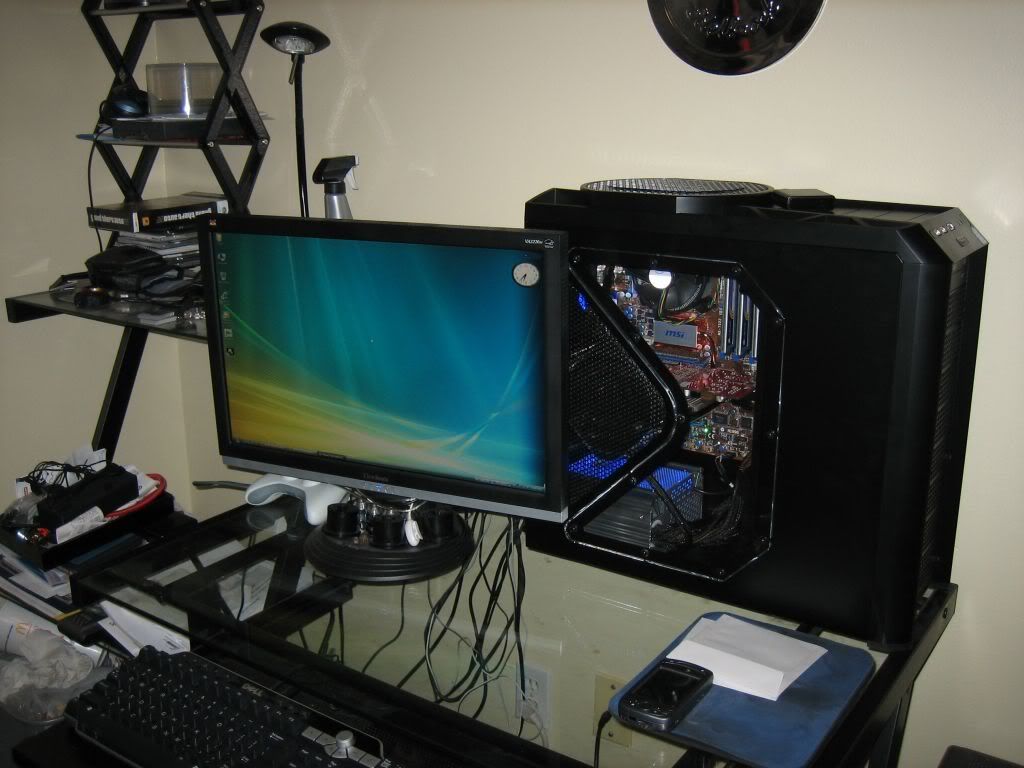 After a couple years the motherboard dropped 2 RAM slots (that was my last straw with MSI...), so I tossed the setup and built a new rig in the same Antec 902 case around an AMD FX 8350 and an Asus motherboard, 16GB of HyperX DDR3 (way overkill, but I took it even further later lol), new Corsair 750 watt power supply, which I continue to rock to this day! Recently I installed a Radeon RX480 8gb (before the recent price spike due to mining...) and another 16gb of matching Hyper X RAM (32gb total, WAY overkill, but it filled up those 4 slots with 4 x 8gb lol), a 1tb Crucial SSD (best upgrade EVER!), and stuck on a Coolermaster V8 CPU cooler as the original AMD cooler than came with the FX8350 was VASTLY inadequate, and noisy... Just last week I overclocked the setup for the first time (been running stock 4.0ghz clock speeds since I built it), just to 4.5ghz, but enough to breath a little more life back into it.
Just recently I built another ground-up PC, this time for the wife for Christmas
This one built around Ryzen. Ryzen 3 1200, Asrock motherboard, 8gb Crucial Ballistix RAM, 500gb M.2 SSD, an GeForce 1060 3gb, all inside a DIYPC case (which I'm honestly pleased with it's quality despite it's price!), and lit up with some RGB strips inside and some RGB Coolermaster peripherals. I broke down and gave it to her early this past Friday, and needless to say she LOVES it! I find it funny how this entry level gaming PC is right on par, almost identical benchmark scores, as my at one time enthusiast level PC... And I built her PC specifically with future upgrades in mind. I plan to double the RAM in the future, and upgrade an a Ryzen 5 at least. But right now it ROCKS! It's rock solid stable overclocked to 3.5ghz without touching the core voltage, stays cool and quiet, and right now takes everything she throws at it and begs for more!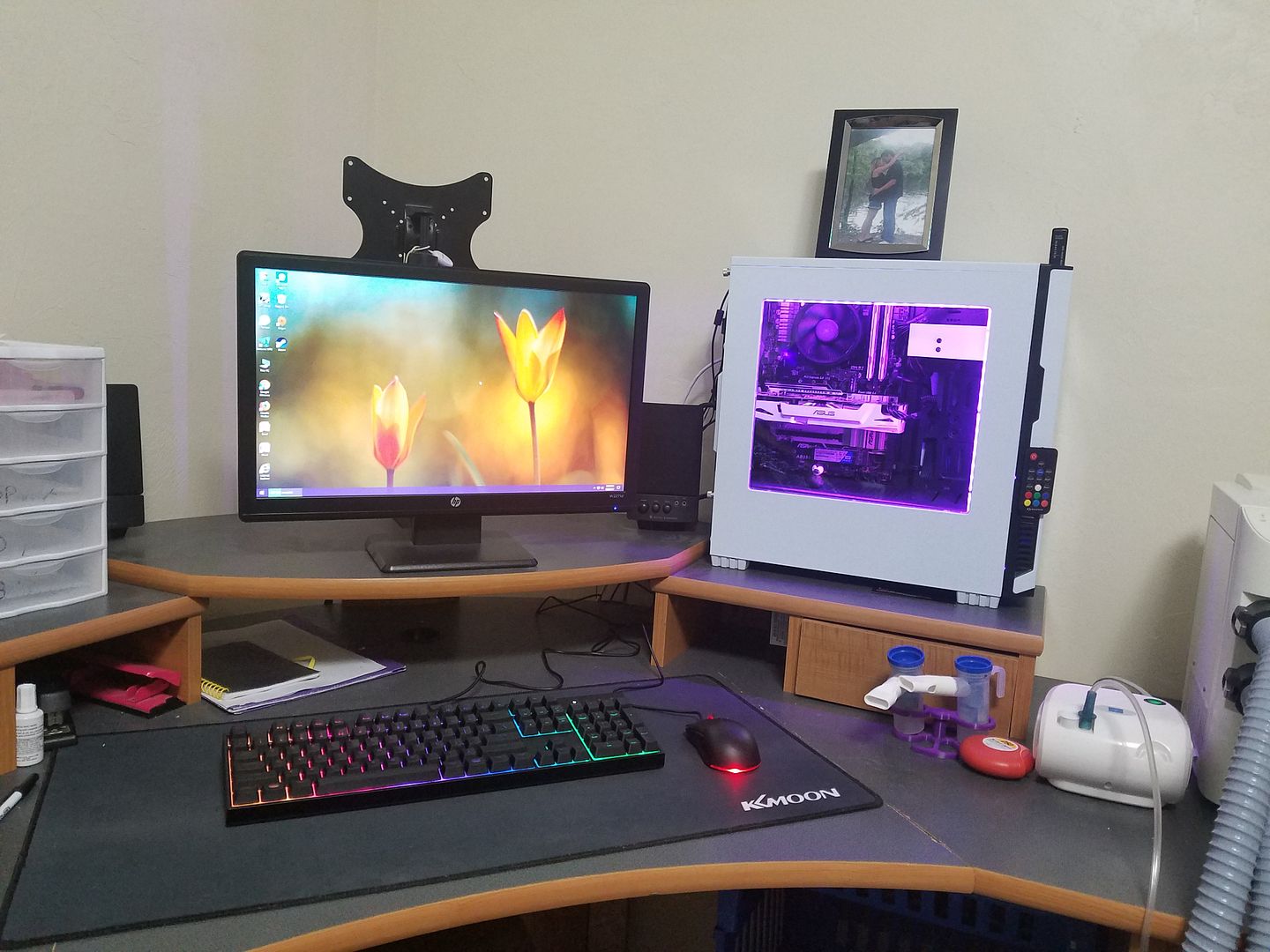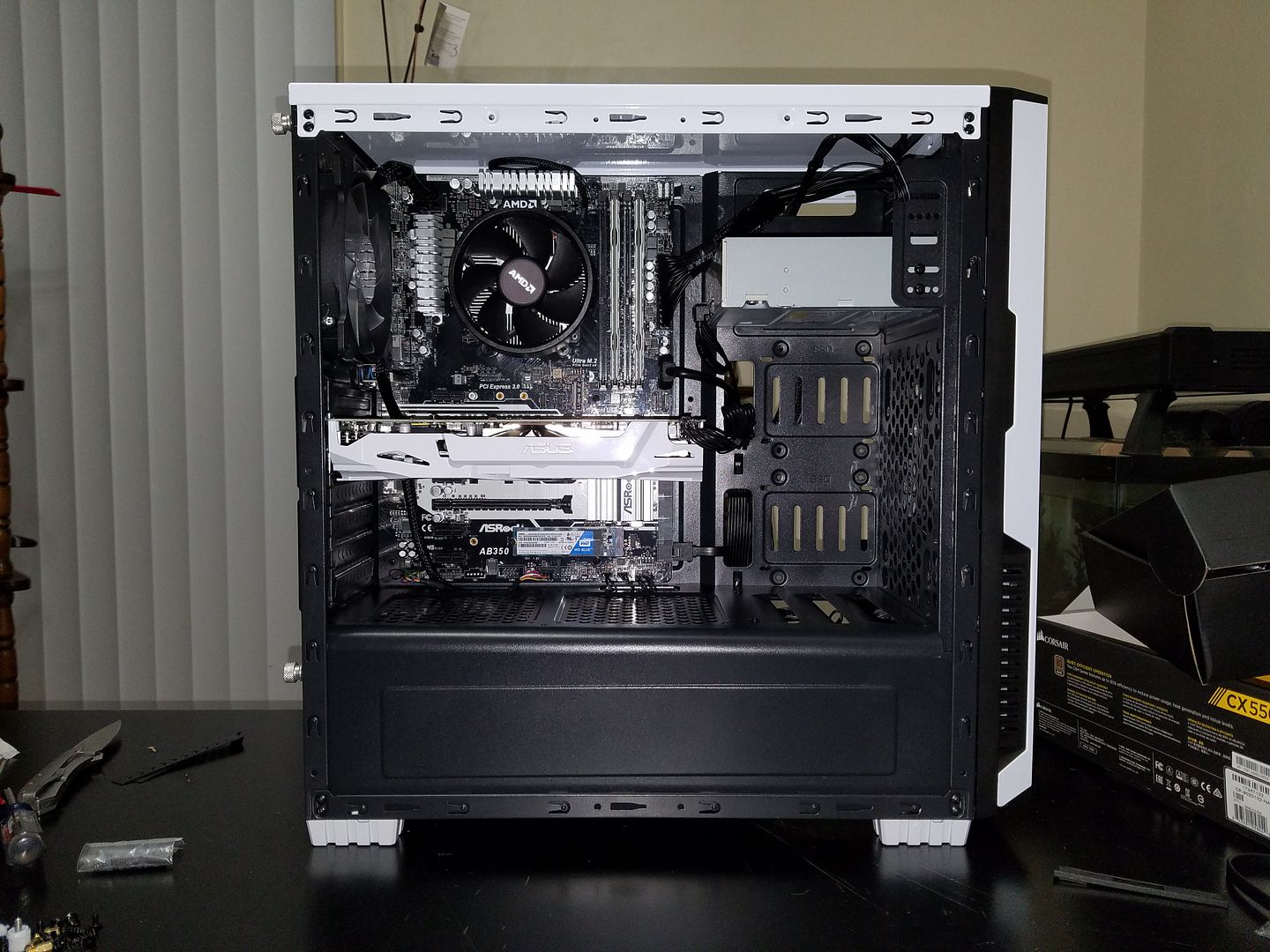 ---
Last edited by blazen_red_4x4; 12-12-2017 at

10:34 AM

.
12-12-2017, 05:40 AM
---
Nice build with the bits and bytes.


Been a while since having done something with a PC.

I'm a LINUX guy so swapping graphics cards used to be the norm to build a decent LINUX machine.

Working on a 12 year old IBM IntelliStation small server with quad processors and 1.5 GB RAM.
Dual Intel graphics cards (OEM)

It is in the corner of my office space and needs disassembly.
I've got 4 nice 500 GB hard drives that I want to put into it and set up a RAID.

Will be in JAN/FEB.
---
Last edited by error_401; 12-12-2017 at

05:46 AM

.
12-12-2017, 10:26 AM
---
I had a RAID setup in my current setup with the FX8350, two 300GB drives, and the performance just wasn't what I expected... That's when I went to SSD, there's no going back lol. I still have two old 1TB spinner drives in an external enclosure that I use for file backups, and even over USB 3.0, data transfer seems SOOOOO slow when you get spoiled by SSD transfer speeds...
12-14-2017, 01:12 AM
---
I use that old IBM workstation as my workhorse.
Webdesign, some pre-print stuff, Image filing.

I document my project cars on that computer. Backups on NAS1 and from NAS1 to NAS2. Better save than sorry.

The internal RAID is meant as a working backup in order to have some data safety built in.

Until 2014 I had a virtualbox Windows with Adobe's Illustrator, Photoshop and InDesign for work. Nowadays I even do the pre-print stuff on Linux and FOSS.

Other computers are all laptops. All with LINUX and a couple dual boot. I keep a small ACER Aspire One in dual boot WIN XP for car diagnostics.

Yeah - SSD would be nice. As I mainly shuffle data for backups it's o.k. with spinning disks. The next upgrade thou will be a Gigabit Network the 10/100 is really too slow.
12-14-2017, 07:29 AM
---
I don't consider most of my stuff to be that important to need to double back-up or backup on RAID cloned drives lol. Most of my pictures are backed up on Photobucket, and my music is copied over to my phone, anything else can be had online in some way, so it's all good to me lol
12-14-2017, 10:07 AM
---
I have not done anything with my computer since I built it (well upgraded the graphics card and more ram)
It still gets the job done and can game pretty happily.
I am more focused now on my 130gallon aquarium.
12-14-2017, 10:13 AM
---
You and I share the same hobbies sir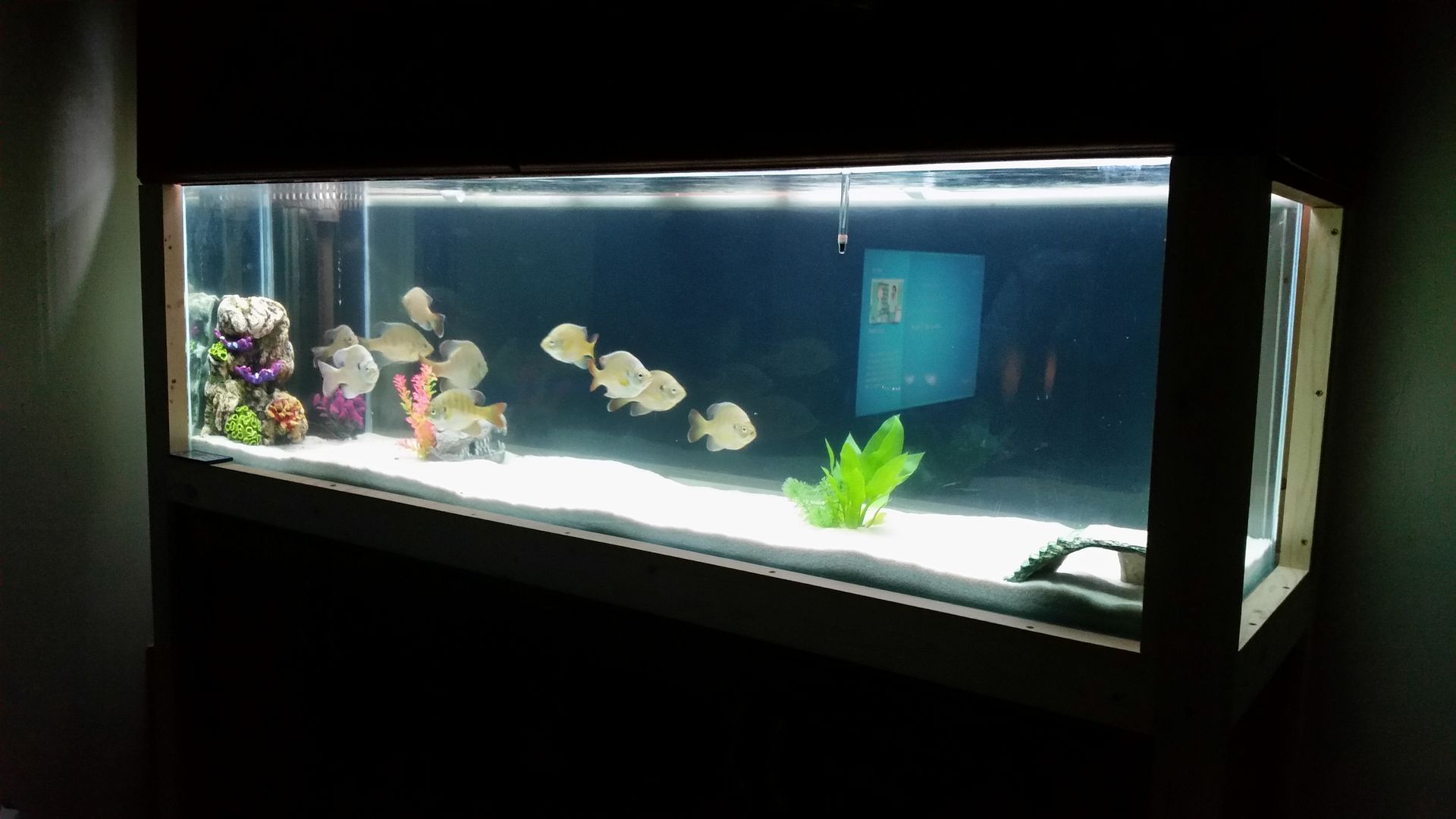 Although this is when I had the bluegills in it, caught locally
To be honest, I haven't refilled it since I moved a little while back and had to take the tank down... I need to get it set back up...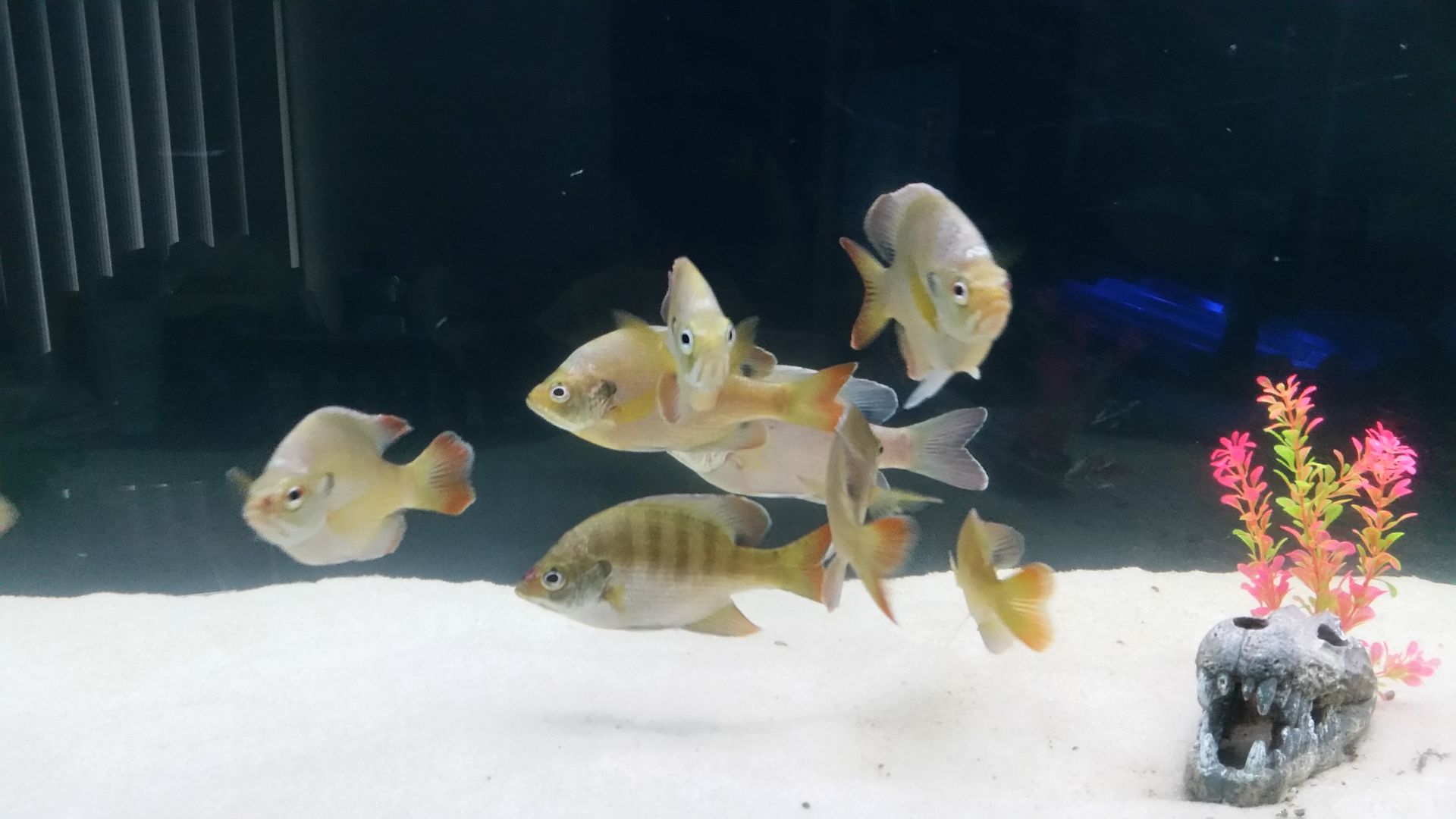 ---
Last edited by blazen_red_4x4; 12-14-2017 at

10:15 AM

.
12-15-2017, 09:40 AM
---


Ah okay


I got an awesome deal on the tank and half built stand. Finished off the stand a made some custom lighting, I need to get it back up and going...
01-01-2018, 05:48 PM
---
Here goes mine since i never put up a picture.
130 gallons, 2 canister filters, stand is still in progress. Picked this up for 100$
I have a single turtle in there (red eared slider) she is 6 years old. I at some point am going to get some plecos but i need to find ones that are larger already.
I also load it up with locally caught mystery snails in the summer
---
Last edited by richphotos; 01-01-2018 at

05:51 PM

.