Remote Control Vehicles(all welcome)
02-18-2019, 08:26 AM
Join Date: Nov 2016
Location: Ontario canada
Posts: 1,446
Remote Control Vehicles(all welcome)
---
Any one else out there into RC trucks/cars/others?
ever since I was a kid I loved the rc vehicles, gotten one anytime I could. Mostly cars and trucks. I picked up a slash 4x4 about 3 years ago. Been doing little upgrades here and there, did the wheel knuckles last night. They aren't the same colour, but I dont mind.
if you got one, show it off! I'm gonna post more pics of mine later. Taking it for a hike later and seeing how it runs.
Rear
Front half done to compare
Front is done
02-18-2019, 08:43 AM
Join Date: Nov 2016
Location: Ontario canada
Posts: 1,446
My slash 4x4
---
Slash 4x4, fox racing body, original chrome rims, aftermarket black rims and new tires.
Fan for the motor, aftermarmet shocks
Steering knuckles,hub assemblies and control arms aftermarket aluminum
02-19-2019, 03:45 PM
---
Count me in as one into
As a teenager I've been participating the RC club. We were doing our own projects, nearly from scratch. That was the place I've learned how to work with lathe. We had a track, where we used to compete in a different classes. You brought me a good memories from my childhood with this topic. Today my daughter is into RC cars (not much, but has her own buggy for driving our backyard). I have been trying RC electric planes, but quit due to insufficient time. That is funny too, as You have to train prior any flights take place. Otherwise, your flights are gonna end up quicker than expected
What app type do You have? Pistol type or 4-channel? If You have a 4-channel You may try out the RC flight simulator.
Your assembly seems sturdy and well prepared for the terrain play. A good, aluminum control arms are a must. I've learned that hard way :P I broke one off by hitting a tree with my daughter's ride
Then I had no option to get her a new set of aluminum ones. We already crashed some cheap servos too
---
Last edited by Mike.308; 02-19-2019 at

03:55 PM

. Reason: photo update
02-20-2019, 09:40 AM
Join Date: Nov 2016
Location: Ontario canada
Posts: 1,446
---
I dont do any racing or anything, but wouldnt mind getting involved. Theres not too much in my area as per groups.

I have the pistol type, I bought it rtr. I really want to get myself a gas powered one since the kids are grown up and out. Then I'll start spending more money on my hobbies lol.

I misjudged the distance between the truck and a curb once. Snapped the passenger control arm like a twig lol. Ever since then, I've been slowly swapping out any plastic for aluminum. The weigh difference isnt too much, and with the aftermarket over sized shocks, it can take a good fall now lol.

I plan on getting some action pics this year when the weather is nicer and the track thaws out...
02-20-2019, 10:35 AM
Join Date: Nov 2018
Location: Grayson KY
Posts: 381
---
I had a friend some years ago who was into the little train sets... He took over his basement and had like a huge city/country setting thing going on! Little cars, people, street lights, buildings ect... It was a sight too see
02-20-2019, 07:58 PM
---
I've had my share of them, but I get in and out of hobbies like crazy lol and got rid of all my RC toys (the ones with wheels anyway) a few years back.
I had a 4x4 Slash that I bought used for cheap and ended up dumping a ton of money into, building and upgrading it. It was a blast!
It underwent a few "generations" as I had it.
Had a full steel cage that I made some panels for, gave it a dune buggy look. It was my basher setup, and I actually just ran it in RWD like this for the most part because it made it that much more fun to drive lol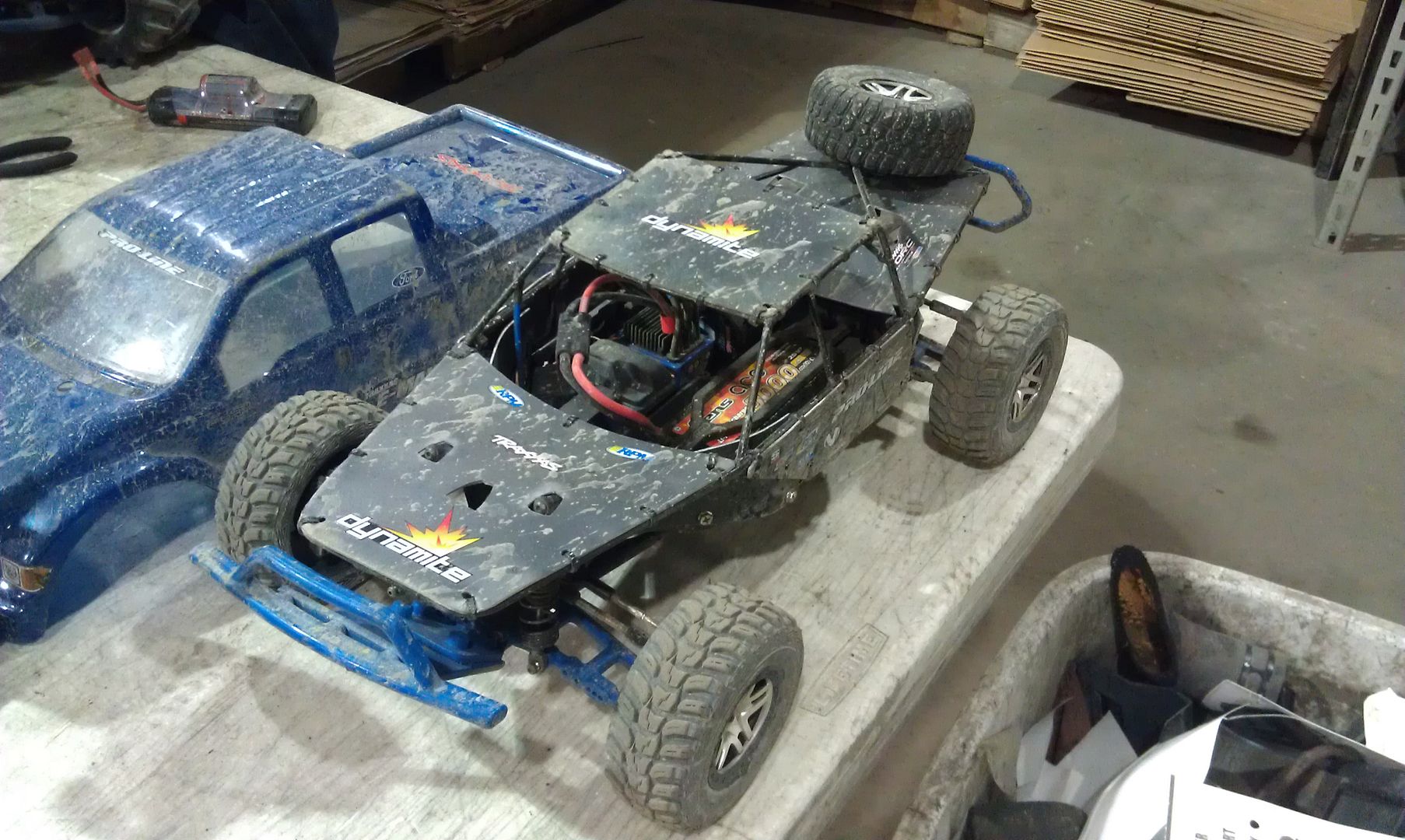 Then I had my track body, basically the body that came with the truck when I got it. It was already beat up and torn a little, so I didn't worry about taring it up on the track.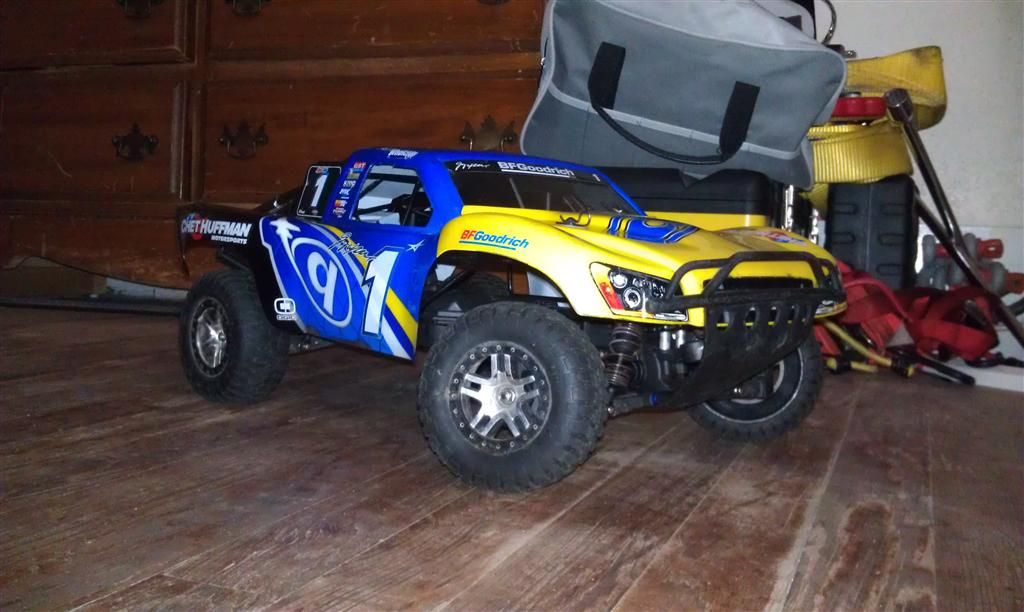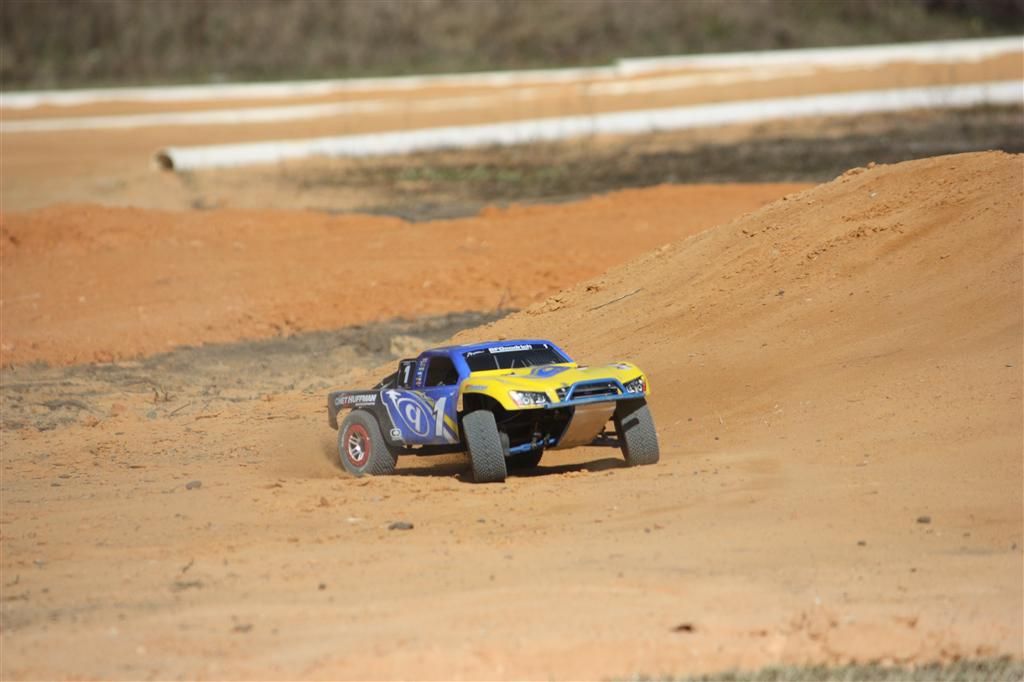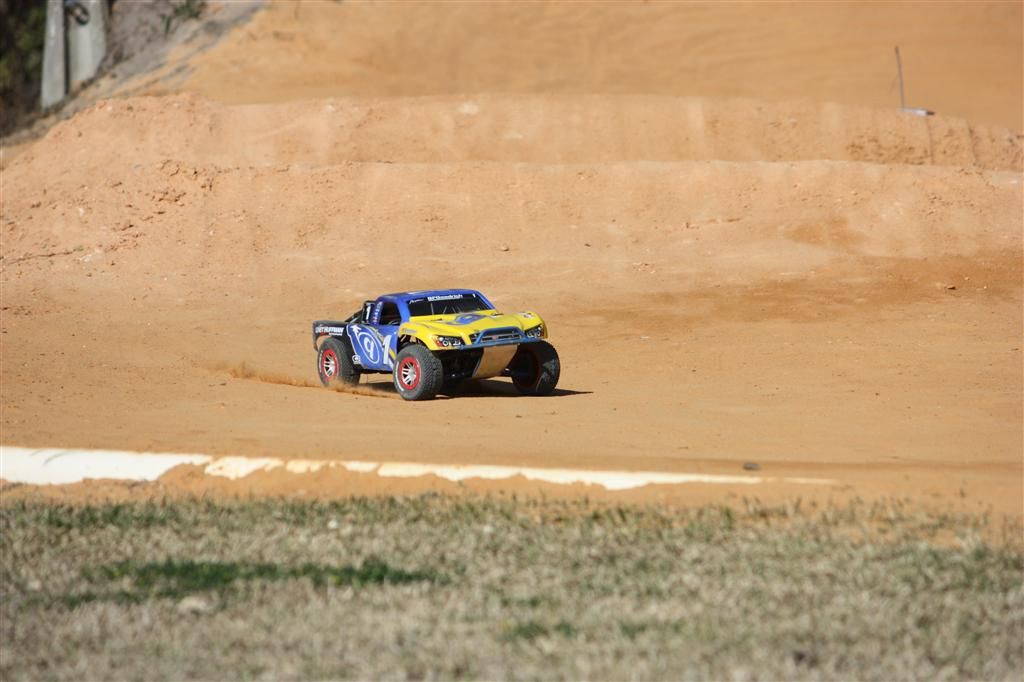 Then I got my "show" body at the same time I bought all aluminum knuckles, and it was just purdy
That body saw the track all of one time lol
Then I had my Mini Summit. Got it used, bone stock, and went a little overboard with this one... 1/16th scale car that I ended up putting a 1/10th scale motor on and running the 1/10th Slash wheels and tires on... Geared out it would run every bit of 50mph on just 2s lipos, which was absolutely stupid for a car that's only about 8 inches from bumper to bumper lol, but it was a blast. Would do standing back flips if you stabbed the throttle from a stand still.
I also picked up a Mini Revo body for it at the time of the 1/10 motor conversion.
I could swap back and forth between the Summit and Revo body, but I preferred the look of the Summit body
By far my favorite RC though, and the first actual hobby grade one I've ever owned, and one that I would like to build again some day (maybe not the same brand/model but a variation), was my crawler, and Axial SCX10. Only one of these I bought brand new, and I modified and drove the crap out of it at some local meetups.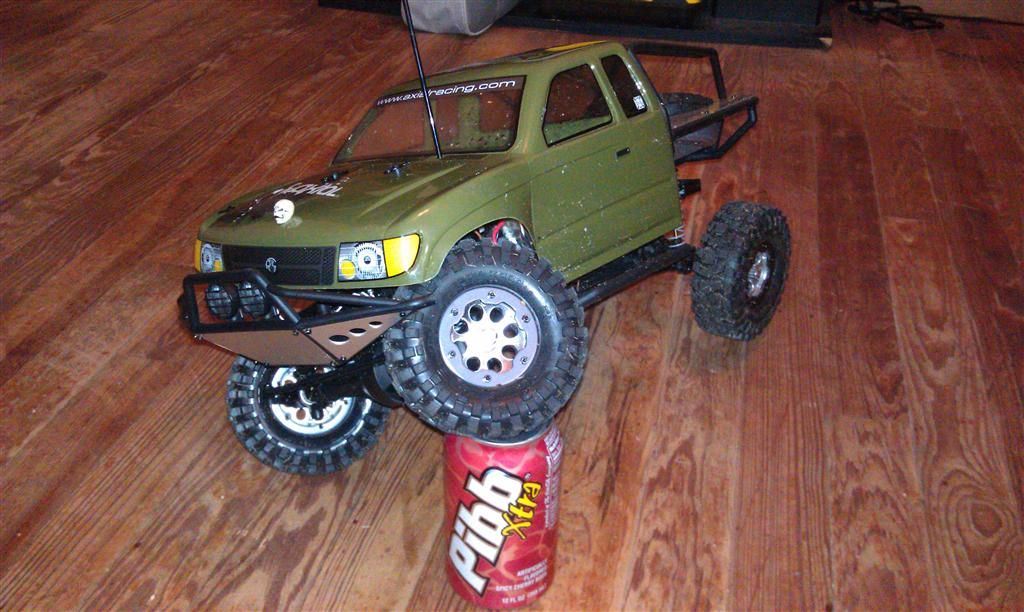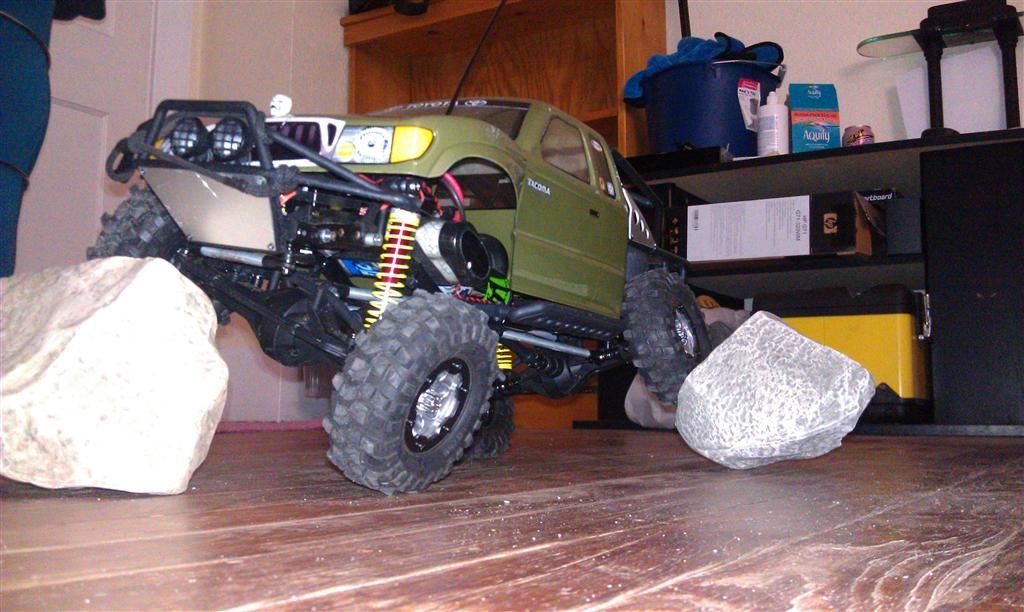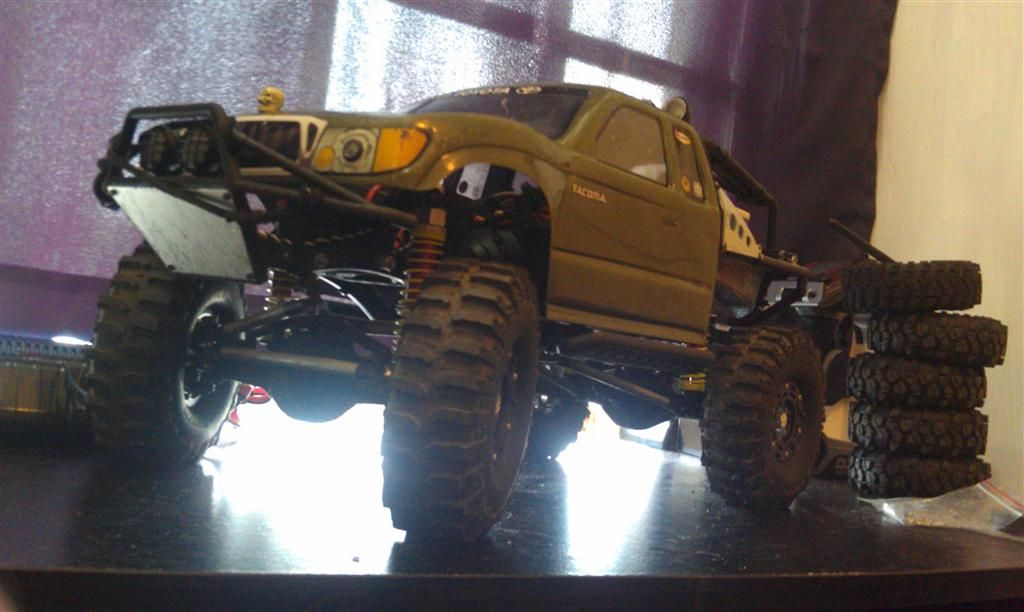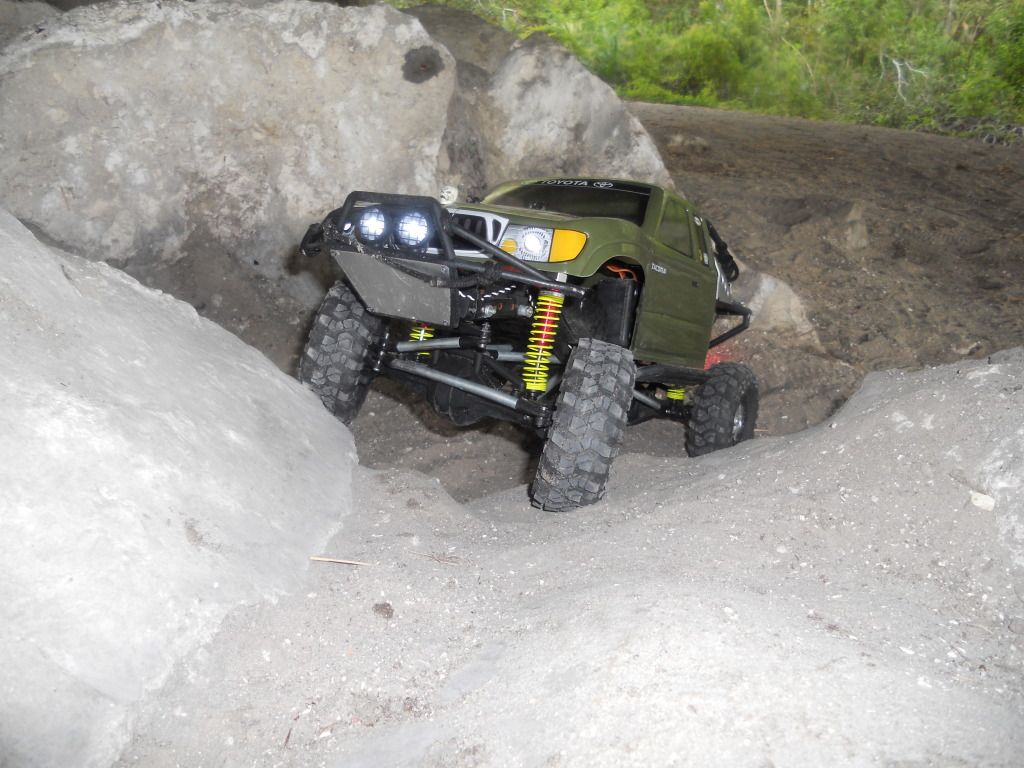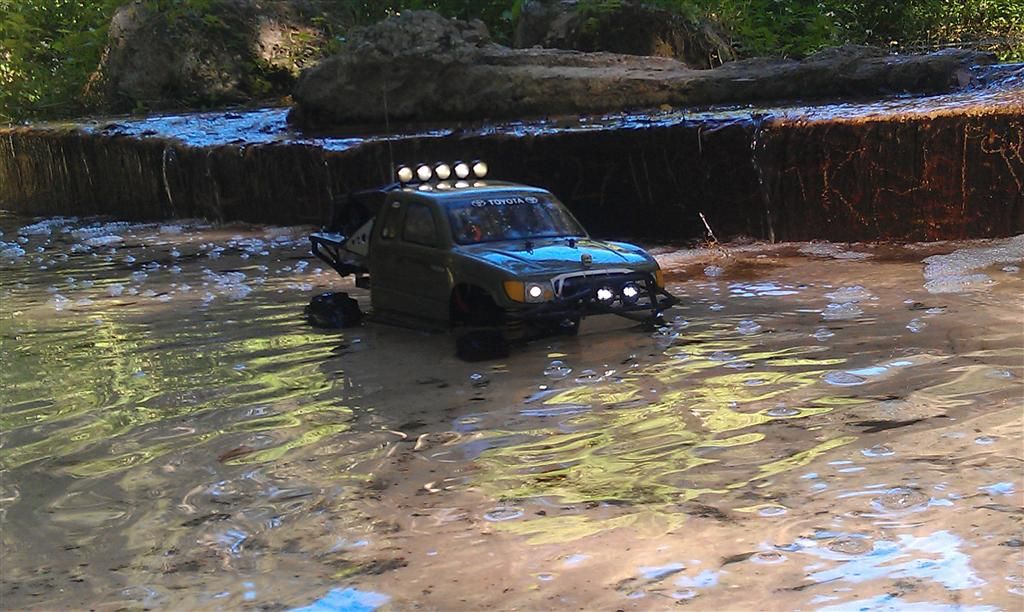 ---
Last edited by blazen_red_4x4; 02-20-2019 at

08:00 PM

.
04-19-2019, 11:13 PM
Join Date: Apr 2019
Posts: 8
---
I've had RC stuff for decades. Mostly nitro, I never thought much of the electrics, although I do have a few. I used to have a few nitro helos, but the small, collective electrics are fun and can fly indoors. I have an original Nitro Hawk (highly modified), and original T-Maxx. The Hypersport 48 is gas powered with remote electric start.
Hypersport trailer is scratch-built with 3-axle leaf springs, not complete yet but close. I picked up the Everest Gen7 Pro only to tow the Hypersport.
When my son grew up and joined the Navy, I took over his room for my RC and analog music gear.