4x4 torsion and blocks
01-16-2010, 10:04 PM
---
i own a 4x4 97 blazer LS stock and want to lower the front and back ..i was thinking since i'm on a very small budget of unscrewing the torsion bars almost all the way and 3 or 4 inch lowering blocks on the back..will this give it a nice look? noticeable? do i need to cut the bumpstops?what should i use to cut them? how long until i need to get an alignment? can it be 2 more weeks of driving to and from work? does anyone have pictures of a blazer like mine lowered with torsion bolts/blocks.any ideas what i can do for noticeable DIY changes? I'm thinking about doing the clear corner oven thing and maybe taking the luggage rack off thx.
i know it would be a good investment to get the keys or whatever but i realy just dont have the money .. can i do that thing where i loosen the tortion bolts and get a drop..will it be around 3-4 inches?does the tortion bolts need an impact wrench?what size socket/wrench? thx.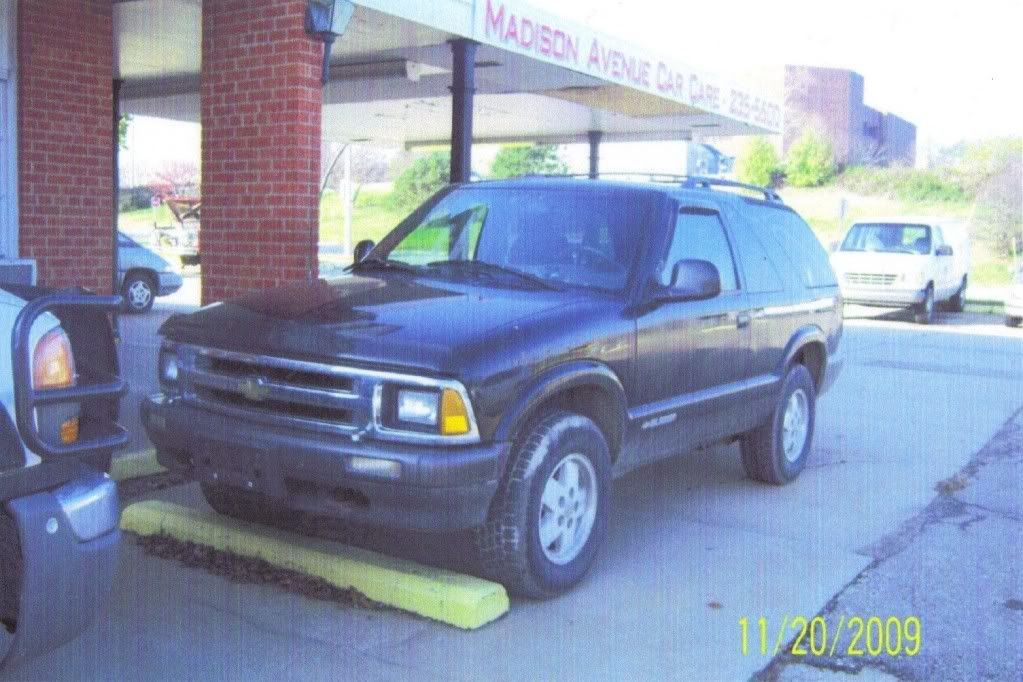 ---
Last edited by couldbeanyone; 03-28-2010 at

02:15 PM

. Reason: Combining Consecutive Posts - Please use the EDIT function to add additional information to your post if another member has yet to reply. Consecutive Posting is prohibited by the rules of the forum.
01-17-2010, 12:21 AM
Join Date: Jun 2009
Location: maryland
Posts: 26
---
i have a 4x4 jimmy and i lowered mine 3 and 4 so i don't see why you could not lower yours. it is not hard. oh dont buy that tool they say you need to get the keys out. you dont need it i used a gear puller and it worked fine. i got it from autozone and it was only like $20 or $30 not $100+. you can email me at
[email protected]
if you have any questions.
01-17-2010, 12:43 AM
---
cool but do i have to do the tortion bar trick thing or can i get a good drop on it from backing out the tortion bolts i've never done anything like that and just don't want to mess anything up
01-17-2010, 12:57 AM
---
Man, a lowered zr2? I dont really enjoy the sound of that, but if there is no supper emotional attachment, See if you can trade it for a non zr2/2wd... You can drop those real fast.... I think there has been discussion previously, but hitting up the search function will get you some answers
https://blazerforum.com/forum/showth...drive+lowering
---
Last edited by wlorton; 01-17-2010 at

12:59 AM

. Reason: LInks
01-17-2010, 09:22 AM
---
Originally Posted by
gmc004x4
Please lets keep the discussion on the forum for the benefit of everyone.
01-17-2010, 11:40 AM
---
---
Last edited by couldbeanyone; 03-28-2010 at

02:17 PM

.
01-17-2010, 12:32 PM
01-17-2010, 12:39 PM
---
Nope, not a ZR2, at least it sure doesn't look like one.

Check the RPO sticker in the glove box and look for the ZR2 code amongst all the other codes. I'm betting you won't find it.
01-17-2010, 01:00 PM
---
oh i figured since it had the slanted window it was one ..and whats the zr2 code? it says zr2 or what? so i can lower it with blocks/tortion bolts?
01-17-2010, 01:31 PM
---
i didn't see zr2 in the glove box just a bunch of other letters