83 s10 blazer
05-06-2010, 05:58 AM
Join Date: May 2010
Posts: 11
83 s10 blazer
---
disclaimer: if your truck has anything less then 33" tires turnaround now or you will cry
so i have a bone stock 83 with a 2.8 v6 auto stock height no tbar or anything just a set of what i like to call man tires.....
here are the pics for yall
this is about what it looked like when we got it but it had car tires on it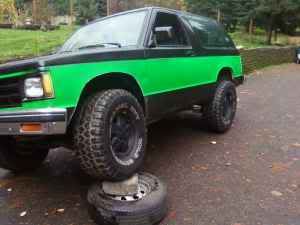 and after i got the 35 12.50 15's on it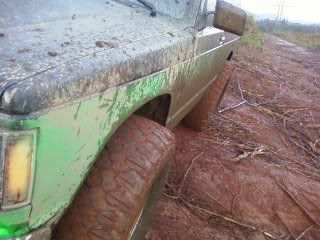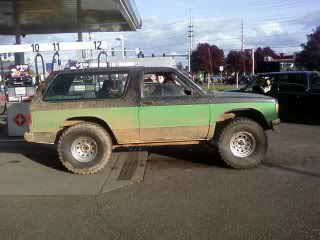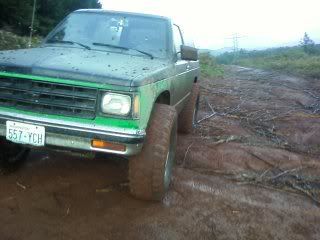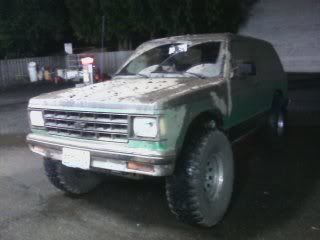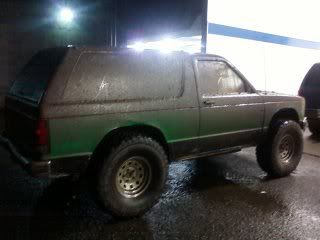 comments welcome
05-06-2010, 08:25 AM
---
AHAHA talk about trimming. Nice job, that thing look freakin beastly. You must have rubbing when you articulate.
05-06-2010, 08:37 AM
---
That is a motivated blazer owner....
05-06-2010, 08:47 AM
Join Date: Feb 2010
Location: Westminster, MD
Posts: 76
---
Haha I like it man. That's a beautiful truck you got there overall. Any other plans for it though?

-Joe
05-06-2010, 05:39 PM
Join Date: May 2010
Posts: 11
---
yes it rubs but very little i am doing a sas on it i have a set of dana 60's for the front and rear a 205 transfer case 700r4 and a marine smallblock chev (350) but i am waiting for my rearend to break before i put it in but hey the factory lsd in the front and the lincoln locked rear works great for now i have ground clearance like a **** and it ist as top heavy as most blazers caus the fact that it has no lift.
05-06-2010, 09:36 PM
Join Date: Feb 2010
Location: Westminster, MD
Posts: 76
---
Not to be mean or nothing, just letting you know; please use more punctuation and capitalization and all that crazy stuff you learn in English class. Makes it tons easier to read for us all. I know personally I can read posts like you've typed just now perfectly fine, but other people have some problems with understanding it.

-Joe

05-18-2010, 10:22 PM
Join Date: May 2010
Posts: 11
---
ok some more pics for yall
went to the beach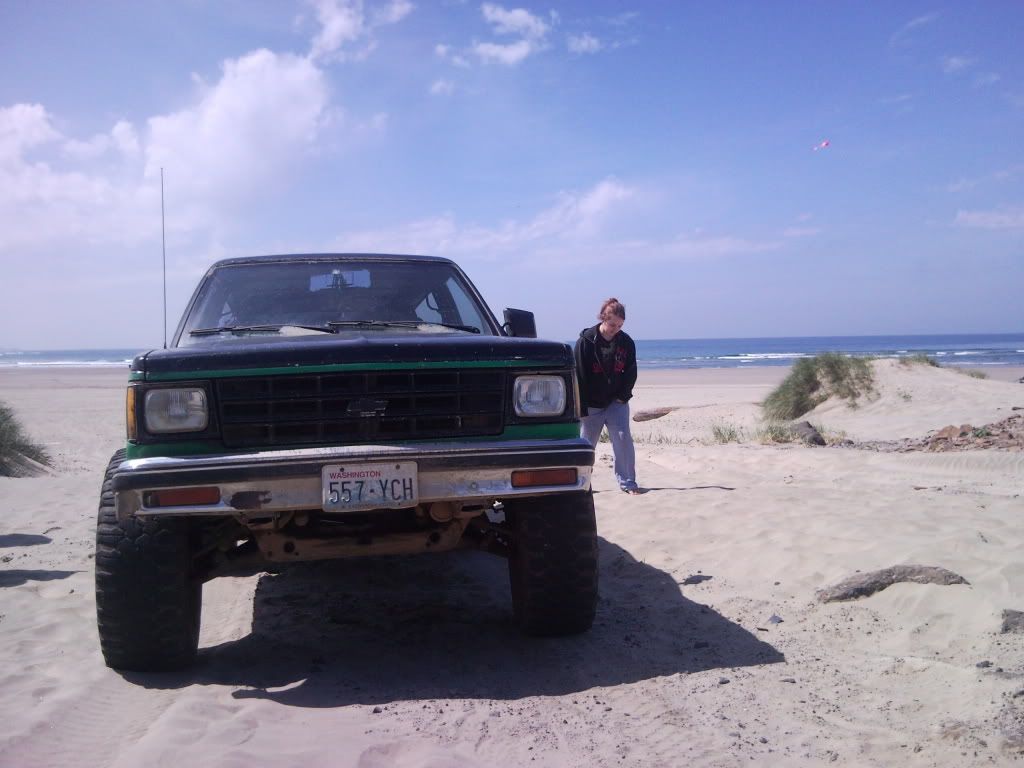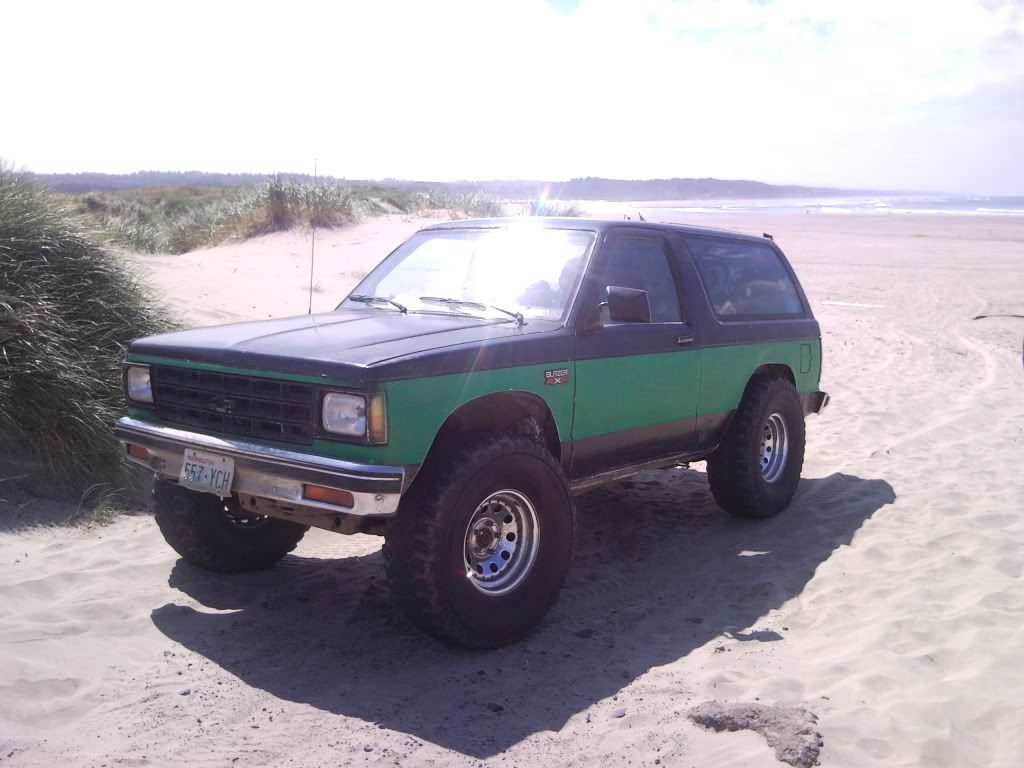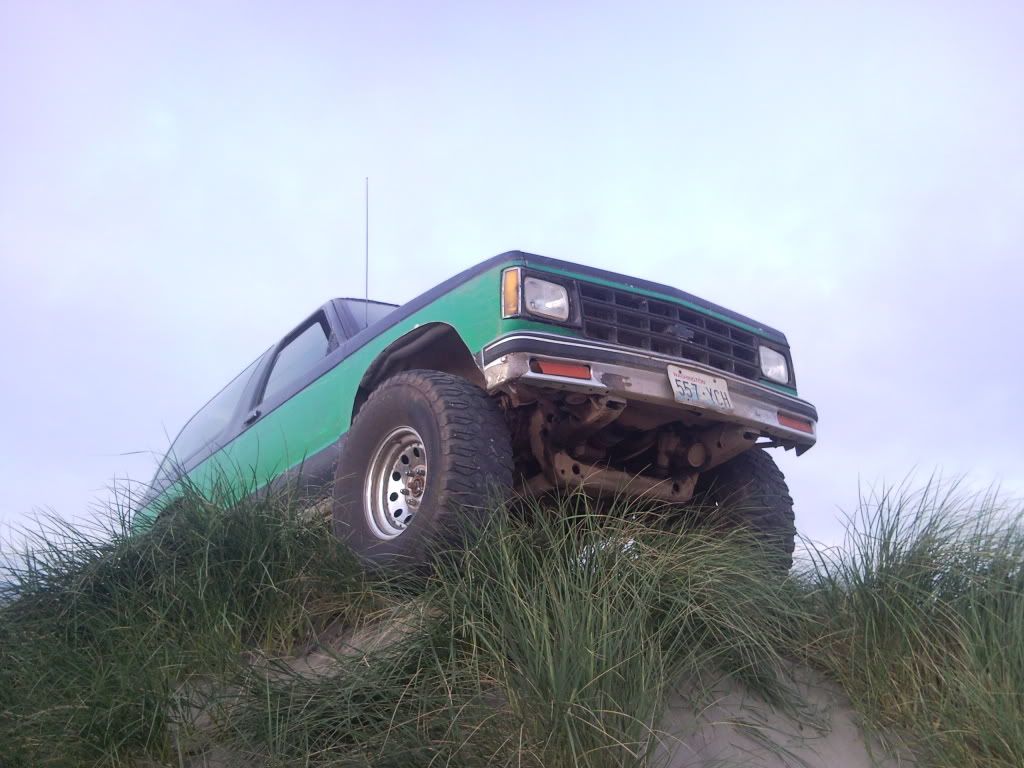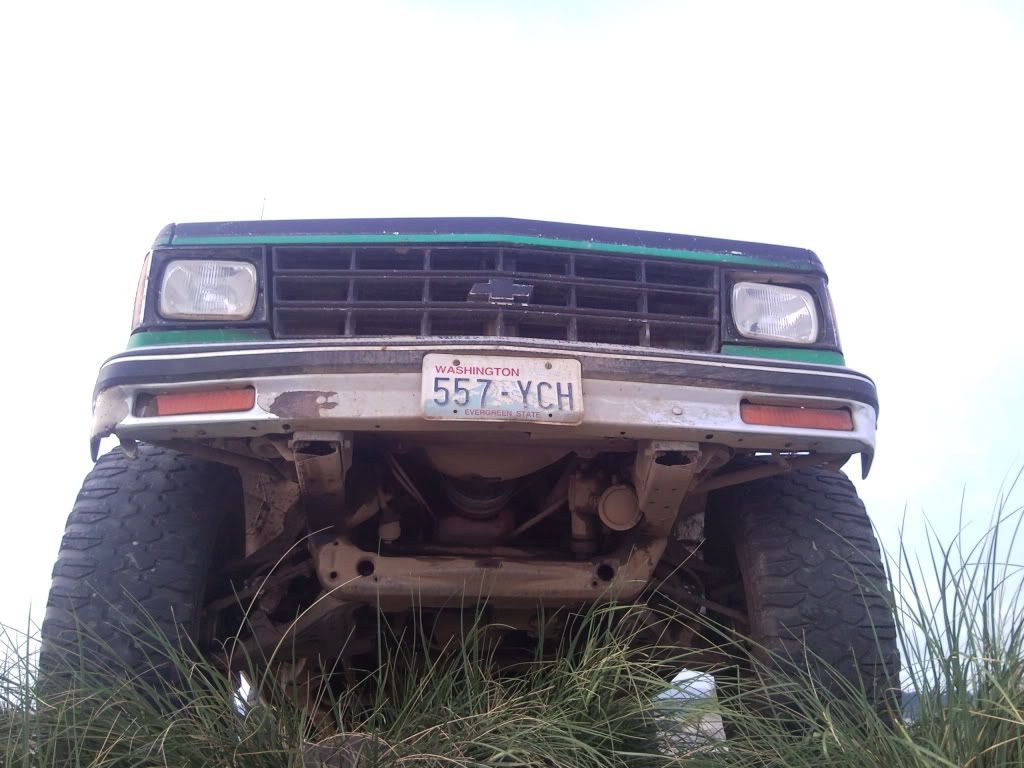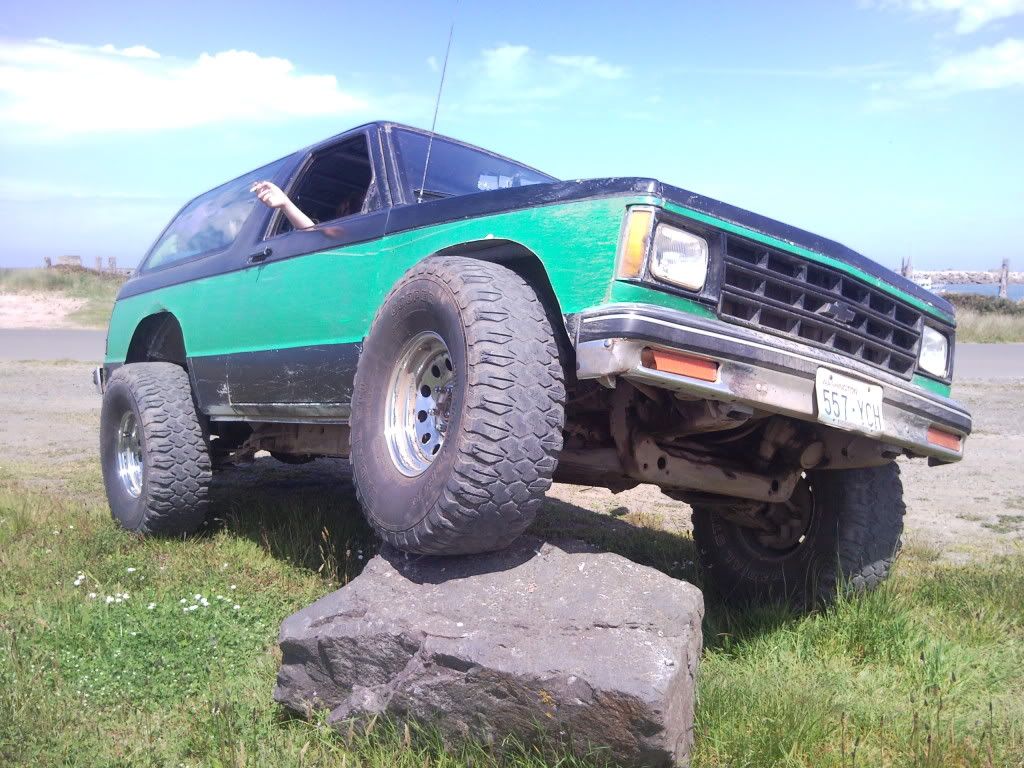 and i need to do some more trimming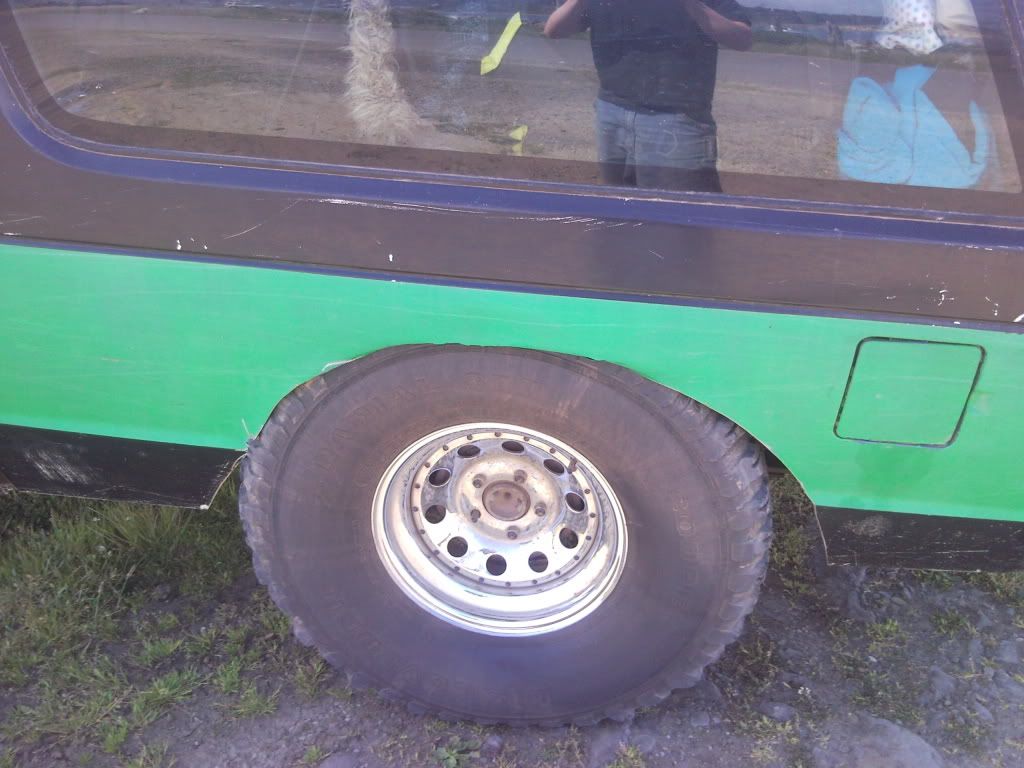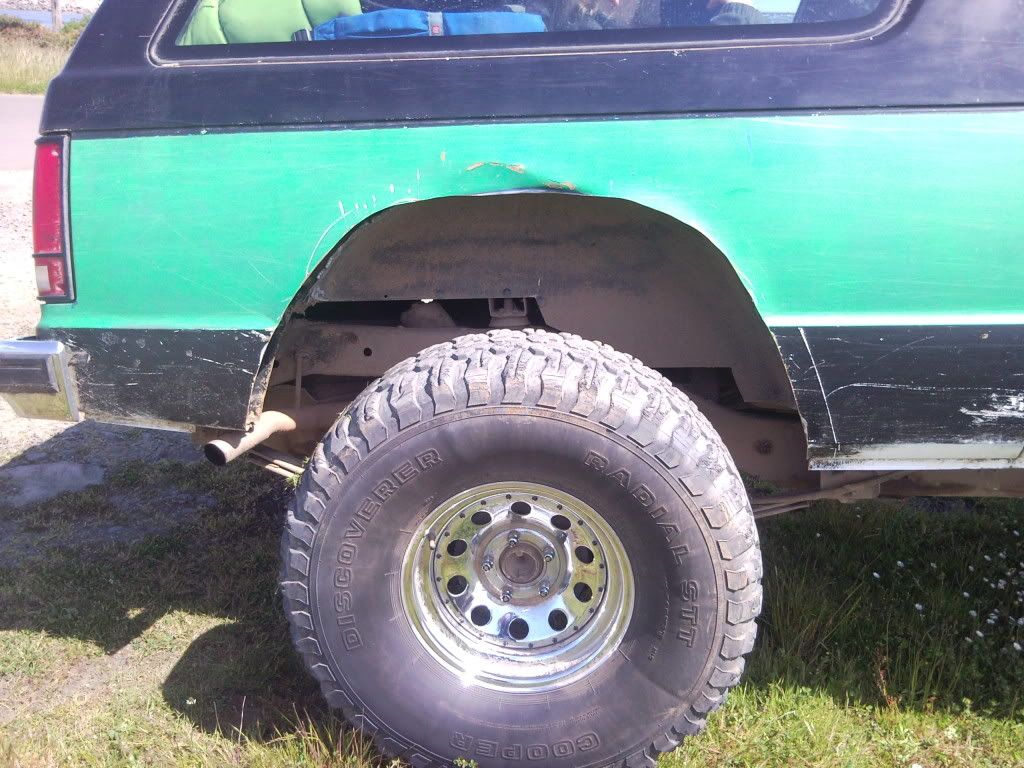 05-22-2010, 11:52 AM
---
looks good. lol a lot more trimming than I had to do...
05-22-2010, 07:09 PM
Join Date: May 2010
Posts: 11
---
hell i had to with those 35's
05-23-2010, 12:00 AM
---
I know you warned me but...
Nice, all I can say. Not many peolpe have the testicular fortitude to do that much "trimming". Ok hacking cause that's a wee bit more than a trim, heh. Still loving that black/green two tone. It just looks like a bulldog, just short, mean and bow legged. LOL!
Those shots at the beach are awesome. Now that I'm gettin my gears I'll have to get up Hawks nest state park and around the New River Gorge bridge and snap some scenic pics like those. Now that I won't be pedal to the floor in 2nd gear going 10mph trying to get up the mountains out that way.