Blazer to the rescue
04-01-2012, 03:49 AM
Blazer to the rescue
---
Well my friend who can never go anywhere without getting stuck (which is why i bring him along) got stuck.. I got a call saying come help me so i did lol.
He decided to drive across the ruts instead of through them and yeah.. this happened. It took a while to drag that heavy dodge out of there. I finally got the G80 to kick in and then slowly drug him out.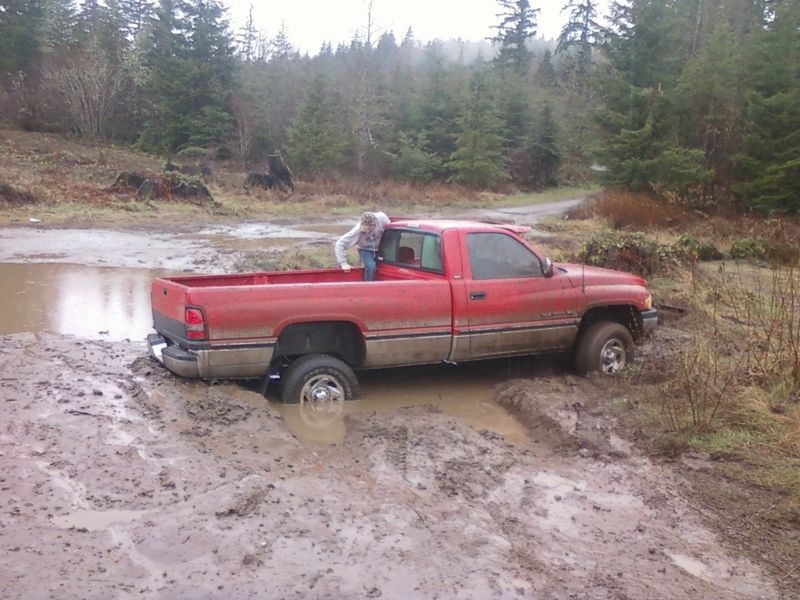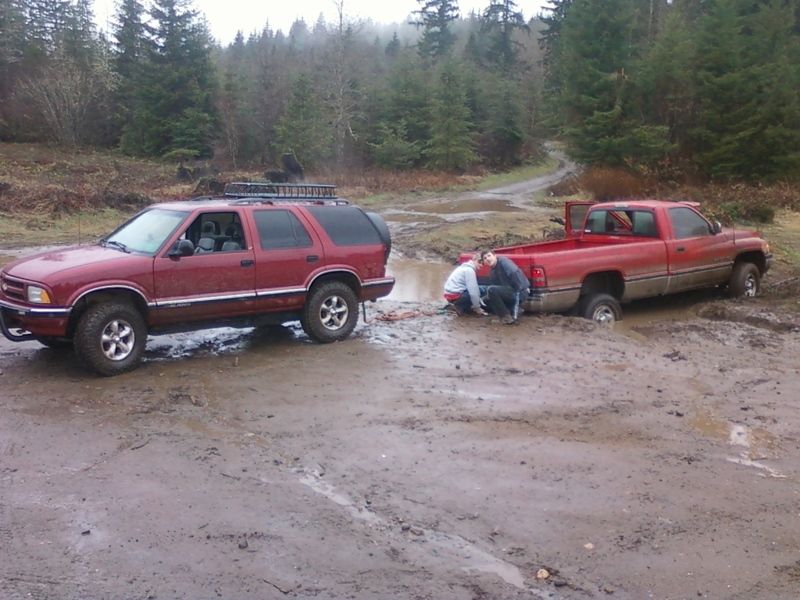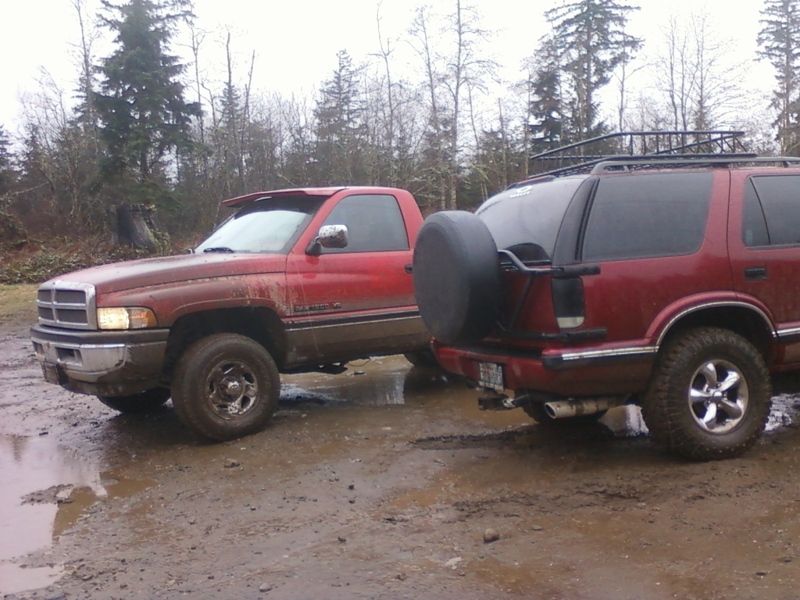 And i am thanking god that i have my spare tire carrier on there right now because we first tried pulling him out by some stupid little D ring attached to his hitch because everything else was buried, and it snapped right off and that stupid nylon tow rope snapped back at my truck and the tow hook on the rope hit the bottom of my spare tire. You can kind of see the mud mark from it in the last picture. It hit hard to.
I would have pulled him form the front but he didnt have any tow hooks up there. What kind of a truck is that?!?! Oh wait a Dodge...
04-01-2012, 10:45 AM
---
WTG & no tow hooks upfront is odd for sure, especially on a 4x4 of any kind!
When you're trying to 'tug n go' like that to get someone out it's always a good idea to put a shipping blanket or some other heavy blanket midway on the recovery strap. It will stop the strap from whiplashing back & damaging things or hurting people.
I like those 5 spokes you have there, they look nice n beefy in those tires.
04-01-2012, 01:24 PM
---
haha nice job man .... tell him to get real tires before doing that again

In the future i plan to replace my tow hooks with tow shackles.....
tell him ill sell my hooks to him =D
04-01-2012, 04:12 PM
---
Oh yeah the shipping blanket is a good idea, never thought of that. And yeah i like my rims as well, just chrome isnt my favorite but a little bit is alright.

And yeah lol he does need better tires, he just bought the truck so he wanted to go test it out. It actually did really well after that, probably because its so heavy.
04-07-2012, 03:03 AM
---
I would have pulled him form the front but he didnt have any tow hooks up there. What kind of a truck is that?!?! Oh wait a Dodge...[/quote]
Both of my Chrysler products(2003 Jeep Grand Cherokee and 1994 Dodge Dakota) didnt have front tow hooks but they both had receiver hitches. My Blazer has the front tow hooks but no receiver. Haha. I joke around and say that my Jeep didnt need the front tow hooks because it never got stuck but had to pull everyone out and my Blazer has the front hooks because its always getting stuck so it needs pulled out all the time
04-07-2012, 09:46 PM
---
Never use a strap with a hook on it. Just asking for trouble!

And glad you got him out.
Thread
Thread Starter
Forum
Replies
Last Post
2nd Gen S-series (1995-2005) Tech