light roof rack
06-07-2009, 11:48 AM
Join Date: Mar 2009
Location: New Jersey
Posts: 139
light roof rack
---
what roof rack is best for a blazer with a sunroof that gets the best view of the area i dont want to get the carrier just the lights and i wanna have it hold 4 square lights
06-07-2009, 12:52 PM
---
Why dont you just get a light bar instead then? Theyre cheaper.
06-07-2009, 02:35 PM
---
What? I can't follow that at all. it is probably more than one sentence but seriously... wha?!
Do you mean, "What roof rack works best for a Blazer with a sunroof?"
"I want one that doesn't restrict my sun roof view."
"Now that you have loooked for a roof rack for me, I don't want it. Instead, I want some lights."
"I want a roof rack with 4 square lights."
Um.... If I interpreted that correctly, then why bother with a roof rack at all? Go with mech cb's light bar suggestion, or go to Autozone or Walmart and drop $40 on 4 cheap Platinum Burners Series square lights and mount them to your cross bar on the cargo rack.
Seriously, wha...!?
cheap *** cargo basket
cheap *** lights
---
Last edited by ABN31B; 06-07-2009 at

02:50 PM

. Reason: Seriously...
06-07-2009, 03:03 PM
---
Or you could go the extreme route & do what I did - If we're talking lights. LOL
Check out my album. I used what is locally known as "KIWI INGENUITY"
06-07-2009, 04:12 PM
Join Date: Mar 2009
Location: New Jersey
Posts: 139
---
yea im looking for a bar to hold lights not a rack how do you run the wires to the interior
06-07-2009, 04:13 PM
Join Date: Mar 2009
Location: New Jersey
Posts: 139
---
yes i want to do mine exactly like you kiwi how did you do it
06-08-2009, 02:48 AM
---
Before I started, I wanted the lights as far forward on the roof as possible without drilling into the roof. ALSO, I wanted to retain the use of the roof rack.

The light bar was from a pair of roof racks off a Jeep Cherokee. I shortened it & mounted it to an aluminium plate I cut to fit in the top of the roof rack's feet.

I fed the wires into the cross bar & out at the end & into a junction box on the roof.
From there I fed the wires through the roof under the foot of the roof rack, followed down to the front pillar & under the dash. This is where you have your light switches. (my light switches are on the steering column like most Japanese vehicles).

At first I had 2 toggle switches, one for the 2 outside lights & the other for the two inside ones, (because they're 100w lamps one switch would not cope). Each switch had a relay &
I fed power directly from the battery with a 40amp fuse. Since then, I've refined the switches to what I have now.

Check out the pics on my photobucket album.
06-08-2009, 12:13 PM
---
I like they way you built that kiwi. I've been looking into light rack solutions, too.
06-08-2009, 08:26 PM
Join Date: Mar 2008
Location: Raleigh, North Carolina
Posts: 418
---
i did it the kiwi way 2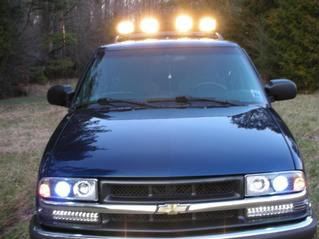 06-08-2009, 08:45 PM
Join Date: Mar 2009
Location: New Jersey
Posts: 139
---
is there a name so i can buy one and install like yours also what size are your lights