Yooper off roadin'
08-28-2013, 05:38 AM
Yooper off roadin'
---
I went on my annual U.P. overland trip the beginning of this month and had an absolutely great time camping and doing some off roading. Got to put the new lift kit through it's paces and really try it out some. I've decided it was worth every penny. It gave me just enough clearance to allow me to go places I never would've tried without it and allowed me to keep up with group without worrying about whether I'd make it or not.
Started out on day 1 early and headed for Mass city.
Then I drove the Bob Nichols trail. It's an abandoned railroad line so it's not a difficult trail at all but it gives you a great view when you cross over the 3 old railroad trestles that cross the firesteel river.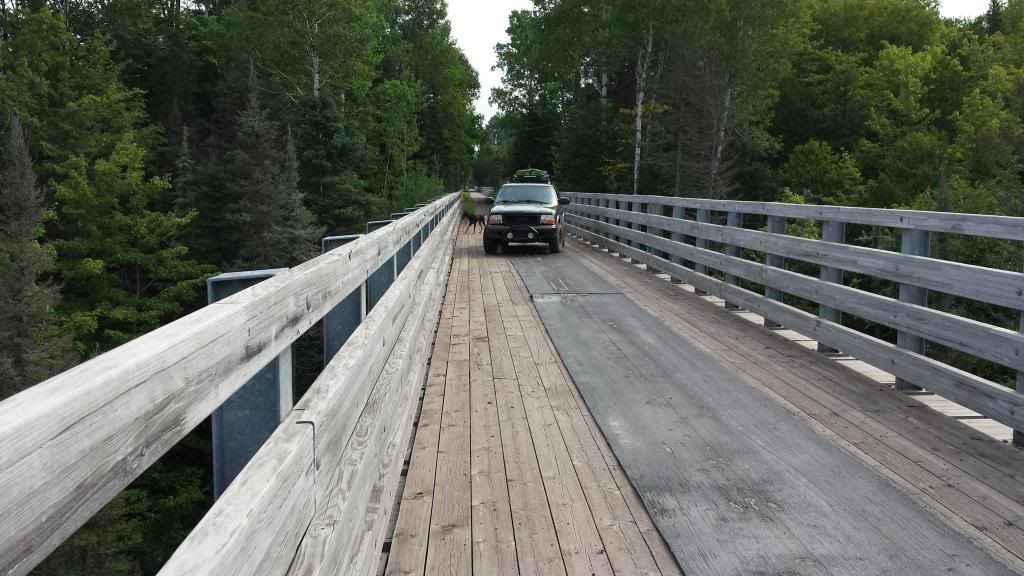 From there I drove up to the Phoenix area and hit some of the trails around the old abandoned cliff mine. I would have liked to have taken some pics of the trail I took down the cliff but it was just too rough and I was too busy white knuckling it down the hill.
There's a trail coming down the cliff in these trees somewhere.
My buddy Brian took a couple pics from the top that show how high it really is.
Once I unpuckered my sphincter from the drive down I decided I'd head out to the spot where the group was meeting up the next day and just get a day my self before everyone showed up.
The road out to the bay still has a great view.
And the rough road is worth driving once you get to the camping spot.
We all met up there the next day and camped there the next night. We headed out and met up at our next camping spot located at the mouth of the huron river, definitely another great camping spot.
The next morning we all headed out for Grand Marais. In order to get there you have to go through the Huron Mountains and there are hundreds of miles of off road trails. We broke up into small groups and all took our favorite trails. I drove with my friend Brian and his Wife Jayne who have a really nice H3 hummer. I'm proud to say that the Jimmy went everywhere the Hummer went and never missed a beat. Jayne got a few pictures as we were driving.
And of course Sig loved every second of it.
We spent the night on the beach east of Grand Marais and people had to start heading back home. I had an extra day or so before I had to be home so I headed back down state in the lower peninsula and found some decent off road trails to play around on and kill some time.
Another great UP overland trip. Can't wait to get back up in October!
---
Last edited by IronDobe; 08-28-2013 at

05:43 AM

.
08-28-2013, 03:12 PM
Camping
---
To me this is what its all about, building a truck that will take you there. I am getting ready to go back to Colorado and hit the old mining trails. Have not been in 14 years, heading back real soon. I like your pics
08-29-2013, 04:12 AM
---
Thanks. I like the pics too. You know, it doesnt take a whole lot to have a truck "that will take you there". My truck is all stock except for the 2.5 inch lift kit. There's no reason why any of our Blazer/Jimmy's should'nt be able to do some awesome trips like this.
I've got a friend that's out running the old mining trails in Colorado right now, he's got a FJcruiser but I havent seen him go anywhere where one of our stock trucks would'nt make it.
Touring the San Juans of Colorado with a Newborn | Kristian Saile
08-29-2013, 04:14 AM
---
No reason why you couldn't! Check out some of our trips over at
upoverlang.org
08-30-2013, 11:07 AM
Colorado
---
I agree, our vehicles stock will take us far. I will wait till I get all locked before I go, looking for a Detroit locker now. Some 33s, small 2" lift should work for what I want, I want to rerun some of the old trails we did 20 years ago, I still remember them well. Its so dang hot here in Texas. I may just drop all and go.....lol......
08-31-2013, 03:55 PM
---
08-31-2013, 10:07 PM
---
Those power line right-of-ways make for pretty good trails! I work for the electric company so I've done some off-roading on a few, myself.

Loved the pictures! Look like you had a great time. Like kwbond said, it's just too dang hot here in Texas to want to do much of anything outside right now!