ak's 2000 4door
11-09-2013, 09:56 PM
Join Date: Feb 2013
Posts: 33
ak's 2000 4door
---
figured id throw some pics up now that its running again, it blew the intake/headgaskets and hydro locked 2 years ago after being beat on by its previous owner. I swapped in a running w-vin engine with 110k on the clock last year, but forgot to do the gaskets after letting the engine sit for a year. the intake or headgasket started mixing coolant and oil so I did a full topend rebuild last month, along with external fluid coolers.
runs like a champ now, even with bad o2 sensors!
its got every option except zr2/sunroof. full leather, a/c, all power, heated, 4 button 4wd, ls/lt package.
future mods: electric fans, air shocks, retrofit headlights, led board tails, led interior conversion, shaved badges/trim, decent soundsystem, single svt cobra muffler.
11-17-2013, 11:05 AM
Join Date: Feb 2013
Posts: 33
---
heres a few more pics. went and tested the 4wd, 4hi works great from neutral or "on the fly" but it didn't want to go into low and I have no clue if the axles were locking/engaging posi when they were supposed to be.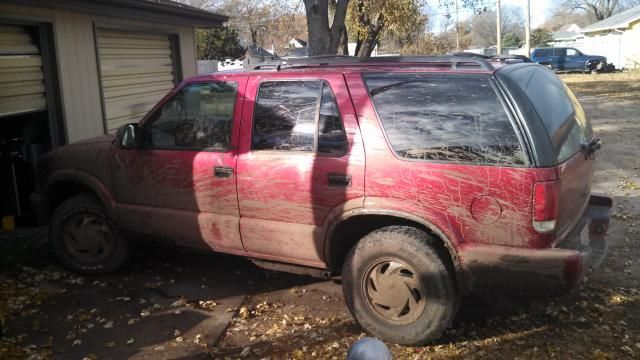 I have a wicked squeak in the front drivers side suspension, guess its time for a urethane master bushing/mount kit.
---
Last edited by aksallday; 11-17-2013 at

11:08 AM

.
12-07-2013, 02:14 PM
Join Date: Feb 2013
Posts: 33
---
im thinking im going to start the headlight retrofit very soon. just cant decide if I want to work off of a set of clear 98+ s10/blazer lights using oem single hid or dual halogen projector units. also thought about trimming my grille and using sonomas with projectors in the fog spot.
heres a few retrofits Ive done.
400ex etched lenses
halogen cavailer set
lexus sc400 cavalier retrofit with bosch micro highbeams
Thread
Thread Starter
Forum
Replies
Last Post
Performance & Brainstorming
Headers, Intake, & Exhaust