the blazer and bird
10-26-2011, 12:44 PM
the blazer and bird
---
i have a 96 blazer with 255,xxx miles on it and its still running strong! just got it from a 20 year old who couldnt afford the gas and before that it was owned by some old man since brand new. i have records of everything done to it since 96 so im pretty satisfied. and i have a 94 thunderbird with around 130,000 on it but the odometer broke so im not too sure how much is on it now. i love tbirds and this is my 3rd one.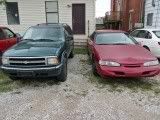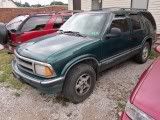 10-27-2011, 01:22 PM
---
Congrats on the ride! Got any plans for it?
10-27-2011, 07:21 PM
---
yea im thinkin a 2 inch lift with some bigger tires and putting my camaro rims on it eventually, i painted the grill black and bowtie the same green as the truck, and gonna paint lil things on it here soon. i have a baby girl thats due on monday so most of my stuff will get done at tax time lol
Thread
Thread Starter
Forum
Replies
Last Post
2nd Gen S-series (1995-2005) Tech
2nd Gen S-series (1995-2005) Tech