My First Mod
08-15-2011, 01:23 PM
Join Date: Aug 2011
Posts: 40
My First Mod
---
I had my first mod done today. I don't mess around when it comes to modding my vehicles. I got insurance on it about 9:00 this morning, picked up my fiance' from work, ate breakfast, took her back to work, got it tagged about 11:15, went and got the bolts for the license plates, put them on at home, then had my Blazer at the tint place around 12:15. The rear windows stayed the same, I just had the two front windows tinted to match the rear. I did not add a brow today, but I probably will sometime.
Before: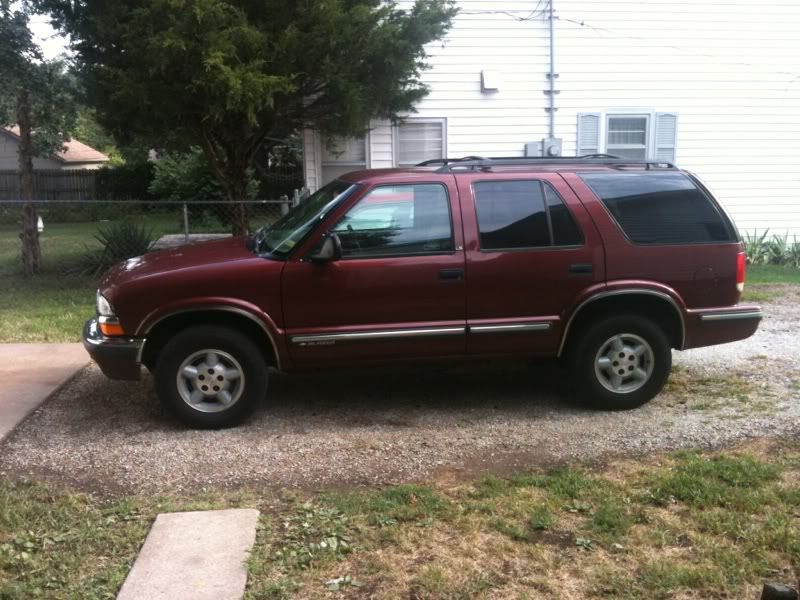 After:
I think it already looks better.
Next will be a Thrush Welded muffler with 2.5 inch piping and a turndown and a drop-in K&N air filter. Couple questions: Is it ok to buy a muffler with offset inlet/outlets? Is the stock exhaust tubing 2.25 or 2.5 inches? I plan on using 2.5 inch inlet/outlets on the muffler and I'm not sure if I'll need to replace the tubing too.
08-15-2011, 01:29 PM
---
08-15-2011, 02:05 PM
Join Date: Aug 2011
Posts: 40
---
I'm also thinking about a shorty antenna.
08-15-2011, 02:42 PM
---
Looks much better!

If you do a shorty, just cut yours down instead of spending a buttload of money on one that doesn't work anyways. Cheaper that way and still looks cool.
08-15-2011, 04:29 PM
---
as far as the exhaust...i did the exact same thing.
after the cat there is a 3 bolt flange then the stock muffler.
remove the flange and cut off what you dont want.
i believe stock exhaust is 2.25

what i did was weld on a 2.5" exhaust from the flange back. the turn down is exactly where the stock hanger is so i could reuse it.
just measure from that flange back to get your placement/parts.

you will love the sound...i know i do.
tint looks great by the way.
08-15-2011, 06:49 PM
.
---
Hey, if you don't mind me asking, how much does tint on the front windows cost? I was thinking about it, but wanted a ballpark cost before I go.
08-15-2011, 07:03 PM
---
To answer the exhaust question: its 2.5 going into muffler an 2.25 coming out.
08-15-2011, 07:23 PM
Join Date: Aug 2011
Posts: 40
---
08-15-2011, 07:57 PM
Join Date: Aug 2011
Posts: 40
---
Also, I can just cut my antenna down and call it good? Will there be exposed wire at the end? I'm assuming a wire runs through the antenna. Any more info will be appreciated.
08-15-2011, 08:05 PM
---
I think the little rubber on the tip slides off and you just put it back where you cut it