Need pics of ZR2 blazer w/ 32s on stock rims
11-29-2011, 05:53 PM
Need pics of ZR2 blazer w/ 32s on stock rims
---
I want to do get 2 inch shackles, add a leaf, crank up my torsion bars, and add 32x11.5s on the stock ZR2 rims. If anyone has pictures of that can you please post them? Thanks!!
11-29-2011, 06:03 PM
---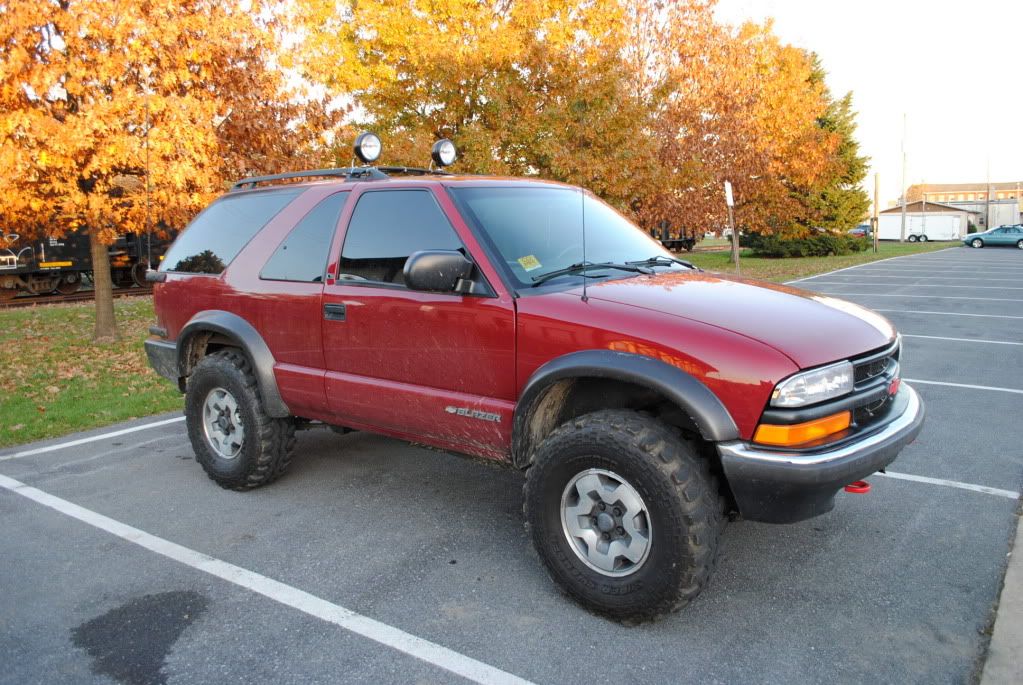 33 12.5 15 on that set up.... 32's would fit with prob no trimming i didn't really have to trim that much.
11-29-2011, 07:09 PM
11-29-2011, 07:11 PM
11-29-2011, 07:14 PM
---
yeah i cut about a half inch off the bumper and then angled it down cutting through the valence, took maybe an inch and a half out of the back of all four flares but tried to make it look as best as possible....nah it doesn't rub off road works very well with this set up i think.
---
Last edited by PlanB4x4; 11-29-2011 at

07:34 PM

.
11-29-2011, 08:26 PM
---
Looks good for sure what did the 33s run you?
11-29-2011, 09:57 PM
---
they were a craigslist find, 475 for all five i can't complain there a bit more new lol.
11-30-2011, 02:27 PM
---
Would you recommend 32x11.50s or 33x10.50s with what i want to do? I want the blazer to look as beefy as possible without having large gaps in my wheel wells.. Pretty much I want to look stock but just beefier. With 33s would I be hurting my front axles when off roading ?
11-30-2011, 03:00 PM
---
i would go 33 10.5 15 bfg km2's then, they will look beefy like u want and function very well..... my tires haven't hurt my axles at all as far as i can tell, i also got a little better highway gas milage and a little worse around town lost 1 mile per gallon around town but is balanced out by my highway driving, so ur gas milage might be hurt some.
12-03-2011, 12:22 AM