Pic Request of Lift on Stock Size Tires
10-28-2011, 07:27 PM
Join Date: Aug 2011
Posts: 40
Pic Request of Lift on Stock Size Tires
---
If you have any, would you post pics of an S10 Blazer with a t-bar crank and blocks on stock sized tires? Im sure it will look a bit goofy, but my current tires are in pretty good shape, but I wouldn't mind a couple of inches of clearance for the winter. Thanks in advance.
10-28-2011, 07:45 PM
---
let me check if i took pictures when i lifted my blazer


Edit: cant find any thing but ill still keep looking
---
Last edited by xgiovannix12; 10-28-2011 at

09:45 PM

.
10-29-2011, 04:47 AM
Join Date: Aug 2011
Posts: 40
---
11-04-2011, 10:32 AM
---
take a look at my garage and my pics. I have a long AAL in the rear and tbar crank in the front on 235/70R15's. My sig also has my blazer after the lift with stock tires, doesn't look bad IMO
11-04-2011, 11:56 AM
---
It won't look much different from what you have. You're looking at 1-2 inches of lift which doesn't have much effect appearance wise on an S10. 4x4 S10s should come stock at the height you'll get. A casual observer won't even notice.

BTW for S10s blocks on the rear springs actually lower the truck, as the axle sits on top of the leaf springs. The cheapest way to get an inch or two out of the back is longer rear spring shackles, they run about $70 on ebay. A rear axle flip will get you more height, basically putting the springs on top of the axle like they are on most trucks.
03-26-2012, 07:07 PM
Join Date: Mar 2012
Posts: 4
---
Hey guys, I was actually just wondering about the axle flip idea, this may sound like a dumb question but would the axle work properly (still get oil to all the right spots) if I were to flip it instead of doing a spring over or is it like the Corporate 14 bolt so the oil journals wont work right when inverted?

Thanks for the help!!!!
03-27-2012, 09:41 PM
---
by axle flip you would leave the axle the exact same way just put it under the springs... so you would have to cut off your spring perches and put them on top of the axle. also youre going to get like 5-6 inches of lift by doing that.
heres a old suburban i had, 6inch lift and put the stock 31s on it for a while.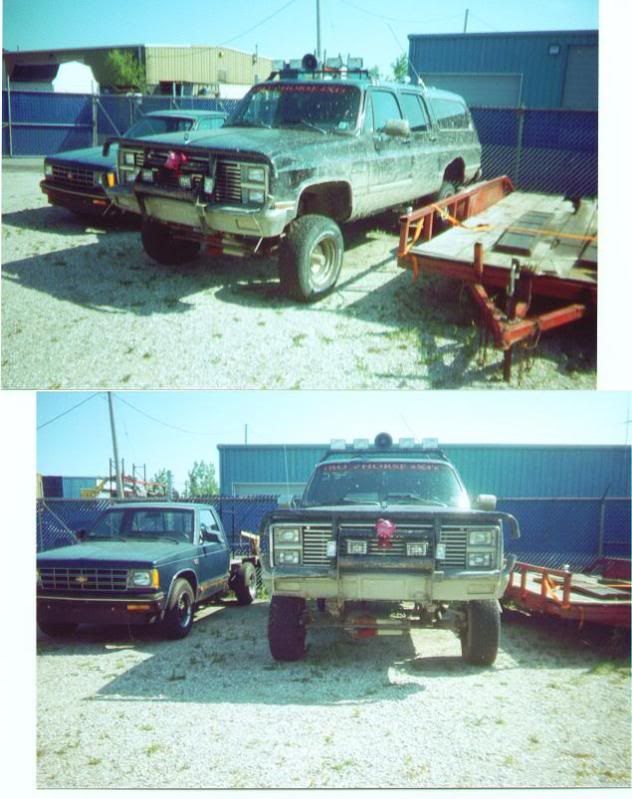 ---
Last edited by abig84; 03-27-2012 at

09:48 PM

.
03-29-2012, 12:08 AM
Join Date: Mar 2012
Posts: 4
Axle Flip Tech
---
That makes since I guess, I was hoping to get away with not having to do that, but it's all good. My over all goal is 33's but I really don't want to run any more than three inches of lift or so. Guess it's time to break out the sawzall and get to work on the fenders. What's you guys opinions on a 2 inch body lift? I'm only thinking about it in the event that I have to pull the tranny or motor at some point in the future.
03-29-2012, 12:10 AM
---
your gonna have to cut a lot to snug 33 + tires with only 2 inch lift

Might as well remove the fenders

plus if your stock gears are 3.43s your gonna blow em putting tires that big on them

BEST to do a sas and get it over with
03-29-2012, 11:12 PM
---
you can fit 35s on stock suspension, didnt have to remove the fenders just most of them
surprisingly i never broke cv joints with those tires but i took very wide turns cause the cv joints banged when i turned the wheel so i tried to keep it straight all the time. i eventually put 33s on it and then the cv joints gave way