USiNG YOUR BLAZER FOR WORK !
02-15-2012, 07:52 PM
USiNG YOUR BLAZER FOR WORK !
---
put the blazer to the test yesterday . 42 cement bags 80lbs each 2 of my friends 3 2by16 pieces of wood wow thats heavy ! lol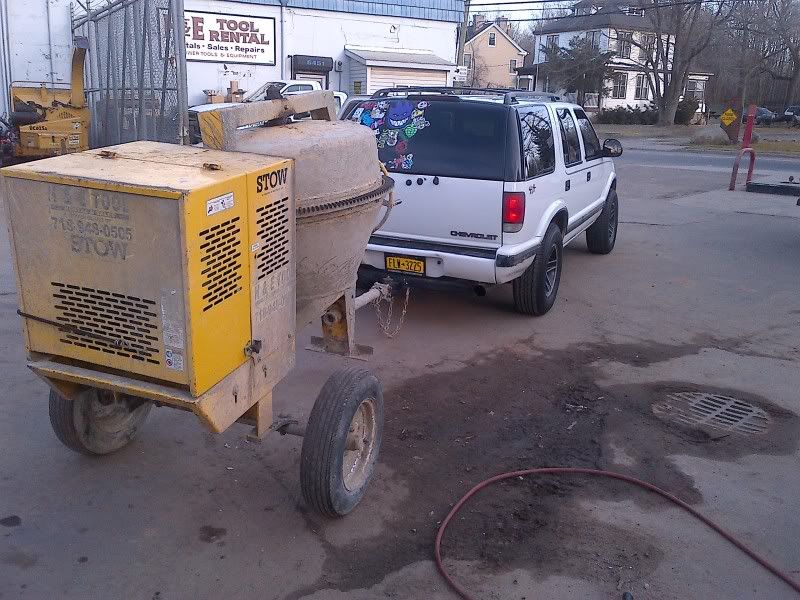 02-15-2012, 08:20 PM
---
02-15-2012, 09:41 PM
---
eh i towed a skit of blocks with 10 bags of concrete so about 3600 pounds for the blocks 800 for the bags of concrete and an 1500 pound trailer

total 5900 pounds

I thought my trans was gonna come out lol..... Never again tho even tho she towed it like a champ


but i gotta say these trucks love to work

Edit: Wow i have not seen H & E in a while
my dad use to deal with them a lot when i was younger
---
Last edited by xgiovannix12; 02-15-2012 at

09:44 PM

.
02-15-2012, 09:53 PM
---
the Engines can take it. I just feel bad for the transmissions,u joints and diffs. Poor parts didnt know what was happening lol.

Glad to see it worked out. I wont be surprised to see a "why is my trans slipping" thread lol
02-15-2012, 09:55 PM
---
nope my trans is very healthy and im happy with the way it shifts

you cant even feel it shift

where have you been Christopher ? i have not seen ya in a while
02-15-2012, 10:10 PM
---
wow you know everywhere that i go home depot h&e tools 16th ave ! where ru from and where do you live now lol i would guess from around here
02-15-2012, 10:33 PM
---
I use to live in on bayridge ave between 20 and 21

I recently moved to upstate NY

and yes i was in nyc for most of my life haha
02-15-2012, 10:35 PM
---
lucky id love to move upstate . nice and quiet room for toys . not much traffic or potholes maby one day
02-15-2012, 10:37 PM
---
those are the reasons i moved here

I have 2 property's here One left by my grand father and one i bought
Thread
Thread Starter
Forum
Replies
Last Post