Coming Soon...
08-19-2010, 11:33 PM
Coming Soon...
---
...my Wife in a 2010 Camaro.

Rented one for her birthday, she's gonna flip. Got her a pedicure and other spa girly stuff for tomorrow and I'll be dropping her off at her salon. Then pick her up two hours later in the Camaro.

Question. Should I be mean and put a big bow on it?

Toying with the idea of taking it to the track and letting her have a crack at it since she didn't get to race her Regal when we were there last. Looks like general NHRA rules say 13.99 and slower and you don't need a helmet and can have a passenger. I don't think if she goes down the 1320 that she'll be on it like crazy so I think it just might be crazy enough to work. If not and she is faster than 13.99 then she gets one run in and a memory to last a lifetime.

Either way I'll be documenting her reacting with pics and vidz.

Stay tuned!
08-19-2010, 11:51 PM
---
08-20-2010, 12:16 AM
---
she'll be bugging you to buy her one once she gets the taste of driving it
08-20-2010, 03:26 PM
---
DEFINITELY put a bow on it.. then show her the HERTZ sticker
08-20-2010, 07:37 PM
Join Date: Jul 2009
Location: Oklahoma
Posts: 1,604
---
Lol, sounds nice wish I could get someone to rent me a camaro or something for my birthday lol. I told my moms friend I wanted them to rent a hertz corvette and let me tear the **** out of it for a day but they didn't like that idea.
08-21-2010, 09:01 AM
---
Put the bow on.
Did not go to the track.
She's still pumped!

Pics and vidz after we return it, don't want to waste any of our 24 hours!
08-21-2010, 02:35 PM
---
08-21-2010, 07:26 PM
---
From beginning to the sad, sad end.
Makeshift bow since I couldn't find a big one in the middle of August.
Happy Birthday!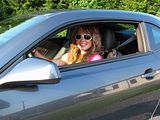 Stopped at a friend's house to let the dog out.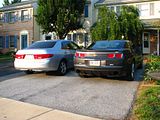 Night time cruising (LOVE these gauges).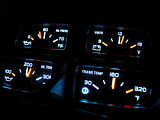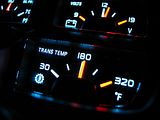 Ran it through the carwash the next day.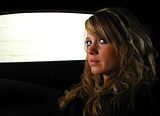 Quick Photoshoot.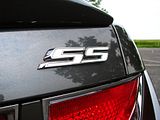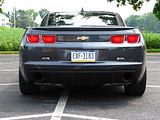 Toughguy pose.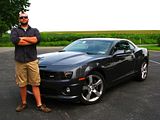 Supermodel.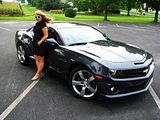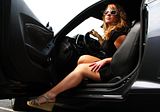 What a lucky guy.
Time to fill 'er up and take 'er back ):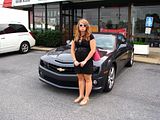 Working on the vidz!
08-21-2010, 07:55 PM
---
She doesn't look too happy at the end.
I guess you'll be buying one, soon!
---
Last edited by cbr995; 08-21-2010 at

07:57 PM

.
08-21-2010, 10:13 PM
---
Yeah, in her words, "It was hard enough to go back to driving my car (supercharged 3.8), it's gonna be REALLY hard for you to go back to your truck!"

She's spoiled I tell ya. She's also been quoted as saying (before the Camaro), "I can never go back to a normal car. My next car has to be supercharged or turbo."

My reply?

"ORRRR a big V8!"