Miss-hap on the road the other day
03-10-2008, 04:45 PM
Join Date: Nov 2007
Location: Ottawa, Canada
Posts: 611
Miss-hap on the road the other day
---
I think this is where I post this, correct me if im wrong...any way...
Well up here in Ottawa Canada, we got a 51cm dump of snow in about 24 hours. No big deal for me, I love the snow, but for alot of city people... well they were in a panic. So I was driving down a main 4 lane road, and going over an overpass. A snowplow justplowed a 2' snowbank right accross the f***in road. So I tryed to slow down, but the ice on the bridge made that a little hard. So doing about 25-30mph when I hit the snowbank, and now im missing half of my front bumper cover. lol.. So now the city is paying for a new one
. The part I dont get is sunday I was driving through tons of snowbanks, and never broke the rest of the cover.
Ahhh...It was a fun day in the snow, evan though at one point I got stuck in 4' os snow. I tryed to get through the fire route, whitch wasnt plowed yet. Luckally a good old lad drove by in his front loader and gave me a hand.
Heres a pic of what the side streets in the city looked like.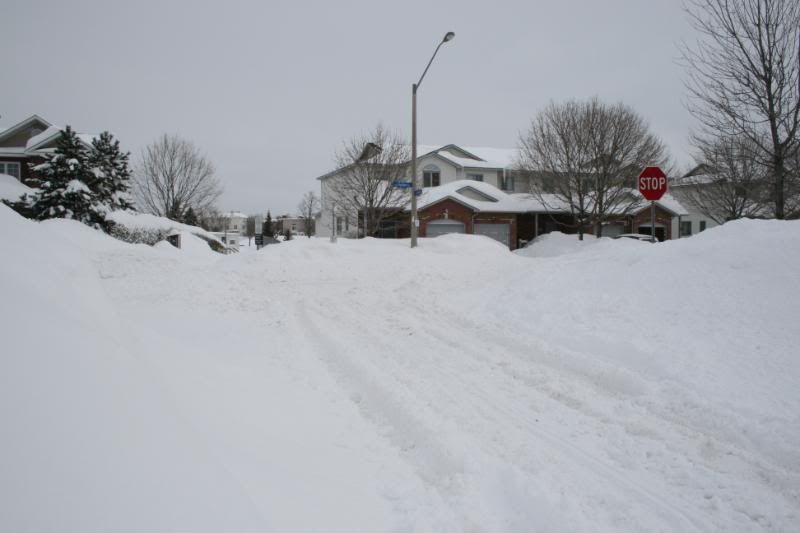 03-10-2008, 04:51 PM
Join Date: Oct 2007
Location: Calgary, AB
Posts: 1,205
RE: Miss-hap on the road the other day
---
NICE!!!!

wish we could get dumped on like that.
03-10-2008, 08:02 PM
RE: Miss-hap on the road the other day
---
I remember when we used to get snow like that. Hasn't happened in a VERY long time.

And the reason why you lost your valence that time was probably due to the fact that the plow left a hard packed pile where a drift is generally loose packed powder.

03-10-2008, 11:03 PM
RE: Miss-hap on the road the other day
---
ORIGINAL: cliro

NICE!!!!

wish we could get dumped on like that.
I, for one, certainly hope I NEVER get DUMPED ON!!! lmao!!!hahahahahahahaha
03-11-2008, 01:43 AM
RE: Miss-hap on the road the other day
---
Well its a good thing the city is going to pay for a new valance for you!! Out here in the desert I call phoenix a buddy a few years back split one of his rims going through a pothole and since the company that made the rims he had didn't make them anymore the city told him to find a set to replace all of them!! Love the way the city is " oh thats our bad go ahead and get something new on us no matter the cost "
03-11-2008, 09:40 AM
Join Date: Nov 2007
Location: Ottawa, Canada
Posts: 611
RE: Miss-hap on the road the other day
---
The city is a pita to get the stuff from, but eventually they pay. I work at a shop, so it help with getting the estimats and all that to the city.
03-11-2008, 01:21 PM
Join Date: Jan 2008
Location: Wisconsin
Posts: 1,511
RE: Miss-hap on the road the other day
---
wow nice gotta love the snow! sweet that they r payin for a new one. but seriously how lame is the plow truck driver to plow a snowbank in the mid of a main road! ya out here in wisconsin we've been having a lotta problems w/ potholes do to the drastic changes in temp all the roads r messed up. lots of ppl r hittin potholes and bending/wrecking rims and the city isnt doin anything about it! their just like umm ya were trying our best to fix the pot holes. lame! good thing the blazer can handle the potholes and it doesnt mess it up like most ppl in their lil cars and low profile tires that have not much sidewall.
05-27-2009, 07:45 PM
---
I for one can attest to how hard hard packed snow-banks can be on valences... I was drifting in like 20 cm on a side street when I found out the hard way that too much gas makes you look like an ***, buddy was staring at me through his front window asking wtf just happened... 260 CND later and a $20 can of plastic paint and it's all fixed.

OOPS
05-27-2009, 08:31 PM
---
ohhh, how I'm happy we're going into summer. That's one thing I don't miss in summer...the winters here in Canada!
05-28-2009, 07:13 AM
---
I pass the time by snowmobiling