falken ze-329 tires, good or steer clear?
01-22-2011, 11:04 PM
falken ze-329 tires, good or steer clear?
---
been researching tires, one size im considering is a 225-60-15. not alot of choices with this odd size, but one popped up that is really cheaper than even the std size tires, falken ZE-329, $76 a tire through n.t.b., the reviews ive read say they dont last very long (like 20K miles) and they have poor snow traction, but what ive read has been from a few years back, the tires could have changed. wondered if anyone here has tried this oddball brand. the other tire in this size im looking at is the cooper CS4, it has a 80,000 mile rating and is $93 through pepboys. tires sure have gone up alot from the last time i bought a new set 5 years ago. i may end up going with a 225-70-15, more choices and they look like a better tire for snow conditions, the stock size of 235-70-15 has alot of choices but the ones that look like theyd be worth getting are in the 130-150 dollar range. and the rims im putting them on have a dual-bolt pattern, i also plan on running them on a '77 granada and since im looking at the small overall diameter (25" vs the stock 28") i may have them on my ranger when i teach my daughter to drive std shift (it will make the 3.73's seem like 4.10's, might make it easier to learn stick) right now im thinking the falken's are a bad idea, but im not for sure.
01-24-2011, 05:33 PM
---
think im staying away from those now, im looking at either the futura gls, a 50,000 mile rated tire for $73.00 or the cooper cs4, a 80,000 mile tire for $93.00 worked on the rims this weekend with some polishing compound. wish i took a before pic, these rims were really bad, first i had them in the shower with some spray-on, hose-off wheel cleaner, then i tried one of those magic erasers, then i bought some polishing compound. heres a pic of the set of 4, 2 i had finished, 2 i hadnt touched with the polishing compound yet. they almost look chrome now that there done.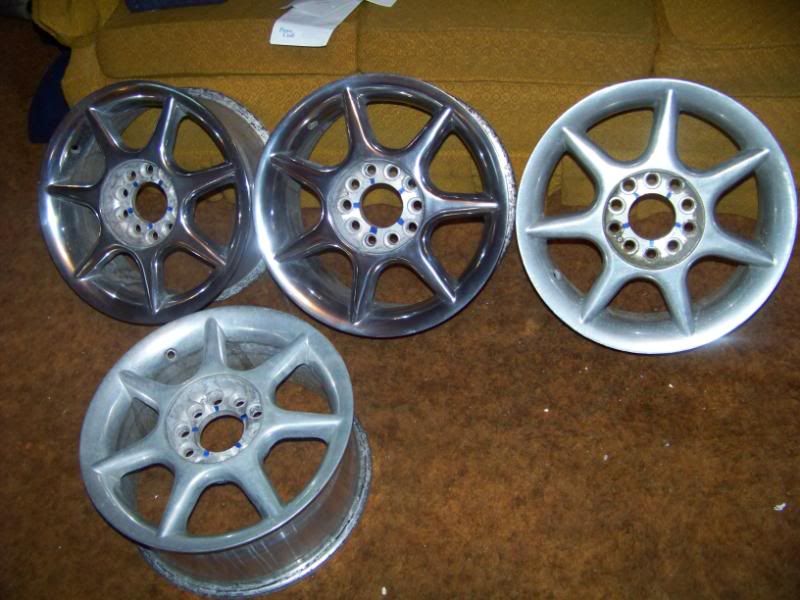 02-17-2011, 01:44 PM
Join Date: Jan 2011
Posts: 13
---
Tires - Falken makes a good tire, for the most part they wear a little fast, but hook better than most cheap tires.
Wheels - Looks like a decent start, but you might have mixed the acid a little strong, and I bet you had to polish your **** off to get them to that point, right?
You can still get ALOT more shine from those wheels. In fact my best advice once you are done.... Start over.
1. Light acid (1/16-1/32 acid/water dilution).
2. Wet sand, start with something like 1000 if they are in good shape, then in steps 1500, 2000, 2500.
3. Polish first with intimidator Green then intimidator blue if you want commercial polishes (
http://www.highwayshine.com/dbID/495.html
) Or I will try to remember when I get home to post some formulas that "I" use with GREAT sucess that are substantially cheaper (you will need a hot plate, 1 large bar polishing compound of each compound, cheese grater, gallon of solvent (I use kerosene), lemon juice). Hand polish till the piece is black, rinse with water, dry, repeat as neccesarry.
For maintance I recommend wet polishing (spray the wheel with water and with the water standing polish) with a cheaper polish (I use mother's).
Using a true polish will get you better results and be 10 times as quick and require less work.
Thread
Thread Starter
Forum
Replies
Last Post